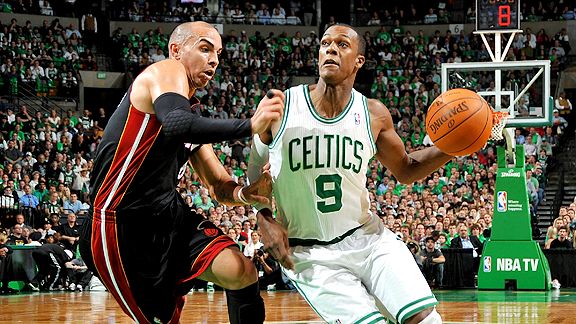 Brian Babineau/NBAE/Getty Images Sport
Defending Rajon Rondo: The debate continues
MIAMI -- A lot of intelligent people have registered thoughtful opinions on the hazards of defending Rajon Rondo. One prevailing school of thought around the league preaches playing off Rondo because he's a lousy jump shooter. At TrueHoop last week, Henry Abbott enumerated the argument for ignoring Rondo in the half court, then drilled home the perils of leaving a talent like Rondo with layers of space, which were documented in detail by Beckley Mason of HoopSpeak:
There are various rationales for this:

If you guard him conventionally, he's scary, because he's faster, more active and maybe longer than your guy.

He'd rather put the ball on the floor than shoot a jumper, so encourage the jumper.

The Lakers did it in the Finals and won.

It frees up a defender to roam around and disrupt the many other great Celtic players.

But there's a problem. All that space doesn't just make it easy for him to shoot. It makes it easy for him to do whatever he wants.
Like many head coaches 90 minutes before facing the Boston Celtics, Erik Spolestra was peppered with questions tonight about how to contain Rondo. Spoelstra conveyed the measured exasperation NBA coaches usually adopt when asked how to guard an unguardable opponent:
You guys have watched him. Everyone has the exact same scouting report on him:

Make him shoot.

Good luck.

He's not going to bail you out and take 10 3s tonight. He's a dynamic, as unique a point guard that's been in this league for a long time. And he's averaging 15 assists, so he's doing it against virtually everybody. People, in theory, logically, know how to play him: Play off of him.

But he is so fast and he gets the overwhelming majority of his plays in random, unscripted situations. It'll be a play for somebody else and, boom, he takes off and he goes. It's his creativity and his speed that separates him.

... It's a Catch-22 and that's why they get some other opportunities. You'll see some lob plays for Garnett; a lot of of times catch-and-shoots. You're talking about the best passer, arguably, in the game, and you're taking a body off of him.

So he just stands up there.
At this point, Spoelstra -- by no means in the league's most animated coach at the podium -- pauses for dramatic effect. His eyes dart around the media room as he plays the role of Rajon Rondo, with the ball, plotting against all that open space.
Spoelstra continued:
He has all the time and space he needs to make the plays he wants. Yet, if you try to body up and play him at half court, you're really playing with fire.

So you're left trying to play off of him and keep your chest in front of him. I think it absolutely is important to change your pick-and-roll schemes at times. You're not going to outwit him -- but just try to keep his mind stimulated. For us, we'll have three of four different matchups on him to give him a little bit of a different look.
It's hard to discern exactly where Spoelstra comes down on the To Leave or Not To Leave Rondo continuum, though the Heat coach essentially concedes that leaving Rondo space to operate is treacherous and that outwitting or fooling Rondo is an impossibility.