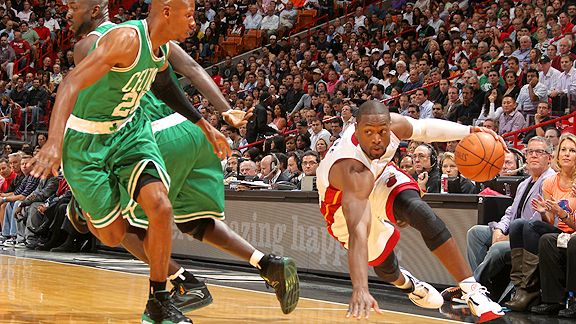 Victor Baldizon/NBAE/Getty Images Sport
Dwyane Wade has trouble finding his footing against the Boston Celtics.
Well, we can't chalk it up to rust anymore.
The Celtics limited Dwyane Wade to just eight points in Thursday's Boston-Miami rematch after he was held to 13 in the season opener. All told, the Celtics forced Wade to miss 22 of his 28 shots in the two games.
Wade's bread and butter involves getting to the foul line through by attacking the basket, but the Celtics did a remarkable job of contesting his shots without drawing a whistle.
"I got to the basket a couple of times and the shot didn't go in," Wade said. "I never really got into my rhythm like I wanted to. I'm not worried about that because I think I've proven I can score the ball."
It was Wade's lowest scoring output -- not including games in which left early due to injury -- since a January 2008 game against Boston when he scored merely 7 points on 1—for-9 shooting. But unlike this season's season opener, questionable shot selection in tonight's game wasn't the source for blame. Wade kept his mid-range jumpers to a minimum while none of his four shots in the paint dropped -- to say nothing of that fourth quarter 3-pointer that rattled out after practically touching the floor with 3:33 left to go.
"Wade missed some good shots," Celtics head coach Doc Rivers said after the game. "We can't bank on Wade missing that many good shots; he just had one of those nights."
But Wade's misfire total could have been worse. The 28-year-old has made a bad habit of barreling through the lane, leaving his feet and calling an audible mid-air when the defense swallows him. He leaps with the intention of drawing a shooting foul but when the hack never comes, he's reduced to ugly improvisation. Such plays draw the ire of coaches and it happened again in the first quarter when he jumped directly into Shaq's torso and tried to kick the ball out to a perimeter player behind him -- except no one was there.
Plenty of players, like Chris Paul and Rajon Rondo to name a couple, have mastered this acrobatic redirection. But it's typically a feature of point guards who have a sixth sense telling them precisely where their teammates hang on the periphery. Wade hasn't demonstrated that ability so far this season and there's no question that the unfamiliarity with the new personnel has played a role.
What's more, LeBron's best game as a member of the Heat came at Wade's expense. A major gripe of the Heat offense this season has been that LeBron and Wade systematically -- and predictably -- take turns playing 1-on-1 on the perimeter. On Thursday, though, Wade wasn't a member of the tag team. This time, it was LeBron and Udonis Haslem trading shots down the stretch as the two combined to shoot 12 of the team's 17 field goal attempts in the final period.
After the game, Wade made a point to praise LeBron's dominance but not without a hint of bitterness. "LeBron had it going," Wade said. "He was very aggressive throughout the game so some of my opportunities were limited."
Tonight's fourth quarter presented a stark contrast to Tuesday night's overtime loss when Wade took the game over, scoring all 10 of the Heat's points in the overtime period. Flash forward to Thursday night and Wade routinely camped out in the corners, looking on as LeBron and Haslem constructed a furious comeback. That hasn't happened since Wade stepped foot in this league. That's the job of Eddie House and James Jones.
Leading up to Thursday night's game, Wade stressed how far he and the team have come since the season opener. It seemed unfathomable that Wade could have played worse than he did in Boston. Amazingly, the Celtics have outscored the Heat by 33 points with Wade on the floor this season. The Celtics have his number, or at least that's what the Heat hope.