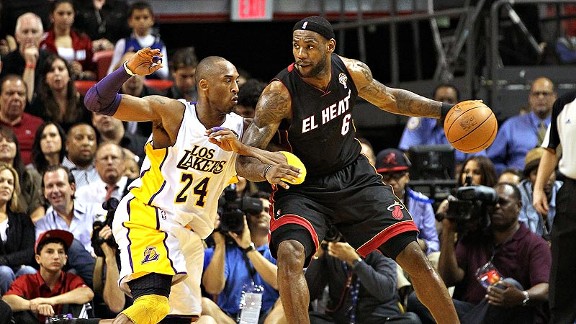 Mike Ehrmann/Getty Images
As part of a tough West slate, get ready to see LeBron go at Kobe Bryant at least twice this season.
MIAMI – Last season the Heat's sluggish start was both understandable and withstandable. This year, that is probably not going to be the case.
The schedule the Heat drew in the NBA's lockout-shorted season has its pluses and minuses, like every team's. But the clear opportunity comes in the first month, where a home-heavy slate against some of the league's top teams could set the tone for the entire regular season.
In short, they are set up to have a fast, confidence-building and statement-making start if they take advantage.
In January alone, the Heat play 11 home games and have a stretch with just one back-to-back over 18 days, a genuine respite with the truncated schedule forcing back-to-back-to-backs for every team. In one stretch the Heat play eight of nine games at home, getting shots at the Spurs, Lakers, Knicks and Bulls over a two-week span.
Last season, the Heat got off to a slow start, infamously playing their first 17 games to a 9-8 record. That hole cost them a shot at home-court advantage, though they overcame it to upset the Bulls in the Eastern Conference Finals. With so many home games early and those matchups with their chief rivals together, another choppy beginning could have lasting effects.
The back end of the schedule is also favorable with 10 of the 16 games in April in Miami. But February and March have minimal practice time and some demanding back-to-backs.
On the whole, the Heat weren't thrilled with how the unbalanced schedule came out. There are only three Western Conference teams the Heat play twice and those happen to be Lakers, Thunder and defending champion Mavericks. That is hardly a favorable draw. There's also four games with the Bulls, Lakers, Pacers and 76ers but only three games with the likes of the Cavs, Raptors, Wizards and Pistons. That isn't how the team would draw it up.
This year there is plenty of room for griping because of the nature of how the schedule had to be put together. One thing will not change, however: no team with feel sorry for anyone else. Especially the Heat.