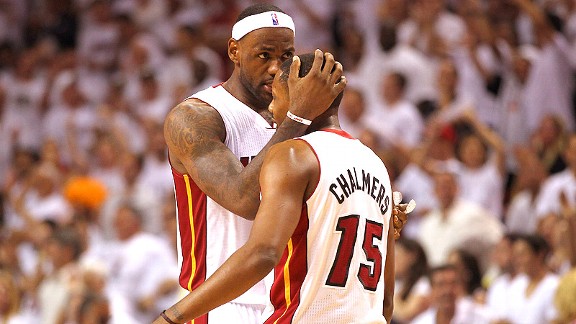 Mike Ehrmann/Getty Images
LeBron James and the Heat would love to see Mario Chalmers return, but Chalmers might hold out.
MIAMI – There are dozens of free agents hitting the market Friday but Mario Chalmers' situation could be unique. Because of it, Chalmers may be headed into a process that could keep him out of training camp.
As a restricted free agent with a mixed resume during his first three years, Chalmers isn't in great demand to the whole league. But to the Heat, he's very much in demand while the supply of comparable options is shallow.
Coming off a season where he had career lows in minutes, points, assists and shooting percentage, Chalmers has himself some unexpected but very real leverage.
Both Chalmers and his agent declined interviews.
They are in a challenging spot. Chalmers has a one-year qualifying offer on the table for a little more than $1 million. The Heat cannot take that deal off the table and Chalmers has the option of taking it deal, which would make him an unrestricted free agent next summer. That could be the Heat's preference. Chalmers' preference is working out a longer-term contract with a much larger salary.
With only one true point guard on the roster, rookie Norris Cole, the Heat are in need at Chalmers' position. While he only averaged 6.4 points and shot less than 40 percent from the field in the regular season, he was excellent in the playoffs last year. In the Finals, Chalmers averaged 11.8 points and was second on the team in assists and steals. Chalmers has to expect his Finals showing increased his value.
With LeBron James and Dwyane Wade, the Heat need a guard to can hit open jumpers and be versatile defensively. Chalmers isn't the greatest fit in the league but he certainly is a fit. In addition, there are only a couple of free agent point guards and several of them reportedly have already committed themselves to contracts elsewhere.
The Heat could attempt to rely on the raw Cole or veteran Eddie House. Also James and Wade can play some at point guard. But all of those options are less desirable.
None of this is news to Chalmers' camp. It is ammo for angling for what could be a career contract for Chalmers. As a former second round pick, Chalmers has made just a shade over the league minimum in his first three years.
Meanwhile, the Heat have to keep an eye on their salary costs. There are new rules coming into effect that limit teams in the luxury tax. The Heat's salaries are very near the line this season and next and what Chalmers signs for could have a significant impact on the team's flexibility.
With all of these factors in play, it is understandable why this could be a challenging negotiation. In general, teams do not like to bid against themselves. Meanwhile players know they may only get this type of leverage once in their careers and they have to use it.
In speaking with reporters Wednesday, Dwyane Wade hinted at the complexities facing Chalmers at the moment. The two spoke earlier this week.
"Obviously as a team we'd love to have Rio back but you also want what's best for him," Wade said. "I stayed away from telling him, "Listen, you need to sign back." I can't do that unless I put a little extra couple dollars in his pocket and I ain't doing that."