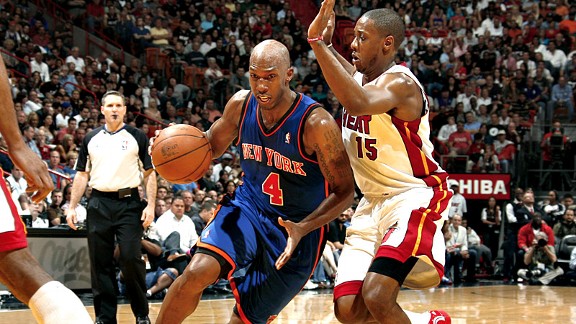 Issac Baldizon/NBAE/Getty Images
How Chauncey Billups and other amnesty candidates could potentially become available to the Heat.
One of the biggest questions circling the Miami Heat these days is whether they will be able to make a play for players cut via the amnesty rule.
Can Baron Davis, Chauncey Billups, Richard Jefferson, and other amnesty candidates be possibilities to join the Heat if they are indeed released by their respective teams?
It's a great question. The short answer: it's possible, but chances are slim. The long answer is written by our CBA guru Larry Coon at TrueHoop, who explains what we know about the amnesty rule at this point [bolded text mine]:
One concern with the concept of amnesty is that every released player would simply pack his bags and head to South Beach to sign with the Heat. The league came up with a clever idea to keep this from happening. Before clearing waivers, the players will go through a "secondary waiver" process where teams under the cap can submit a bid. (That's right, it's a silent auction, just like when you bid on that trip to Tahoe at your kid's school fundraiser.) The highest bidder gets the player. Only players who clear both the regular waiver process and these new secondary waivers will actually become free agents.

Teams have to utilize cap room in order to bid for an amnestied player. This means that teams that are over the cap are automatically out of the running. A capped-out team like the Heat or Lakers has to wait for an amnestied player to clear secondary waivers before they have a chance to sign him. It is assumed that all the good players – including possible amnesty cuts Baron Davis and Chauncey Billups – will be snatched-up in the secondary waiver process, and won't make it all the way to free agency.

If a team acquires an amnestied player through secondary waivers, then it is likely they will be able to trade the player after 30 days – just like any other player claimed through the waiver process. This is another detail that has not yet been confirmed by the league. Nor is it known what the player's trade value will be for salary matching purposes, but it will likely be the amount the team is actually paying the player (i.e., the amount of their bid).

While this has also not been confirmed by the league, it is likely that teams will not be allowed to re-sign or re-acquire (for example, through a trade) their amnestied player for the length of his amnestied contract. For example, if the Magic, as expected, use their amnesty on Gilbert Arenas – with three years left on his contract – he can't play for the Magic again for three seasons. This rule also existed in the 2005 amnesty provision.
Lots of stuff to chew on for the Heat here. What's clear is that the Heat will closely monitor the secondary waiver process for potential amnesty cuts like point guards Davis and Billups. If teams under the cap offer a bid, then the only way the Heat can acquire the player is by trading for him, but only after the presumed 30-day window expires.
So, one possible scenario: The Knicks use their amnesty provision on Billups and the Nuggets submit a winning bid. The Nuggets could then trade Billups after 30 days, if they were so inclined, to the Heat sometime in January.
But that assumes that the Heat could entice the Nuggets, or whichever team claims him, with a trade offer. Would a possibly healthy Mike Miller become trade bait? Would the Heat actually dangle Udonis Haslem if it meant a legitimate starting point guard was on the way? Those could become important questions.
There's also a chance that agents will scare off potential bidders in order to secure an appealing destination in free agency. Billups' agent has already reportedly growled that his client won't be exactly thrilled to play for a team not of his choice. Whether that growling actually is effective or not is yet to be seen. Still, it's unlikely that Billups or any other amnestied players fall into the Heat's lap.