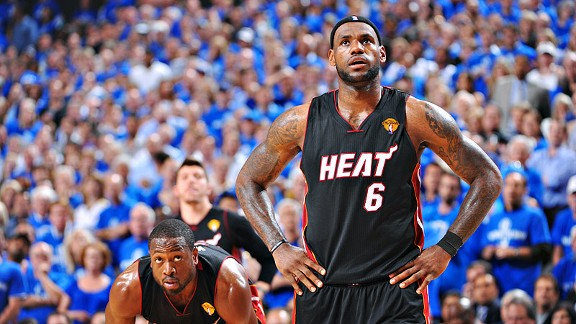 Jesse D. Garrabrant/NBAE/Getty Images
Cutting back on minutes for LeBron James and Dwyane Wade could actually do the Heat some good.
MIAMI – There was certainly plenty of analysis on what happened with LeBron James during the Finals last year. James did plenty of his own, too.
There are several areas of focus he came up with, some he's made public and some he hasn't. In an interview on SportsCenter last week James talked about how he's attempting to go back to enjoying playing more, shedding what he referred to as the endless role of villain that he got used to during his first season in Miami. He's also talked about another summer of post game work, this time consulting Hakeem Olajuwon. Time will tell on both of those.
But James identified something else, something he so far has not elected to announce: his minutes.
It probably won't be something he'll bring up, either. It's not in James' nature to admit fatigue. He's quite proud of his conditioning and his offseason programs aimed to help his stamina. During the lockout he posted a series of videos on YouTube to display his workout regimen, everything from weights to water aerobics. He enjoys doing drills with his shirt off, especially if cameras are around. The man is in quite excellent shape and has a drop or two of vanity.
There's something else, too. When he once broached the subject of his minutes last year -- mentioning in a press conference that 44 minutes in one game was too much -- he was roundly ripped in the media for undermining his coach. He learned his lesson from that, it doesn't seem like he'll be doing that again. So try as you might, James won't talk about his minutes.
Yet the reality is that James had a point, he likely did play too many minutes at times last season. In the playoffs especially when they reached extreme levels. Stars are expected to increase their minute loads in the postseason and James did, about five minutes a game. But as the Heat's run deepened, they might have reached a critical mass.
When it was over, James had played the most total playoff minutes of his career. He had his highest per game average in four years, that 44 minute per game number that alarmed him earlier in the season. Over the last two rounds, it was nearly 46 minutes a game.
Before going further here, James didn't blame his fourth quarter troubles against the Mavericks on being tired. The film showed plenty of decisions that didn't seem fatigue related. There were some other factors that seemed to take James out of his game, emotions only he can truly know. But watching him play there was little doubt that he regularly showed signs of being worn out by the fourth quarters.
Heat coach Erik Spoelstra had his reasons for playing James so much. Primarily he didn't have anyone else. By the later rounds of the playoffs both of James' main backups were injured. Mike Miller was dealing with thumb and shoulder injuries and seemed like he never actually wanted to take a shot. James Jones had suffered a toe injury that mostly took him out of the rotation by the conference finals. As a result, Spoelstra was riding James heavily over the final two playoff rounds, rarely taking him off the floor for more than a couple of minutes in the first half and then playing him the entire second.
In fairness to Spoelstra, James never likes coming out of the game. Sometimes, especially when he's got a hot hand shooting the ball, he'll petition his coach to play through his pre-assigned rest times. Regardless of what was said publicly, though, Spoelstra likely knew he was pushing it at times.
James begrudgingly admitted during the Finals that a minute or two of extra rest could help. When he looked back at the series on film, those who know James say, he felt it contributed to his struggles. Given several chances to address that so far in training camp, James has passed.
But the Heat don't disagree. There were several reasons they went out and signed Shane Battier and re-signed Jones last week. And why they massaged the salary-cap rules to make sure they were able to do it without having to release Miller as looked like a strong possibility a few weeks ago.
Spoelstra has some goals this season those additions can help him with, including playing with more pace and with more versatility with his array of athletic wing players. However, part of the grand plan on how the Heat spent their free agent dollars was to ensure they have enough depth to get their stars a little more rest.
With what is expected to be a demanding 66-game season in a tight window plus what the Heat hope will be another long playoff run, attempting to control James' minutes was a consideration. As it was for Dwyane Wade.
Nearing his 30th birthday, Wade's minutes increased in the regular season last year to more than 37 per game. The minutes were slightly and surprisingly up from the 2009-10 season when the salary-cap minded Heat relied on him more than any other year in his career. After spending so much money on getting James, Wade and Chris Bosh to Miami, there just wasn't a lot left over to make sure they had help on the bench. Injuries made it even more of a challenge.
Following in James' lead, Wade won't talk about it much either. Not the minutes last season or the minutes this season.
"It's up to the coach," Wade said. "Our job is to get in shape but we think coach will make the right decisions, especially in the early part of the season."
Would it be nice if him and James' minutes could be reduced slightly to save them for the postseason?
"I'll go with my earlier answer," Wade said.
Acknowledged or not, it's part of the plan. Preseason plans don't always pan out, of course. It's hard to take stars off the floor ever, no matter the score. But as the Heat plot our how the season will unfold, the hope is to see James and Wade on the bench a little more.