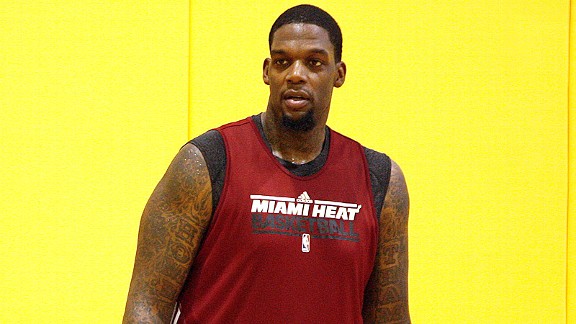 NBAE/Getty Images
The Heat signed Eddy Curry to bolster the Heat's depth at center, but it's not off to a great start.
MIAMI -- Eddy Curry has been an uplifting presence to his new Miami Heat teammates. But he hasn't yet been able to do much on the court.
Curry, the Heat's attempt at a reclamation project at center, missed his second consecutive practice Tuesday. He made it through his first workout with the team on Saturday but left his second practice on Sunday early and now has missed the new two sessions.
The Heat say Curry has been sore and has a hip flexor after his limited work thus far.
"He went really hard that first day and so we want to do it at an appropriate level," Heat coach Erik Spoelstra said. "We're being proactive in making sure that, hopefully, he'll be able to go in the next couple of days."
Simply, this is not the start Curry or the Heat were hoping for. While the team has kept its expectations low and clearly wants to go slowly with Curry in the hopes he can continue to improve, already being on the shelf is a reminder of just how much of a long shot it may be.
Curry, who has played just 10 games in the past three years and was not in the league last season, said he'd lost 70 pounds in preparation for training camp. Curry checked into camp weighing over 300 pounds, which was more than the goal the team set for Curry when the worked him out at the end of last season. But team president Pat Riley decided to give him a look, offering him a contract last week.