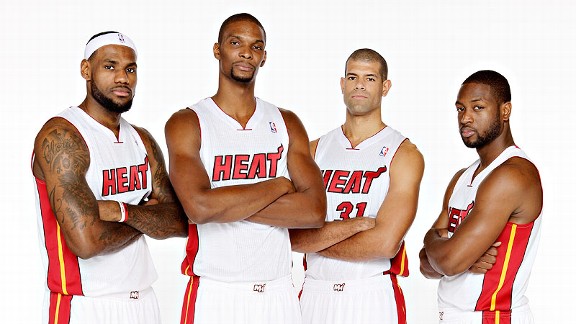 Issac Baldizon/NBAE/Getty Images
The Heat have made plenty of statements off the court, but the on-court statements start Thursday.
MIAMI – In most cases, talk is cheap.
But the jury is still out on the Miami Heat. When words are coming from the mouths of LeBron James, Dwyane Wade and Chris Bosh, there's an intrinsic value that makes much of what they say seem essentially priceless. If you're a fan, you can't hear enough from the them.
But if you're a foe, you can hardly wait for your team's chance to shut them up.
Already this week, there's been a mouthful of meaningful musings from the Heat as they prepare for Season Two of the Big Three era. Thursday's team scrimmage and Sunday's preseason debut against the Orlando Magic are the first public steps toward preparing Miami for its Dec. 25 season opener against the Dallas Mavericks.
No, the Heat certainly haven't healed from last season's meltdown against the Mavs in the NBA Finals. But they vow to be a hungrier team in their quest for redemption this season. How do we know? They've said so in various interviews over the course of the week.
Proving it on the court is a far greater challenge.
Soon, the defending Eastern Conference champions will get the chance to allow their play to do the talking. But for now, here are 10 bold statements from the Heat this week that will resonate throughout the season, complete with their direct messages as well as the unspoken meaning behind them.
1. What he said: "If we don't win a championship, yes it's a bust year." - Dwyane Wade.
What it means: Did he stutter? Nope. Wade made it simple and plain. Either the Heat win it all, or it was all for nothing. Anything short of a championship this season is a bust. A failure. Last season, there was a bit of a learning curve because Wade, LeBron and Bosh were in their first season together. But there won't be many reasonable excuses this time around. No consolation.
2. What he said: "When in doubt, eat a salad," - Eddy Curry in a radio interview.
What it means: Curry won't win a baseline sprint in training camp. But he'll at least beat you to the punch line. The Heat's self-deprecating center has been open and honest about the weight and conditioning problems that derailed his once-promising career. Now at age 29, and three years removed from a meaningful role in the NBA, Curry sounds like he knows he's down to his last significant chance to salvage his career. If he can overcome his demons off the court, the Heat desperately could use his bulk on it. Curry's mind seems to be in the right place, but will his body cooperate?
3. What he said: "There's been so much talk about last year being an absolute, epic failure for us. We don't view it that way. That's part of this journey. Sometimes, things frankly - as much as you don't want to admit it - just don't go your way. It doesn't mean we weren't committed. It doesn't mean that wasn't our goal. We have another shot at it this year." - Heat coach Erik Spoelstra
What it means: If there was one benefit of the extended lockout, it's that it offered more time to find a silver lining in the Finals loss. Perhaps epic failure is a bit harsh. But complete collapse seems about right. The Heat simply toyed around too much with the Mavericks and ultimately got played. But if anyone thinks Miami's first shot at a title was its best shot, think again.
4. What he said: "(Hakeem Olajuwon) worked out Dwight a few times, worked out Kobe a few times. I thought it would be good for my game to go (to Houston) to see if I can help my game get better, not knowing the experience was going to be much better, much bigger than basketball. If you ever get to sit and talk with Hakeem for just two or three minutes, you guys will see why he was so successful." - LeBron James.
What it means: LeBron talked about how he went down there to learn a few post moves, but came back with a far greater perspective on what it takes to be a man and a champion. Olajuwon was one of the first people outside of LeBron's inner circle that he opened up to in the weeks after his struggles in the Finals against Dallas. Hakeem might end up being as big an influence on LeBron's new-found peace and purpose as he is on his latest pupil's improvement in the post.
5. What he said: "I think we're the best team in the league. We're going to work like it. Knowing what we know, going through everything we went through, we're looking to win it all. There's nothing else left. We won the Eastern Conference championship. (That's) not much of a title unless you win the big one. There's nothing else left for us to do but win it all." - Chris Bosh
What it means: Not only are the Heat prepared to enter the season with a bulls-eye on their backs, Bosh made it obvious they're also going in with a huge chip on their shoulders. He has not hesitated to label Miami as a deserving favorite to win a championship this season. The question is whether his game can back up his talk. The bar was already high for Miami. Bosh boldly insists on raising higher.
6. What he said: "When you get to the Finals, things you start doing at the beginning of the year start to come back into play. That's one thing we (saw) about the Dallas Mavericks. The game they wanted to play, they played in the Finals. They knew their game. For us, we had so much turnaround throughout the year - so many guys in and out - that we never got comfortable with the game we wanted to play. So when it came down to those clutch moments, we were trying to figure it out. (Dallas) already had it figured out. Our talent wasn't enough to overcome that. We have to start now." - Wade.
What it means: At some point, simply 'winging it' no longer works. Despite how talented Wade, LeBron and Bosh are, there comes a time when streetball gets waxed by structure. A combination of injuries, slow coaching adjustments and stubborn stars with egos prevented the Heat from ever finding a go-to game or consistent structure. And it caught up with them in the Finals. This is Wade telling Spoelstra the quest for cohesion and specific roles in clutch moments must be defined now. Not June.
7. What he said: "I haven't been able to catch a break. I'm still confident in what I can do to help this team when I'm healthy. We've got a lot of wings. Hopefully, there's an opportunity for me to take advantage." - Mike Miller
What it means: OK, they didn't amnesty Miller. So now what? Miller remains a man on a mission to find his purpose on this roster. He survived the trade speculation last season and looks like he'll stick around for a while and avoid being amnestied. Still, the addition of Shane Battier leaves Miller's role on the team very much in jeopardy. But let the record show that the last time Miller and Battier competed on the same team, Mike outperformed Shane their last two seasons together in Memphis. Miller, injury-prone but still promising, has two options now. Finally get right, or get left behind.
8. What he said: "We didn't come together to make the playoffs, or come together to win a playoff series. We came together to win the NBA Finals. We know it's a long road, and we're going to take every step and not skip a step to try to get there. We're not going to shortcut anything. We know how long of a journey it was to get there. We're just trying to have a better result." - LeBron
What it means: As tough as it will be to get through the dog days of January, February and March, the Heat know they can't get back to the Finals for a shot at redemption until June. Between now and then, they have to find a way to make the regular season relevant, yet relatively free of senseless drama. How eager are the Heat to get the show rolling? LeBron said he'd be willing to play 66 games in 66 days.
9. What he said: "Last year felt, at times, like it was two or three seasons in one, with the amount (of adversity) that we experienced. That is not as much of an issue in my mind. Our guys are very close, very connected and are looking forward to doing this thing together." - Spoelstra.
What it means: After all the Heat endured last season – self-inflicted and otherwise – they should be beyond another "Bumpgate" episode. There should be no reason for LeBron to leak his dissatisfaction with his role or discomfort with the coaching staff. Dwyane Wade shouldn't expend any energy climbing on that fence when it comes to questions about his relationship and loyalty to Spoelstra. And open lines of communication from Day 1 should alleviate the need for too many closed-door meetings.
10. What he said: "We can't care about perception. We want to enjoy this moment. Whether we're loved or we're not loved, we have a different mind state, a different view. We're out to win. You're not always going to be loved when you're out to win. You're not going to always be hated, neither. Do I think that our intentions were to shut everybody up? Yeah. That probably wasn't the right intention for this team. Our intentions should be to win a championship … and do what we always wanted to do." - Wade.
What it means: Haters are going to hate, regardless. Somehow, some silly way, the Heat still got too caught up in the hype, hate and headlines that engulfed last season. The mission this season isn't to win over any fans who were turned off and offended by that free agency celebration, the overwhelming media attention or the premature Heat anointing. It should be back to being strictly about basketball.