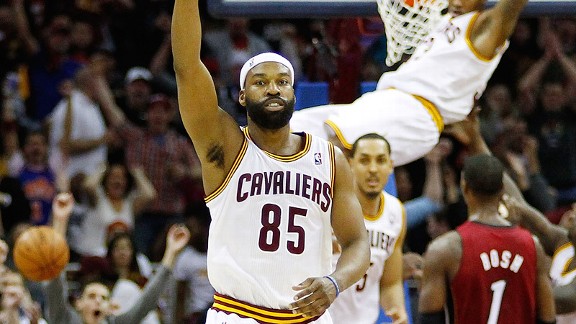 Getty Images
Baron Davis earned the Heat's attention when he beat them in March. Are the Heat interested now?
MIAMI – For the next four months whenever any proficient or accomplished -- even if it's far in the past -- big man or point guard looks like he might hit the free agent market and be available for cheap expect the Miami Heat to be interested.
Next up: Baron Davis, the semi-motivated, semi-broken down and semi-masterful point guard that was just put on the amnesty waivers by the Cleveland Cavaliers.
When he wasn't out with pain from a chronic knee injury last season, Davis averaged 13.1 points and 6.7 rebounds in 58 games with the Clippers and Cavs. When healthy and motivated the 32-year-old still has plenty to give, as he showed that when he piloted the Cavs to a 102-90 victory over the Heat in Cleveland last spring. But that's a key "when."
Right now, Davis is dealing with two bulging discs in his back as the result of an injury he suffered during the lockout. When the Cavs let him go they were under the belief that he might need three months of rest before being able to contribute at a high level on the court again. His agent told several media outlets the timetable was 8-10 weeks. Other reports, believing Davis might've been playing up the injury a bit to convince the Cavs to cut him, suggest he could be back in less than a month. The MRIs, they say, don't lie.
Here is what is clear: Davis has a bad knee and a bad back and the Heat may not be one of his top two picks.
Davis, sources say, has been batting his eyes at the Los Angeles Lakers and the New York Knicks since the summer when it became known there would likely be an amnesty clause in the new CBA. Davis knew his time with the Cavs was short after they won the draft lottery and picked point guard Kyrie Irving. Sources recently told ESPN that the Charlotte Bobcats – because of Davis' long-standing relationship with coach Paul Silas and assistant coach Stephen Silas – were also on his list.
The Heat were not, though that too could've been a ploy because the Cavs were known to have been a little hesitant to dump and continue to pay Davis only to see him potentially end up helping LeBron James win a title. In the end, the Cavs had to do what was best for them and their cap position and so they let him go. The same will be said for Davis, he will do whatever he thinks is best for his career if he's able to get to free agency.
All four of those teams could use a point guard with the Knicks expected to make a strong push for Davis if he clears amnesty waivers. With the agent broadcasting his client's injury and the Knicks, Lakers or Heat unable to bid on him in waivers because all are over the salary cap, getting to free agency appears to be Davis' main objective.
Davis could go in several directions. He could sign with a team right away and rehab with the new team. Or, with his $28 million over the next two years assured, he could take a few months and stay at home in Los Angeles and wait to see how the season unfolds before picking a team when he's healthy.
The Heat will most likely recruit and monitor Davis because if he can get healthy they could probably offer him a starting role on a championship contender. The Knicks and the Lakers, two teams Davis has said he's dreamed about playing for, could possibly offer the same.
His choice could be a significant boost to any of those teams but there's a good chance it won't come for awhile.