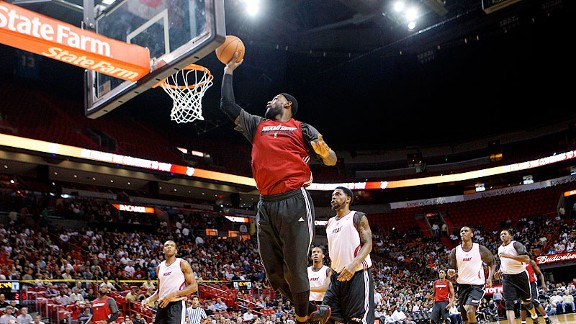 AP Photo/Lynne Sladky
LeBron James earned some open looks from his post game on Thursday, but we've seen this before.
MIAMI -- On the second possession of the Heat's open scrimmage Thursday night, LeBron James backed into James Jones' chest and called out to Mario Chalmers to give him the ball.
The Heat have been practicing for a week and presumably this event has been happening over and over, James planting himself in the post and showing off. But this little event for the season-ticket holders was also being broadcast on television and James, it sure seemed, wanted to leave an early impression.
Heat coach Erik Spoelstra -- in a departure from normal coaching tactics, especially for a Pat Riley disciple – has virtually abandoned drilling and gone heavy on scrimmaging during the team's first eight workouts. This, of course, has been met with delight from the players. Except for those who have to deal with James trying such show-and-tell with his summer experiment.
So Jones had dealt with this before. He may be James' height but he's in no position to defend him in the post. Shane Battier said earlier this week that he was seeking some extra attention from his wife in the evenings after being emasculated regularly by Dwyane Wade and James during practices in the mornings and afternoons.
Now Battier, who probably would've had this assignment, was on the sidelines because of a minor quad injury. It could've easily come from dealing with James in the post, where for the moment he seems to be quite interested in proving his intentions.
James spun and leapt back from Jones, creating the leverage and space that he and Hakeem Olajuwon had worked on several months ago. James taped those sessions and referred back to them during the lockout, attempting to make it stick.
The ball swished through the hoop. A few minutes later he did it again. Once he took the ball in the post and fed a cutting Wade for a dunk. Another time he hit Udonis Haslem for a three-point play. Once he found himself matched up with a smaller player and he spun and dribbled him down into position, drawing a shooting foul. Then he did it again. And again, turning around and backing a guy down.
"I've spent a lot of time down there and I'm in a comfort zone down there right now," James said afterward.
James playing in the post has been the black swan of his career. It's been seen before and promised yearly but it frankly is quite rare. After the Heat were knocked out of the Finals last year, there was a call for James to spend the summer improving that area of his game.
It's not like this was the first time. It's not like his coaches in Cleveland or the Cavs fans didn't think he'd be even more of a dominant player if he'd focus on and hone his post game the same way he focused on and honed his defense and his mid-range jumper. Those had once been nonexistent, too.
"I've never had to do it, in Cleveland I spent time of the perimeter because I felt like I had to," James explained. "We have multiple ball handers here … and I can switch my focus to something else."
Well, that's not exactly true. There were multiple ball handlers in Cleveland. But James is all about not focusing on the past and turning his attention to the future. So going with that, what has value now is judging just how much James follows through with this post plan.
Thursday was merely a practice with fans and cameras, but he showed a series of moves. He had the turnaround, he showed a drop step and several times had 1-on-1 chances where he turned his back instead of trying a series of crossover dribbles and then firing up a contested pull-up jumper.
That man-to-man pull up is one of James' favorite moves and he's literally gone to it hundreds, if not thousands, of times over the years. He's buried many of them followed it with glares at the man he's vanquished. The problem, however, is that it is a lower percentage shot. And without fear of him using his usual size advantage, teams could get away with putting smaller defenders on him. Just consult the Finals and see how the Mavericks got away with putting J.J. Barea in that spot at times.
The question is whether James will do what he knows is the better basketball play or he'll do what is more familiar when it really matters and it really needed. Most experts would agree that if he did, the game would get easier for him even when the pressure was at it's highest.
James prefers to play on the wing with the players all in front of him facing the basket. He likes to create his own shot by gobbling up shot clock time and using his gifts to find a way. Sometimes he'd get the ball in excellent post position but give it up but turning around so he could face his defender, a move that comes from seeking comfort but usually goes against the grain of the play.
Let's be honest, overall this has been wildly successful. But it also hasn't been reliable in the worst of times. And it has sometimes been a waste of a 6-8, 265-pound man with 5.2 percent body fat who also happens to be ambidextrous.
James has flirted with the post off and on for the last four seasons. A few years ago he riled up folks in Cleveland when he stayed long after some training camp practices working on hook shots. He was finally making it a priority, it was said and written. His then coach, Mike Brown, started playing him at power forward for stretches every game. And James won the MVP … playing the extra same perimeter-based game he prefers.
Thursday night James made his post game a prime offensive weapon. It was a training camp home run -- nice, but it doesn't count. Most players don't add such important aspects to their games in their ninth seasons in the league. But many great ones have. James is trying in December. We'll see where he is in April.