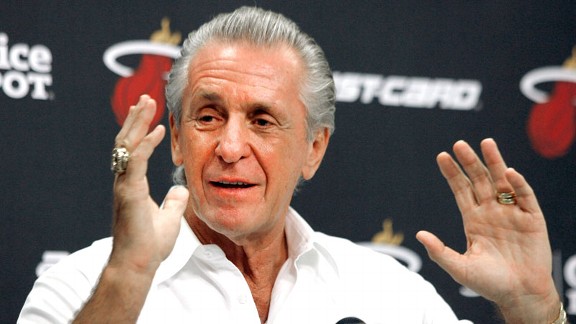 AP Photo/Jeffrey M. Boan
We know Pat Riley is fond of the Big Three, but what did his statements reveal about the others?
MIAMI – MIAMI – Pat Riley has always had an E.F. Hutton presence about him. When the Miami Heat basketball czar talks, people listen. For one, Riley rarely speaks with the media these days. And two, when he does talk, the messages speak volumes about his team.
Riley emerged from the shadows Friday to clear the air on several issues during his annual preseason session with the media. In addition to solidifying coach Erik Spoelstra's potentially shaky status by announcing a new contract extension, Riley took an expected proactive approach to eliminating his protege's job security among distractions that could haunt the team this season.
Beyond that, Riley, 66, also quelled speculation about his immediate future in Miami by insisting he'd be around for the long haul. The NBA's 149-day labor lockout gave Riley a slight sip of retirement that left a bitter and bothersome taste in his mouth. So for now, the Hall of Fame coach and administrator professes to still be physically and emotionally fit enough to handle the load of building a championship team anchored by LeBron James, Dwyane Wade and Chris Bosh.
Those two items – the futures of Riley and Spoelstra – deservedly took precedent Friday.
But there were also two other items Riley addressed that could have major implications as the Heat return to practice Saturday, following a day off, in preparation for Sunday's preseason opener against the Orlando Magic. With Riley and the Heat, it ultimately always comes down to the one and the five.
In other words, point guard and center – two positions that remain either unsettled or uncomfortable for Miami with a little more than a week left before the Dec. 25 regular-season opener at Dallas. Riley preached hope regarding those two spots.
Hope that rookie first-round draft pick Norris Cole would continue to maintain the laser focus he's shown in camp that could fast-track his development into a rotation player – and a future starter. Riley also used the term "hope" in reference to the reclamation project otherwise known as Eddy Curry.
Make no mistake about it. Riley was cleverly calculated in his points about Cole and Curry. By praising Cole's focus, it's safe to assume that Riley was also putting recently-paid, fourth-year point guard Mario Chalmers on notice that he might have gotten his money, but he certainly doesn't have it made yet.
And by using the term "hope" instead of "envision" when talking about Curry as part of the Heat's definitive plans, Riley essentially made it clear there are no guarantees of a roster spot – regardless how desperate the Heat appear with only one other experienced center under contract.
Riley said the Heat will maintain 13 roster spots for now, which are two fewer than the league maximum. What that means is that if there are upgrades available at point guard and center – even slight improvement options via the free agency wires – the Heat will be prepared to pounce.
That's why it's always important to listen closely what Riley says in those rare times when he speaks publicly. But the impact information is revealed when one listens – or reads – between the lines.