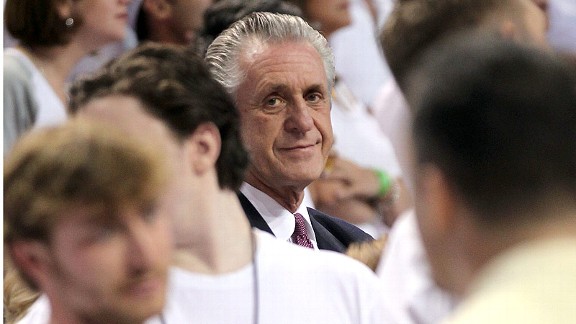 Mike Ehrmann/Getty Images
Deep within Pat Riley's long session with the media, one message clearly stands out.
MIAMI – In a 30-second burst of clarity and honestly, Pat Riley summed up what held his Miami Heat back from winning a title last season and how they're going to deal with it to try and get there now.
Riley was completely in his element Friday afternoon. His team is 0-0 and currently free from the scrutiny that had already enveloped them by this point last year. He was announcing a contract extension for his protégé, coach Erik Spoelstra. He was hosting a softball team made up of military veterans who had lost limbs fighting for the country, a cause he's been passionate about for some time.
For 40 minutes Riley went on, talking about his team and his coach and telling stories. At one point he launched into a complex analogy about the CBA talks being like a husband and wife talking out how a marriage would go and who would get which side of the bed.
Then he took the veterans on a tour of AmericanAirlines Arena, pausing in front a 10-by-7 foot wall-sized photo of Gary Payton's game-winning jumper from Game 3 of the 2006 Finals and recounting the story of the moment.
For Riley, this was a good day.
Buried in all that clutter, though, was something remarkably piercing and perceptive. It was Riley's answer to a question about the Heat wanting to shed the villain role they lived with last season, a meme that LeBron James started just before training camp and that been embraced by star teammates Dwyane Wade and Chris Bosh.
"We all know what this team is capable of doing," Riley said. "We are contenders, I believe that, and that's all we are. There's no sense in putting extra pressure on yourself. But when you get to the moment of truth, you've got to be relaxed. You don't have to be living up to something you said."
That was an all-encompassing, contrite, cautious and seasoned mouthful.
The Heat are not just contenders, of course, they are the title favorites. They are expected to clean up their mistakes and be better this season, to win it all. James is expected to get himself together in his next visit to the Finals and play like Hall of Famers are supposed to play under those circumstances.
But Riley doesn't want his team to be seen as the favorites and with good reason. It's because when they thrust themselves into that role last season they ended up paying for it dearly, driving James most of all into brainstorming ways to shed the self-imposed villainry.
Playing under those conditions ultimately didn't work, the Heat did not come through in the end. James especially, playing so bizarrely in the Finals that everyone has developed a theory on what happened and what can be done to fix it. James has his. And Riley has his and he's just said it.
"There's no sense in putting extra pressure on yourself. But when you get to the moment of truth, you've got to be relaxed. You don't have to be living up to something you said."
James wasn't relaxed at all in the moment of truth. He was trying to live up to something he said. Something that started with "... not two, not three, not four, not five, not six, not seven."
As he likes to do, Riley followed it up with a story. This one was about when he guaranteed the Lakers would repeat as NBA champions in 1987, that famous clip with Riley at the championship parade in his big sunglasses and his flick of the neck over to his stunned players. Of course, the Lakers did win it again in 1988, otherwise it wouldn't be in the Riley story rotation 23 years later.
Riley guaranteed that title because he was tired of his team coming back "soft" (his word) after winning their previous three titles with him as their coach. That strategy, Riley believes, hit the right tone at the time for those stars and that team.
Now Riley is reading this time and believing the tone is to remove the pressure, remove the expectations and remove the rhetoric for these stars and this team. Especially, it certainly seems, for James.
All the Heat are, Riley said, are contenders. Just like the Los Angeles Clippers, apparently. Contenders that need to be relaxed when their next moment of truth arrives.