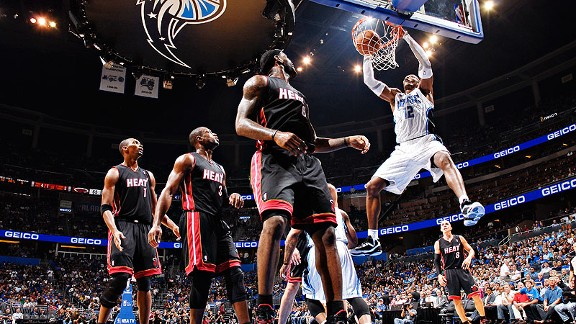 Fernando Medina/NBAE/Getty Images
How many more times will we see the Big Three looking up at Dwight Howard in an Orlando uniform?
Let the games begin.
The Miami Heat will host its Floridian foe, the Orlando Magic, on Sunday night to tip off the two-game preseason slate. For the Heat, there are some real stakes on the line. Rookie Norris Cole will look to solidify his rotation spot after an impressive training camp and open scrimmage display. Additionally, this is Dexter Pittman's shot at earning minutes as the backup center for the Heat out of the gate.

But really, most of our eyes will be on the assembly of big names. LeBron James. Dwyane Wade. Chris Bosh. Dwight Howard. Oh, and Erik Spoelstra, too, now that he just received a two-year extension recently. This is our first real look at how all these faces will respond to new pressures.
Will LeBron James live up to his promise of a legitimate post game? Was Erik Spoelstra's contract a good deal for all involved? Does this game feature the three best players in the NBA? Will Dwight Howard capture the hearts of MVP-voters and receive more votes than LeBron again? Speaking of Howard, are his days in Orlando numbered?
In the debut of Heat Index's 5-on-5 series, our stable of writers play some "Fact or Fiction" with some of the biggest story lines heading into Sunday's preseason matchup.
1. Fact or Fiction: LeBron's post game will be a go-to weapon this season.
Kevin Arnovitz, ESPN.com: We already know LeBron is a weapon on the block -- fourth in the NBA in points per possession for players with more than 100 attempts. It's the "go-to" part that's complicated. The day LeBron decides he wants to drag every physically inferior defender down to the box is the day the Heat crack the code. Will LeBron buy in? An entirely different question.
Tom Haberstroh, Heat Index: Fiction. For someone who already has enough pressure on his shoulders, I'm not sure telling everyone that he has this flashy new post game was the best idea. People will now expect Hakeem, not one of his first-year students. That's how it works with LeBron. That said, I see him attacking more from the post in the Heat's small-ball lineups, but he will still call the perimeter his home.
Beckley Mason, HoopSpeak.com: Fact. I wouldn't say the go to move, but the Heat featured James in the post a reasonable amount last season and I'm sure Spoelstra would love to do so more often this year. Depending on matchups, I expect them to mix James post ups in with other favorites like the James-Wade pick-and-roll, Bosh-Wade hand-off and James-Bosh pick-and-roll.
Michael Wallace, Heat Index: Fiction: It'll be much improved as long as he stays committed to his post-up game. But let's not get carried away with a few mid-post, fade-away moves from a scrimmage when James Jones was guarding him. It doesn't have to be a go-to move for LeBron. It just has to be part of his arsenal on a semi-routine basis. Like when the Rajon Rondos and J.J. Bareas of the league are trying to defend him.
Brian Windhorst, Heat Index: Fiction. James has been honing those skills and it will likely turn into a growing aspect of his game. But a "go-to" move is what players use when they need a basket under pressure. Go-to moves are within comfort zones and become trusted over years. I'd be surprised if James reaches that stage with the post game this season.
---
2. Fact or Fiction: Erik Spoelstra's extension was a win-win for both sides.
Arnovitz: In the words of Kobe Bryant, "It's about damn time." Nobody performs his best work under a cloud of uncertainty. With added security, a year under his belt with this core and fewer carnival barkers hanging around the team, Spoelstra can now fully prosper at the job.
Haberstroh: Fact. Barring the bizarre disappearance of LeBron in the Finals, Spoelstra would have likely earned a championship in his third year on the job. If you doubt his coaching talents, look at his two rosters prior to 2010-11 and tell me how many other coaches could squeeze out 90 wins. He is just getting started.
Mason: Fact. Though he's still underpaid, it's a win for Spoelstra because at least he won't have to deal with the media nagging him about his job-security all season. The Heat retained a top 5 coach for less than LA is paying Mike Brown or NJ is paying Avery Johnson. So ya, that's a win for Miami.
Wallace: "Faction." More than anything, Spoelstra's extension reduces the job security scrutiny he was sure to face if he had entered the season under the final year of his contract. All it really guarantees is that Spoelstra will have a decent severance package if he's dismissed. In other words, I'm still not certain he survives the kind of start Miami got off to last season - especially if James and Wade start barking.
Windhorst: Fact. While I feel Spoelstra would have been a commodity in the market next summer and it could've created more leverage to get him more than the two years and $6 million he received, there is a value in stability. The Heat have been called a lot of things but one thing they have proven to be is stable in the front office and coaching staff. Knowing Spoelstra has a vote of confidence from Pat Riley and ownership only increases that stability.
---
3. Fact or Fiction: D12 will get more MVP votes than LBJ again this season.
Arnovitz: Fact. Ballot-splitting is a fact of life for James and Wade. Howard's raw numbers are virtually automatic. That's the product of being a 7-foot, 270-pound physical menace who converts three out of every four shots at the rim, where Howard happens to reside.
Haberstroh: Fiction. The MVP is more of a popularity contest than we'd like to admit, so I see LeBron getting more love this time around now that the "Decision" wounds aren't quite as raw and voter fatigue isn't as strong. Also, Dwight Howard's hokey-pokey act in Orlando probably isn't doing him any favors.
Mason: Fiction. Howard was something of a sympathetic character last year—holding together the ragged remains of a contender by consistently dominating the paint. But an impending trade will be the topic of conversation this year, not Howard's impact on the court, and no MVP has ever played for two teams in his award season.
Wallace: Fact. Even though LeBron is a full year removed from the animosity his controversial "Decision" created - in addition to some media-driven backlash - Dwight is far more of a one-man show in Orlando, or wherever he ends up. I've said it plenty last season. LeBron's biggest obstacle to MVP votes is MVP-caliber teammate Dwyane Wade. No other player in the league has that kind of sidekick talent.
Windhorst: Fiction. I don't expect Howard to have his best year with all the trade speculation hanging over him. In addition, James has served his probation for The Decision that no doubt affected some voters last season.
---
4. Fact or Fiction: This game features the best three players in the NBA.
Arnovitz: In terms of individual talent and efficiency, that's a fair statement -- particularly when you take defense into account.
Haberstroh: Fact. I appreciate what LeBron , Wade and Howard (just wanted to make clear Joel Anthony isn't in that top-three) do on both ends of the floor. I get that Howard can't shoot free throws and LeBron buckled in the Finals, but defensively, they can shut down opponents if they want (right, Derrick Rose?). Rose, Kevin Durant and Kobe Bryant can't do that at this point in their careers. That's huge.
Mason: Fact. There just aren't any other players that carry their teams on both ends of the court the way Wade, James and Howard do. Plenty of players can create of offense for their less talented players, but only these three do that and make a habit of cleaning up for others' defensive shortcomings.
Wallace: Fiction. I think Kevin Durant, Kobe Bryant and Dirk Nowitzki would like to have get in a few words here to state their individual cases. LeBron, Dwyane and Dwight are certainly three of the top five players in the league. But if you needed one basket to win a game, or a dominant fourth quarter in a high-pressure moment, Kobe and Dirk might be more preferable options to many than Dwight and LeBron.
Windhorst: Fiction. I don't think anyone could agree on who the three best players in the league are at the moment. But any list that doesn't include the current Most Valuable Player would be suspect and that doesn't even begin to broach the Kobe Bryant or Kevin Durant issues this brings up.
---
5. Fact or Fiction: Mar. 18, Magic vs. Heat - Howard will play in that game.
Arnovitz: Fiction. I'd love to see Orlando figure out a way to keep Howard, but he seems determined to take his act elsewhere. Unless that changes, Otis Smith has a gun to his head.
Haberstroh: Fiction. Perhaps the better question is whether Andrew Bynum will be healthy enough to start next to Pau Gasol in that game or not.
Mason: Fiction. Howard is gone, so the question is how much can Otis Smith get for the most valuable asset in the NBA: a two-way center in his prime and in perfect health. Smith is right to hold out through the low-ball offers, but still might lose Howard for less than the Clippers offered NBArleans for a less valuable player.
Wallace: Fiction. Thankfully for Orlando, the trade deadline is almost a month after the All-Star game in that city. I can see Dwight sticking around long enough to help host that showcase weekend. But the only way he sticks beyond the trade deadline is if Orlando's front-office actually works some magic and trade for a superstar teammate that puts them in the hunt for a title. In other words, D12 will be out of there by March 1 if not much, much sooner.
Windhorst: Fiction. Everything in the NBA is fragile and we're reminded how quickly situations change all the time. But it certainly appears Howard is destined to be traded before the deadline. The Magic are determined to try to play out the process and avoid having to do it, but their chances are great.
---