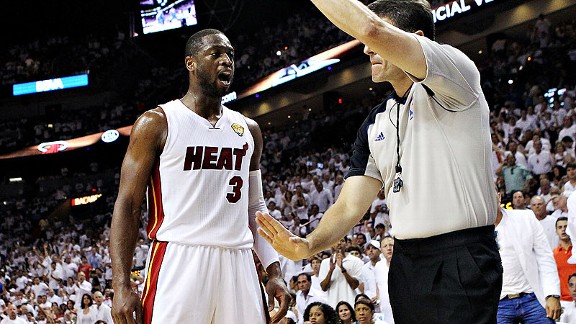 Ronald Martinez/Getty Images
Because of a new rule that affects Dwyane Wade, you may see this visual more often this season.
MIAMI – In the NBA sometimes you get the whistle, sometimes it gets you.
In 2004 the league instituted new hand check rules that significantly changed the way players had to defend on the perimeter. When that game-changing and score-boosting alteration came in Dwyane Wade was already on his way to being a dominant scorer and a superstar. But the adjustment gave him a huge boost.
Wade's scoring average leapt eight points that season as his free throw attempts per game doubled (from five to 10) in quickly taking advantage of the new rule. A number of top perimeter scorers saw the same trend at the time. It helped LeBron James average six more points and three more free throws a game. Kobe Bryant upped his scoring average by three points and took two more free throws a game from his previous average.
But no one in the league seemed to benefit like Wade, who is one of the most effective penetrators of this generation because of his ability to change direction and control his body. When it became a foul to put your hand on him on the outside, it gave him even more freedom.
This season, however, Wade is getting the other side of a rule change. As part of their annual package of "point of emphasis" the NBA has attempted to legislate out one of Wade's favorite offensive moves. Known as the "rip move" or the "rip through," it's when an offensive player will move or jump into a defenders outstretched arms to create contact and force a shooting foul. It's a countermeasure to deal with long-armed defenders and, the league believes, a bit of unfair gamesmanship.
Officials may simply not blow the whistle now if it doesn't cause a loss of control of the ball. Or, when there is a foul called, it will not be a shooting foul unless the player has started his shooting motion.
Wade has been one of the most effective players in the league at using the rip move over the years, creating contact by using his body control to force those shooting fouls. He's especially effective at doing it in midair when the defender stays on the ground in an attempt to avoid the foul.
Kevin Durant and Kevin Martin are also known for the move, though they usually create the contact on the ground and then jump after swinging their arms into a defender.
"Some rules come in and you're like 'ohh,' that's good," Wade said. "And some come in and you're like 'dang.'"
This is a "dang" rule for Wade.
It will take some time to understand how officials will call it and how consistent it will be. Also, there's some interest on how the rule will be enforced after shot fakes, when a defender can lose position. But it is clear the league is attempting to prevent offensive players from benefitting by manufacturing contact. This is simply one of Wade's best tricks.
To prepare his team, Heat coach Erik Spoelstra has instructed his assistant to call fouls in practice the way the officials might enforce the new guidelines.
"It's been the thing that's caused the most amount of complaining so far," Spoelstra said. "We'll have to see it to see the different teaching points of it."
You most often see it in one-on-one situations on the perimeter, which is why it has become a move often seen by wing scorers like Wade and LeBron James. It's a bail out maneuver when the play has broken down or it is near the end of the shot clock. If the league gets its way, that will be phased out.
"Players have been doing it way before I did," Wade said. "You can't fight the rules, you just have to learn to play with them."