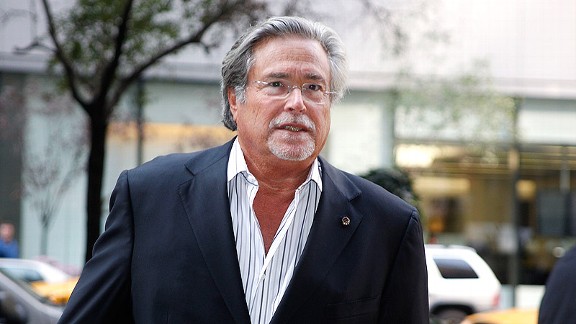 Michael Cohen/Getty Images
While Micky Arison got a chuckle at Donald Sterling's expense in the fall, the tables have turned now.
MIAMI – Micky Arison thinks it's Donald Sterling who might be laughing now.
The Miami Heat owner gave a rare interview on Thursday, discussing a wide range of topics from his decision to vote against the recently ratified collective bargaining agreement to his Twitter controversy that included Sterling in October.
The NBA fined Arison $500,000 for a series of comments on his Twitter account because he referenced league business during the lockout. One of the tweets responded to a fan who asked about what Arison thought about the oft-criticized Clippers' owner. Arison responed with a "lol."
"Looks like he's going to get the last laugh," Arison joked, referring to the Clippers' recent blockbuster trade to acquire Chris Paul. He also called the Sterling tweet "silly."
Arison couldn't resist talking about Sterling during the interview. One of the reasons Arison voted against the deal was because the Heat, who play in a mid-sized market, were slated to write revenue-sharing checks to the major-market Clippers in the way deal was structured. Though that may change with interest in the Clippers surging and their revenue increasing.
"Donald may write some checks and maybe he'll do it happily now," Arison said. "Maybe I changed his luck with my tweets."