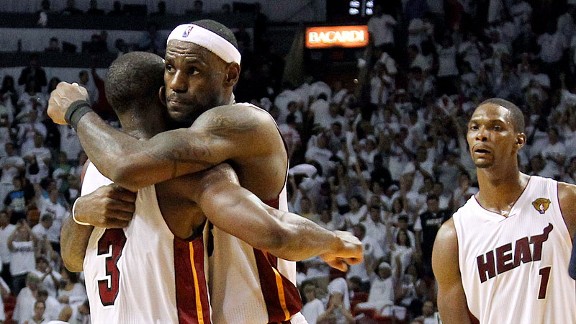 Mike Ehrmann/Getty Images
Should the Heat fail to take the title from the Mavericks this season, will the talented trio be split up?
DALLAS – Miami Heat's so-called Big Three will open their second season together by playing their second featured Christmas Day game.
But will it be their last?
LeBron James, Dwyane Wade and Chris Bosh all arrived at training camp in terrific shape. The Heat have enjoyed several valuable and stress-free weeks of preparation. James has devoted himself to working in the post to help complement his star teammates. Bosh has added weight to help out at center. Wade is injury free and rested. Coach Erik Spoelstra has installed a new up-tempo offense designed to play to his stars' skills and respond to their preferences. The team that beat them in the Finals, Christmas opponent the Dallas Mavericks, have lost some key players.
Because of all this, the Heat are prohibitive favorites to win the NBA title. If they come up short again, though, they might not get another chance together.
It is not attractive for fans, players or even coaches to focus on the distant future. That is not their job. For James, Wade and Bosh it is not even part of their world right now. They have all spent the last several weeks focused on taking what they worked on over the summer and fall onto the court. Their horizon is next June. That's their reality.
That is not the front office's job, however. They are there to think long term and for contingencies. Those horizons include some difficult decisions if there's another season without a trophy. That is a reality, too.
Last week, Heat owner Micky Arison articulated just what sort of hand the Heat have been dealt with the new collective bargaining agreement. As the talks developed, several times the Heat saw scenarios that they might not be able to keep their haul from 2010's free agent season together.
Because of those moves, which the team didn't regret for a second, the Heat had bigger financial commitments over the next five years than any other team. The owners, Arison included, were pushing for a hard salary cap. A hard cap might have meant a guaranteed end to the Big Three.
That concern dissipated eventually when the rules were agreed to. The Big Three can indeed remain together. But at significant cost.
"We can keep the Big Three together," Arison said. "They have just made it very expensive."
The expense is only one issue. This season, the Heat entered the luxury tax. With the current players and current contracts, they face luxury tax hits for the next four years as well. Possibly more than any other team has ever paid in luxury tax in NBA history.
But there are also new rules that limit teams in the luxury tax from using the full mid-level exception, having flexibility in trades and the ability to use sign-and-trades. In short, it makes it much more difficult to add to the roster or change the roster.
Not without trading one of your three best players, that is.
If you have a championship team, which is what the Heat certainly hope they have this season and for several years into the future, then all of these costs and concessions become worth it. Arison does not like to pay the luxury tax and the new revenue-sharing plan turns his stomach. Raising banners and hoisting trophies makes that easier.
If he doesn't have a championship team, though, then the new rules in the league may not make it worth it. They may have to investigate what one of their All-Stars would bring in a potential blockbuster deal.
Last season, several things held the Heat back from beating the Mavericks. They did not have enough size. They did not have enough depth. And they were not able to execute in several of the fourth quarters.
They would have preferred to address all of those issues in the offseason. But because of the new rules already making it hard on them, they weren't. Their biggest addition was Shane Battier, who may end up being their eighth man. Otherwise, the team needs more out of what it has and they admit it.
"LeBron and Dwyane and Chris and Mike Miller, guys are going to have to play bigger," team president Pat Riley said. "It is challenging. Two years from now when the tax becomes more punitive…you have to plan as much as you can."
That plan could be to make major changes if what the Heat currently has doesn't turn out to be enough.