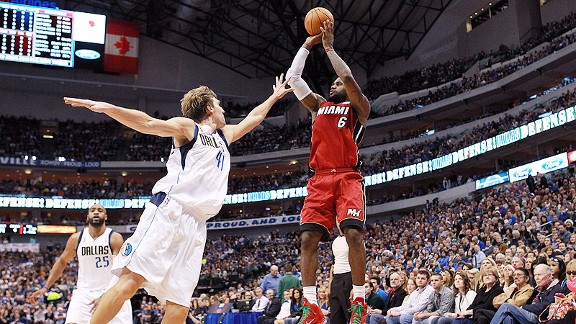 Ronald Martinez/Getty Images
LeBron James and the Heat got revenge on the Mavs by being calm, cool and collected.
DALLAS – Usually the annual epiphany on the true difference between the regular season and the playoffs doesn't come until April. It's never something to consider on the first day of the season, when hopes naturally obscure bad memories.
But it was unavoidable Christmas afternoon because the schedule forced it to attention. There was no way a Dallas Mavericks vs. Miami Heat on retrofitted opening day could be viewed through any other prism than an afterword to last spring's Finals. Not part of the plot, but it had to be in the book.
Two hours before tip off on a cloudy day that was nearly 70 degrees cooler than the last time the Heat were in town, the loudspeakers in the arena concourse played ESPN Dallas Radio's replay of Game 6 of the NBA Finals. It was a special Christmas presentation and probably would have been more pleasant for the crowd to hear than standard holiday music, which was flipped on as soon as the doors opened.
Hearing the intensity of that game, which was the finest night in the history of one franchise and perhaps the worst for the other, it was hard to compute that the same teams were playing again. The Heat's 105-94 win, a game the visitors led by as many as much as 35 in the second half, was absolutely nothing like that night back in June.
It was nothing like the last time the Heat were in Dallas, either. That was a lopsided Game 5 loss that gave the Mavericks the lead for good and signified how vastly the momentum of that roller coaster series had flopped around. It didn't even resemble Miami's last regular-season game in Dallas. That was almost exactly a year ago when a Mavericks' blowout win made the Heat's record 9-8 and triggered tense team meeting in the showers and some unexpected early-season finger pointing and soul searching.
Basically, the Heat played a stress-free game this time. It was a rout almost from the start with the evidence of the dominance racking up on the stat sheet faster than the scoreboard. LeBron James appeared to score an effortless 37 points, if there is such a thing. He was so relentlessly aggressive that he got to the free-throw line 19 times and there was only one or two calls that were even borderline. He earned them. He never once seemed even out of breath.
There were technical reasons why James was so effective. There was no Tyson Chandler there to protect the rim as there was in June when just standing in the lane was enough to deter James from even looking in that direction. In addition, the Mavericks collectively were not in anywhere near the sort of shape James is currently in. He arrived to training camp looking he'd been to boot camp, not in a lockout. It showed in the preseason games last week and it showed in the opener. His focus was unwavering while the Mavericks was mostly undetectable.
But despite the opponent, setting and marquee billing, this exorcised no demons.
It was James playing without pressure, a reminder of both how good he is and how bad he was in that series. It is hard to recall James even having more than a handful of comfortable possessions in those six games. James didn't have anything resembling an uncomfortable moment Sunday.
If the Mavericks' banner ceremony was supposed to create some sort of emotional reaction from James or his teammates, it didn't. The Heat didn't watch and apparently weren't too interested in the proceedings. After the game, James referenced the Mavericks getting their rings, which they did not get.
"We wanted to try to be businesslike," James said flatly. "We've had a great training camp, even though it was short, and we want to implement what we've been focusing on."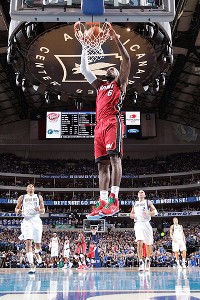 Danny Bollinger/NBAE/Getty
James rose above the jeers on Sunday.
The fans came after him, dragging out the old standby jokes and yelled them his way. A man dressed in a Santa Claus outfit who appeared to have enjoyed heavy doses of egg nog stood and screamed at him at the free-throw line. Mavericks owner Mark Cuban chatted him up during a stoppage in play. James laughed at them or straight ignored them, blocking out those outside irritants.
Again, this was not something he was able to do in the NBA Finals. Another reminder that this was not the Finals. It's much easier to be at peace on the first day of the season.
"He wasn't concerned about anything anybody said about him, he's going to have to be that way all year," said Dwyane Wade, who also played a quiet yet relentlessly efficient game with 26 points and eight rebounds.
"He's one of the most scrutinized players to ever play any sport. It's his job not to worry about it."
James' main job is to play like this in the playoffs. As he correctly announced two years ago after he received his second most valuable player award and he's repeated at several key junctures since, there is nothing else for him to accomplish other than winning a title.
Getting to where he can play in a NBA Finals like he played on Sunday – and in 10 career Finals games he's never been near such a performance – is James' mission this season. Even if he doesn't reach those statistical plateaus, playing without looking like he was carrying all of Akron, Ohio, on his back would be a start.
He has put in the physical work, which is shining through, and he's really trying to work on the mental aspect of it. He has purposely made his mission to stop letting outside influences affect his basketball mood -- a storyline since the end of the lockout. The early returns have been nothing but positive and James deserves some positive attention for that.
But even on a day when he was triumphant, it is impossible not to put it into context. James knows he has to play this way in Dallas or Los Angeles or Oklahoma City or whenever in June and not on Christmas.
"There was a lot going on last year but it was last year," James said. "This is the best I've felt in awhile. It's a good start but we've got a long way to go."