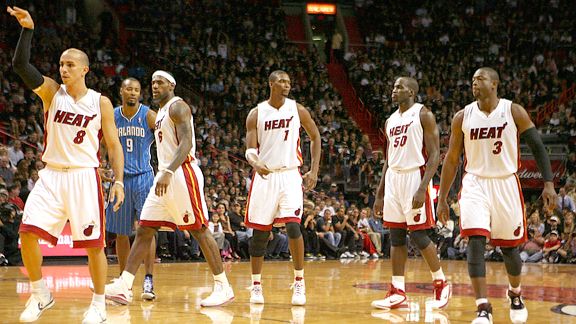 Marc Serota/NBAE/Getty Images Sport
You might not see this unit playing together on Saturday night against Toronto.
MIAMI -- A two-game losing streak and inconsistent play from their frontcourt could lead to the Miami Heat making changes to the starting lineup for Saturday's game against the Toronto Raptors.
Heat coach Erik Spoestra said Friday he has not ruled out tweaking his rotation or shaking up his starters, presumably at point guard or center, to help the reeling Heat (5-4) regroup after losing three of their past four games.
It's safe to assume that spots belonging to LeBron James, Dwyane Wade and Chris Bosh are safe. But amid the Heat's struggles to defend opposing point guards and a lack of production on both ends at center, Spoelstra might consider replacements for Carlos Arroyo or Joel Anthony.
In Thursday's 112-107 loss to Boston, Arroyo had four points and no assists in 10 minutes, while Anthony played eight scoreless minutes and did not record a rebound or blocked shot. Despite starting each of Miami's first nine games, Arroyo and Anthony have played limited minutes.
"I'll evaluate it all," Spoelstra said after Friday's practice at AmericanAirlines Arena. "I'm trying to keep it consistent. But when you're not having success, it makes you re-evaluate and you might have to make some changes. We'll see. You're always allowed to make changes if needed."
Spoelstra had already started that early in the loss to Boston. Miami typically prefers to use eight players in its primary rotation. But Spoelstra's search for productive lineup combinations led the Heat to use 10 players in the first quarter. By the middle of the second quarter, Spoelstra had turned to seldom-used guards Mario Chalmers and Jerry Stackhouse. But the biggest adjustment came at the start of the second half, when Zydrunas Ilgauskas replaced Anthony at center to open the third quarter.
Spoelstra would not say who will start at center in Saturday's game, but did conceded that the shooting ability and size of the 7-foot-3 Ilgauskas offers a dynamic alongside Bosh that is different from what Anthony, at 6-foot-9, provides as an undersized, offensively challenged center.
Ilgauskas, a 13-year veteran who was a long-time starter with the Cleveland Cavaliers, is averaging 6.2 points and 4.7 rebounds in 17 minutes a game. He is shooting 59.1 percentage from the field, which is highest on the team among players who have attempted at least 40 shots.
But Ilgauskas said he would prefer to remain in a reserve role.
"I''m a bench player," Ilgauskas said. "I feel more comfortable coming off the bench, to be honest with you. Last year in Cleveland was a little bit of an adjustment coming off the bench after being a starter. But now, I'm used to it. I'm very happy in the spot where I am right now. I know I have to be ready."
Spoelstra would have other options if he plans to make a change at center. The Heat could go with veteran Jamaal Magloire, a rugged, rebounding presence who is limited offensively. Or Spoelstra could opt for power forward Udonis Haslem to move into the starting lineup and play alongside Bosh down low.
Bosh has been reluctant to play extended minutes at center, especially against bigger and more physical opponents in the post. Bosh also said he is still trying to get acclimated to his transition between the power forward and center positions in Miami.
"It's always fun sometimes to get a break from the wrestling match," Bosh said Friday. "Big Z is more of a shooter who looks for his offense more. Joel is more of an energy guy. Getting used to each other's dynamic is something we're going to have to build as the season goes along to get our chemistry right. Coach can't help us with everything all the time."
The play in the post is just one of several concerns early in the season. Miami is just 1-4 against teams with winning records. Meanwhile, the defense has struggled to contain opposing point guards, the offense has bogged down at times with Wade and James searching for their rhythm and opponents have dominated the Heat in points in the paint.
But the message from Friday's practice was that Miami refuses to over-react to early season adversity.
"It's no time to panic," James said. "It's nine games into the season. It's not like the NFL, where you can go the first quarter of the season and be 0-4 or 1-5 and be looking down the barrel of a gun. We just need to work through what's going on and continue to get better."
Haslem understands the intense scrutiny that comes with the Heat's early struggles.
"So what, we lost two games in a row," Haslem said. "If the Lakers lost two games in a row, it's not time to push the panic button. Boston is going to lose two in a row somewhere along the line. I guess it comes with the territory because of all the hype and hoopla that's surrounded this team."