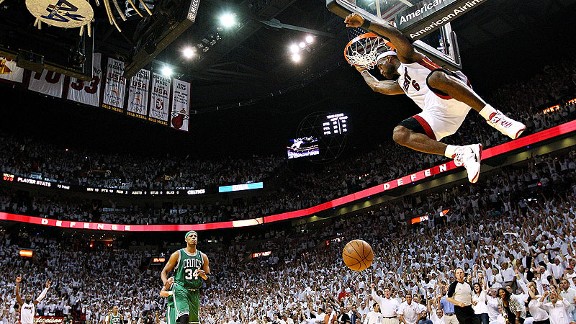 Mike Ehrmann/Getty Images
After beating Boston in the playoffs, are LeBron James and the Heat still looking down on them?
Miami plays host for the first time this season on Tuesday night and what better guest than the Boston Celtics? The last time these two teams met on this court, confetti was falling and emotions were running high. After Boston ended LeBron James and Dwyane Wade's seasons in 2009-10, the two stars teamed up and finally took down the Celtics last season on their way to the NBA Finals.

These two teams once saw eye-to-eye but now it appears that they're going in opposite directions. The Heat's Big Three are all in their prime, while Boston's original Big Three are well past it. Do LeBron and Wade finally have the upper-hand against the mighty C's? Which Celtics player gives the Heat most trouble? Is Chris Bosh better than Kevin Garnett?
In another installment of Heat Index's 3-on-3 series, our writers give their takes on where the Celtics and the Heat stand as AmericanAirlines Arena opens its doors for the first time this regular season.
1. Fact or Fiction: LeBron and Wade have exorcised their Boston demons.
Tom Haberstroh: Fact. I always thought that Boston's dominance in the playoffs was a great illustration of team talent overcoming singular talents. The Boston teams always had safety nets in case one of their stars had an off night. With LeBron and Wade, not sure they really had that. Now they do.
Brian Windhorst: Fact, I think. The demons were pretty embedded and fierce, though. You could see the genuine meaning that beating the Celtics had to Wade and James when that series ended last season. Boston is still formidable and savvy, if aging quickly. They certainly still have the Heat's respect but they've lost their number.
Michael Wallace: Fact. Initially, I was going to say "fiction" because this version of the Heat never beat a healthy group of Celtics, even in that dominant playoff performance last season. But then again, it's unfair to penalize LeBron and Wade for Boston's inability to ever get -- and stay -- healthy these days. So those demons are dead.
---
2. Fact or Fiction: If Heat could pick a Celtic to miss the game, it's Pierce.
Haberstroh: Fiction. I know Rajon Rondo makes them tick and Pierce makes them a legitimate offense. But you might as well lay out a red carpet to the rim for LeBron and Wade if Kevin Garnett isn't out there. The numbers back this up: the Boston D is average without Garnett. With him? They strangle opponents. And just the other day, Garnett may have literally tried to do just that.
Windhorst: Fiction. Now and against this roster, it's Rajon Rondo. Pierce and James have battled many times and have the scars to prove it but James has overtaken him. It will be interesting to watch rookie Norris Cole's first experience trying to deal with Rondo's array of talents and speed for the first time.
Wallace: Fiction. That list still starts with Kendrick Perkins. The Heat are still sending "Thank You" notes to Celtics GM Danny Ainge for dealing the rugged big man to Oklahoma City last season. But of the current C's, Rondo is a much bigger headache for Miami than anyone else on the roster.
---
Fact or Fiction. At this stage, Chris Bosh is better than Kevin Garnett.
Haberstroh: Fiction, although my feelings could change any day now. Bosh may not talk, but he can walk. Soon, the opposite might be true for Garnett. Honestly, I'm not sure how Garnett will hold up during the 66-game grind. That's a big variable here. But The Kid is still so disruptive defensively that I can excuse his erosion on the offensive end.
Windhorst: Fiction. Bosh may be more spry and Garnett's reputation of being a fake tough guy may be spreading. But just ask yourself this question: if you were picking teams tonight who would you take first? Garnett's best days are behind him and Bosh is in his prime. I know who I'd prefer to have on a five-year contract. But going into a big game the answer would be different.
Wallace: I'm going with the old, reliable "faction" on this one. Is a mid-20s Bosh a better player right now than a mid-30s Garnett? Yes. But is Bosh more effective and essential to his team on both ends of the court? No. Garnett's consistent defense, presence, leadership and intensity are still invaluable - even as he approaches social security.