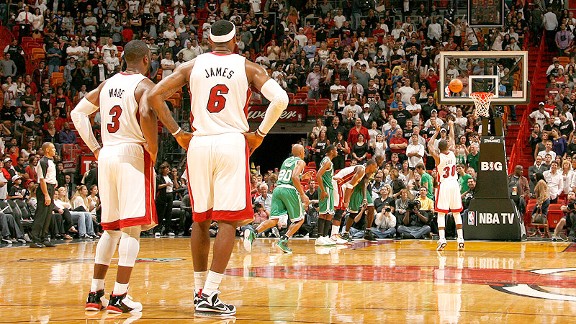 Mike Ehrmann/Getty Images
LeBron James and Dwyane Wade won't admit it, but they have a target on their backs this season.
MIAMI -- Two games into this truncated 66-game NBA regular-season sprint, at least one fact has already emerged about the Miami Heat: They're in deep denial.
Miami's players barely offered a response when New York's Amare Stoudemire declared the Knicks would be doing some hunting in South Beach this season to take down the Heat. But on Tuesday night, Chris Bosh took exception to that distinction.
"We're not the hunted," Bosh said before the team headed to Charlotte just after midnight for Wednesday's game against the Bobcats.
"We're still the hunters. Absolutely. The way I see it, it's like a kill or be killed mentality. The enemies are out there and you've got to get them before they get you. You know, Chicago, Boston, Orlando, New York. They're all good teams in our conference. We've got to get them before they get us. I like to be ambitious and strike first, put other guys on their heels."
Two games is hardly an ample sample size to determine anything definitive about a team, especially in a league attempting to jump-start itself on the heels of a 149-day labor lockout. On the other hand, a couple of games are pretty much all you need to gauge the demeanor of a Heat team that was obviously motivated to hit the ground running in order to redefine their image.
After convincing and impressive victories against the Dallas Mavericks and the Boston Celtics, the Heat have sprinted from the blocks this season -- literally and figurative -- as if they're evading a ghost from the past season. It's already reached a point where if you even bring up last season, Heat coaches and players will react with a blank stare and a response that indicates their previous predicament of falling flat on their face has absolutely nothing to do with their current reality.
"You forgive, but you never forget," guard Dwyane Wade said after Tuesday's 115-107 victory over the Celtics in the Heat's first home game at AmericanAirlines Arena since they walked off the court in Game 6 to close out their loss to Dallas in the NBA Finals.
"We have to leave that behind us, but we also have to learn from certain moments," Wade said. "We're just trying to be smart basketball players, trying to be better and trying not to make the same mistakes."
And Miami is also trying to convince you that it is the team doing the chasing in the reloaded East instead of the clear frontrunners being pursued as the defending conference champion. In two games, the Heat have already stormed past a Dallas team that knocked them off in the Finals and a Boston squad that was the last one from the East to win a championship.
Miami led Dallas by as many as 35 points in the Christmas Day season opener on the road and came back two nights later to race out to a 20-point lead over Boston. Critics and skeptics will discount both of those victories because the Mavericks are stumbling and struggling to regroup after losing three key rotation players to free agency from last season's title team. And the oft-injured Celtics, who were without Paul Pierce and lost Jeff Green for the season, remain in a perpetual state of rehabilitation.
But what these first two performances of the season reveal most about the Heat is their state of mind. The focus this season isn't as much on who they're playing as much as it is on how they're playing. And that's faster, smarter, harder, more relentless, less methodical and free of any burden outside of their own lofty "championship or bust" mandate Wade set at the start of training camp a few weeks ago.
There's certainly a pecking order in the East now, and everyone else is already in line behind the Heat. Bosh won't admit it. Wade refuses to acknowledge it. LeBron doesn't even comprehend it. Through two games, we've seen a revamped Heat offense average 110 points, shoot 52.3 percent from the field and nearly 60 percent from 3-point range. Defensively, they've generated 25 steals and 14 blocked shots. At this pace, it will be difficult for teams to match their stride.
LeBron credits the hot and fast start to a superior level of conditioning the team was already in at the start of camp. It's almost as if key members of the team spent the lockout locked in a gym somewhere.
"We're probably in better shape than most teams right now," coach Erik Spoelstra said before Tuesday's game against Boston. "We brought the majority of our core back, so I have certainly nothing to complain about."
Ideally, the Heat expected to be a bit ahead of the curve entering the season. But the reality is that this is a team still rounding its way into game shape. The goal is to reach midseason form as quickly as possible while maintaining a postseason mentality each step along the way.
"We're not in great game shape right now," LeBron said, in what sounded like a bit more denial. "We're on pace. I think guys came in knowing it was going to be a short season. They didn't come in too far out of shape, knowing it would take too long to get back. After two games and a few weeks being together, I would say we're doing good so far."
Definitive conclusions about any team aren't typically drawn in December. No one is fitted for championship jewelry in January. You don't reach the Finals in February. And more than any team in the league, the Heat know they can't ultimately be judged until June.
But Miami is showing flashes of what it's capable of being this season. A new, up-tempo offense frees LeBron and Wade up to run, attack and run some more. They get out in transition on the wings like receivers on a football field running post patterns. When executed correctly, it's a system that allows Bosh to go from dubious against Dallas to bouncing back with a double-double two nights later against Boston by simply running the floor and getting to open spots. It's an on-court environment that encourages rookie Norris Cole to fire off a team-high 16 shots and supplant Wade, LeBron or Bosh as the go-to man with the hot hand -- which the point guard had while scoring 14 points in the fourth quarter to beat Boston.
Wade calls it an "equal opportunity attack."
"We want everybody to feel that way," Wade said. "Everybody who comes in the game has the ability to do what they do. If you're a shooter, shoot it. If you're a guy who likes to penetrate, you know, do it. We don't want every time someone gets the ball to feel like they have to look for me, Chris or LeBron. We're not that kind of team this year."
Yep, a bit more denial there, too. The truth is this team only goes as far as LeBron, Wade and Bosh carry it on a nightly basis. But Wade's point is that there's comfort in knowing this season that Miami won't have to play Big Three on five every game.
Perhaps the biggest sign of change for the Heat is that they realize the next two games of the season are as vital as the first two. Sure, Dallas and Boston are considered bigger targets on a national scale. But maintaining their momentum against Charlotte and Minnesota is just as meaningful.
"We're coming back better," Bosh said. "We're always looking to improve. Most of the time, it really doesn't matter (what people say). We know the outsiders are going to talk up a storm. We don't worry about that because we've been through that before. We're just focused on what we're doing now."
No, two games certainly don't make a season.
But they do make a strong opening argument.