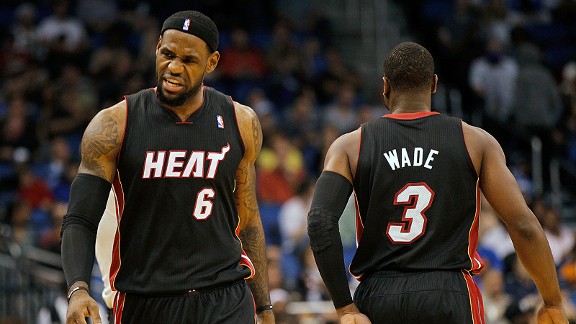 Mike Ehrmann/Getty Images
LeBron James and Dwyane Wade have turned their backs on threes so far. But is that a good thing?
Here's a little stat for you:
LeBron James and Dwyane Wade have yet to take a 3-pointer this season.
It's true. After three games, all 105 of their field goal attempts have come inside the arc. How notable is that? Well, considering that LeBron James hasn't gone three consecutive games without a 3-point attempt since his rookie season, I'd say this is a pretty notable trend. And Wade? It's been about four years since the last time he played three straight games with a zero in the 3-point attempts column.
Seen another way, LeBron and Wade would have about 18 3-point attempts by now if they were shooting threes as often as they did last season. But they have zero.
So, this is pretty uncharacteristic of both LeBron and Wade. As perimeter players, 3-pointers have historically been a big part of their arsenal. But so far after three games, they've kept that weapon in their holster.
But here's the question: Is this a good thing?
The early results have been good. The Heat are 3-0. LeBron is averaging a league-leading 32.7 points per game and his efficiency levels are off the charts. Wade is doing just fine without the 3-pointer, averaging 20.0 points on 49 percent shooting even with a gimpy foot in his most recent game. At this rate, who needs 3-pointers, right?
Well, there's more to this story. It's assumed that LeBron and Wade have cut the 3-point game out of their repertoires in exchange for higher percentage shots near the rim. As the thinking goes, they are more aggressive and attacking, rather than idly standing around the perimeter and launching threes.
And this is true to some extent, LeBron is attacking the basket more often and it shows in his stellar average of 12.3 free throw attempts. According to Hoopdata.com, Wade is shooting 1.3 more field goal attempts at the rim per game than he did in 2010-11 and has frequented the charity stripe more often as well.
But here's the interesting thing: they're falling in love with that long jumper just inside the 3-point arc. And this isn't a good thing. If you look closely at their shot locations so far this season, you'll notice that LeBron and Wade's shots from 16-23 feet are up -- way up.
Keep all this in mind as you look at LeBron and Wade's shot distribution below. For your reference, layups and dunks are classified as "at rim." I've also chosen to show this in per-40 minutes because their playing time has been sliced a bit this season (Wade sat out practically the entire third quarter of Wednesday's game due to injury).
LeBron and Wade shot selection last two seasons (attempts per 40 minutes)
Source: Hoopdata.com
As you can see, LeBron and Wade combined for 6.5 3-pointers last season. But where did they go? They didn't just vanish into thin air; they had to go somewhere. You'll notice that many of those shots are now coming from that inefficient area in the mid-range -- precisely where opposing teams want them. Statistically, it is the worst shot in the game because the payoff just isn't worth the low conversion rate.
Why? Say an NBA player is deciding whether he should take more 3-pointers or stick to shooting 18-footers. It seems obvious, but a 3-point shot is worth more than 2-pointer -- 50 percent more in fact -- so he has to take that exchange rate into account. If he normally nails 30 percent of his 3-pointers, he's effectively shooting 45 percent, since he's getting that extra one-point bonus. That's why James Jones and Eddie House have carved out long NBA careers: they can only hit one type of shot, but it's a really valuable one. There's a reason you don't see mid-range specialists.
So if you exchange 3-pointers for long 2s, you better be hitting those long 2s at a high rate. Otherwise, you're making a losing transaction. That's why NBA teams are increasingly using something called "effective field goal percentage" (eFG%) in their analysis these days. Since 3-pointers are worth more, a 30 percent 3-point shooter is effectively shooting 45 percent on his field goal attempts. It's the same reason why a baseball manager would rather have a guy who hits more triples than doubles, all else equal.
And if you look at the numbers, LeBron and Wade have consistently posted better effective field goal percentages from downtown than in that long 2s area. In fact, 4.5 of those 6.5 3-pointers that LeBron and Wade used to take are now being fired from the other side of the 3-point line. If teams had to choose whether LeBron or Wade were going to take 3-pointers or long 2s, they're going with long 2s every time.
So statistically, trading 3-pointers for long 2s isn't a winning transaction over the long haul. You want LeBron and Wade to primarily shoot from the most efficient areas on the floor: the free throw line, at the rim, and the 3-point line. LeBron and Wade have focused on two of those areas so far. They should sprinkle in a mid-range shot, but not a dozen of them per game like they're currently doing.
But there's also a question of mentality too. If LeBron and Wade have both made a conscious decision to become ruthless attackers, then they can probably do without 3-pointers. But that's not realistic. The truth is that they're still shooting a ton of shots from the perimeter, just not behind the arc. Every time LeBron and Wade shoot long 2s, the defense has done its job. And LeBron's long 2 conversion rate of 56 percent isn't sustainable as it is.
The Heat have won all three games so right now, this isn't an big issue yet. But this is when habits are formed. If this 3-for-2 exchange keeps up, the Heat's dynamic duo becomes a little less dynamic and a little less potent.