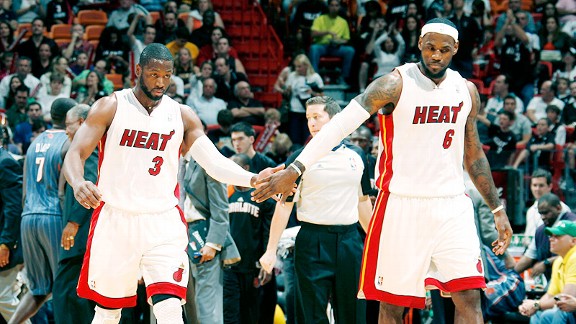 Issac Baldizon/Getty Images
On the day of his engagement, LeBron needed personal and professional help from Dwyane Wade.
MIAMI – Long before LeBron James sputtered through most of the Miami Heat's 129-90 victory against the Charlotte Bobcats on Sunday night at AmericanAirlines Arena, he had already established a pattern of relying on his teammates to get him through an even bigger challenge.
A night that finished with the Heat improving to 5-0 for the best start in franchise history began with LeBron first having to conduct some long unfinished business off the court.
"To me, it felt like he was on his knee for an hour," Heat guard Dwyane Wade said of James.
Wade, of course, was referring to the position James was in just after midnight Sunday morning rather than where the Heat forward would end up Sunday night. But in both spots, when James needed a pick-me-up, his supporting cast was there to provide a lift.
Apparently, the Heat really do things in threes.
A party that started Saturday night at a South Beach hotel as a belated celebration for James' 27th birthday would soon morph into a countdown to bring in the new year. After that, it became an engagement party, with James surprising longtime girlfriend Savannah Brinson, the mother of his two young sons, with a marriage proposal in front of Heat players, relatives and several friends.
Wade provided the assist by holding the ring until James popped the question. Heat forward Chris Bosh, who got married last summer, said he served in the role of watchman at the party, making sure the proposal went according to plan.
LeBron was the finisher.
"I think he did a good job of catching her when she least expected it, even if she did expect it," Wade said of the moment James went down on one knee. "He caught her in a moment of New Years, right after we did the countdown. When everyone was all, 'Ohh, Happy New Year, Happy New Year,' and then he got her. I was holding the ring down all night. Just happy to be a part of it."
It was another example of this Miami team showing how everyone is on the same page regardless of the stage. After ringing in the new year, the Heat then rang up the Bobcats in a game that quickly became a blowout in the first quarter. Miami would lead by as many as 46 points and was on pace to eclipse the 43-point margin that stands as the most lopsided victory in franchise history.
Almost all of the damage was inflicted without much offensive input from James, who didn't make his first shot until the final minute of the second quarter.
By then, Miami was already ahead 63-37.
By then, Bosh had already scored 20 of his game-high 24 points in the first half.
By then, the future Mrs. James was already showing people close to her court-side section of seats the massive, sparkling engagement ring that resulted from the work her fiancee put in the night before. LeBron finished with 16 points, nine rebounds and five assists.
Obviously, contributing to Miami's victory was the second-biggest accomplishment of the day.
After the game, LeBron faced more questions about his proposal than his performance.
"It was real cool," he said. "It was an opportunity for me with my personal life. She's happy. My family is happy. That's what it's all about. It is a good point in my life right now. I'm very excited about both on the court and off the court."
LeBron then talked about how much more at ease he is now, how much things are different for him than this time a year ago. Last year, LeBron was still trying to find emotional stability during his first season with the Heat after his controversial and bitter departure from Cleveland in free agency.
But now?
"I'm a totally different person than I was last year," James reiterated Sunday. "I am just back to loving the game of basketball, not taking too much for granted, and playing with a smile on my face. I lost that last year. I am back to myself. (Being) 5-0 definitely helps. We are playing good basketball and I'm very comfortable. Last year was overwhelming for a lot of people, including myself."
That difference is starting to show in his game as well as his demeanor.
LeBron opened 2012 by counting on his teammates to help take care of one ring ceremony.
But his year won't be complete unless he leads the Heat to one of their own on the court.