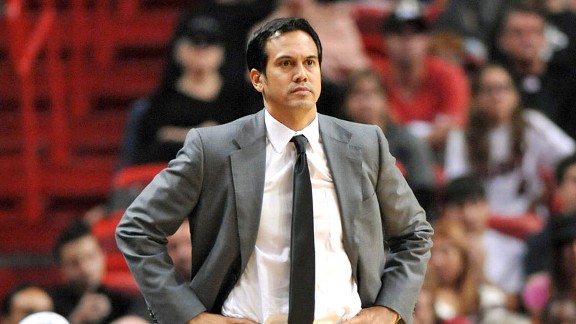 Steve Mitchell-US PRESSWIRE
Erik Spoelstra may have overblown the zone issue on Monday. There are more pressing concerns.
MIAMI - It was almost as if Erik Spoelstra knew what was coming, so he proactively beat everyone to the punch and launched into attack mode.
It essentially didn't matter what else went wrong in the Heat's first loss of the season, a 100-92 defeat against the Atlanta Hawks at home Monday night. Spoelstra, the Heat's coach, set the agenda from the moment he entered his postgame news conference, and his focus was squarely on his team's shortcomings against the one perceived demon that already haunts the Heat.
The zone defense.
But it would be a mistake to assume that a seven-minute stretch of Atlanta's unconventional defensive wrinkle was the primary reason Miami shriveled.
Before the Heat hit the court again Wednesday against a similarly skilled, long and athletic Indiana team, there are a few things Miami must first iron out.
As the Heat look to regroup, we revisit some of the statements that came out of Monday's loss and provide some translation and context moving forward.
Spoelstra: "We will spend and dedicate more time with it (attacking zone defense), even with the challenging schedule. We will find a way to still be aggressive and get our guys comfortable and able to attack regardless of what defense they're in."
What it means: Spoelstra seemed to go out of his way to make the Heat's discomfort with the zone a bigger issue than it is. Perhaps playing it up is a not-so subtle motivational shot to his team's pride. But it's not like a zone is the equivalent of tossing kryptonite on the court. A bigger problem is interior defense, where the Heat gave up a season-high 50 points in the paint. On deck Wednesday is a Pacers' frontcourt anchored by David West and Roy Hibbert.
Dwyane Wade: "We have to be aggressive. I think the zone has made us a little passive. The same shots we get in man (defense) we can get in zone ... we just have to have that mentality."
What it means: If they're not careful, the Heat could talk their way into a phobia here. We've seen it happen. If you tell them how much they struggle with something, they'll soon start looking for a diagnosis and prescription. It was this way last year with all of the issues about their struggles to close out games in the clutch. It took on a life of its own and mushroomed. Fact is, the Hawks relented on that zone the moment Wade reentered Monday's game late in the second quarter and started to attack the creases. It's not rocket science. Instead, it's more like a freshman level course called, 'Read, React, Attack.'
LeBron James: "We know a lot of teams are going to try to stop us from getting out on the break and stop our man-to-man offense and go to zone. We have to continue to work at it with the limited amount of practice time that we have and continue to get better at it throughout the year."
What it means: A critical compromise from the new collective bargaining agreement that hurt the game most in the short run is the limited practice time. The league wanted to squeeze in as many games as possible. So far for Miami, that's equated to only one full day of practice since the season started. From strategic and adjustment standpoints, Spoelstra and his players must figure this out on the fly and treat shootarounds like real workouts, only minus the burnout. As Brian Windhorst and Tom Haberstroh point out, you combat a zone first and foremost by never giving a team the chance to get set. And that starts with Miami getting defensive stops, then getting into transition. In other words, you attack defense with, well, defense.
Chris Bosh: "We thrive off of turnovers, but (Monday) wasn't one of those days. They were breaking us down. We gave up too many middle drives that lead to a couple of 'drive-and-kick' threes. We didn't get to our principles."
What it means: The potential danger of placing so much hype and focus on that new 'Pace and Space' up-tempo offense is that it can sometimes overshadow what the Heat is really about at their core: Defense. Spoelstra had no choice but to implement a more free, open and opportunistic offense to appease his star players. But make no mistake about it. He wants no part of the Heat having to win games by surviving shootouts. The high scores and highlights are fun to watch. But Miami is at its best when it dictates with defense - which, at times, has already been spotty for extended stretches in games.
Norris Cole: "That's on us. It's disappointing any time you don't win. It's not the end of the world. We're going to come back. We're going to prepare. We're going to get ready for the next game."
What it means: Leave it to the rookie to offer big-picture perspective. The Heat weren't going 66-0. They won't be 65-1, either. At this rate, they're on pace to be 55-11. So there will be losses. Even more important, there will be vital lessons along the way. Keep in mind that beyond Wade, LeBron and Bosh, Miami is working with three key rotation players who either weren't available due to injury or weren't on the team last season in Cole, Shane Battier and Udonis Haslem. Before there's prosperity, there must be a work in progress. And that's the stage the Heat, like most teams in the league, are in right now.
At some point, Spoelstra is going to have to define a clear structure and strategy for times when the Heat face athletic, zone-employing teams they did in Monday's first losing lesson. In the meantime, a more immediate priority should involve shoring up the effort and execution of their own defense.
Finding shots against the zone didn't ultimately hurt the Heat.
They stepped out of their comfort zone when they failed to make stops.