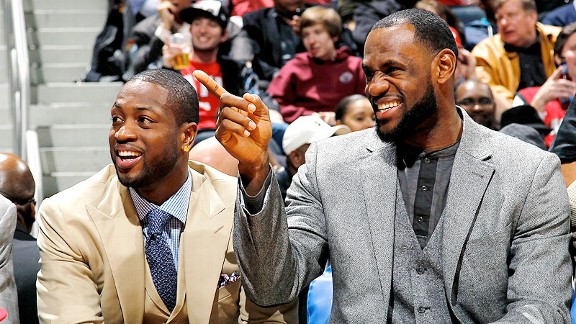 Kevin C. Cox/Getty Images
Dwyane Wade and LeBron James sat this one out, but the Heat got the win anyway. What'd we learn?
No LeBron? No Wade? No problem.
The shorthanded Miami Heat somehow outplayed a fully healthy Atlanta Hawks squad, the same team that handed the Heat their first loss of the season, for 63 minutes on Thursday. In fact, the Hawks didn't even score in the third overtime, which is astounding considering that the Heat were on the second leg of a back-to-back. The Heat went on to win 116-109.

The roller-coaster ride that seemed to go off the rails at several points of the game was anything but easy on the eyes. But the Heat have every reason to be thrilled with the hard-earned victory. What do we make of it all?
In another installment of Heat Index's 3-on-3 series, our writers give their takes on what we learned in the Heat's three-overtime win over the Hawks.
1. What was the biggest takeaway from the Heat's win?
Tom Haberstroh: That the Heat have a real roster this season. Miami was without three of its five highest-paid players (LeBron, Wade and Mike Miller) and yet ground out a win against a team that will vie for a top-four seed in the East. It's refreshing to watch Terrel Harris, Norris Cole and Dexter Pittman come off the bench instead of the creaky big men the Heat threw out there last season.
Michael Wallace: With LeBron James (ankle) and Dwyane Wade (foot) both out with injuries, the Heat's supporting cast confidently stepped into primary roles and responded with remarkable energy and effort. Miami could simply have folded or gone through the motions. But Udonis Haslem, Shane Battier, Mario Chalmers, Chris Bosh and Harris fought to the end -- and then some.
Brian Windhorst: No one else got hurt. Bosh (33 points) did his duty and took over as the lead star, Mario Chalmers made up for all his mistakes with the best statistical game of his career and Terrel Harris put his name on the map with 14 rebounds. But other than creating a few memories, this game didn't feel like it had much significance.
---
2. What was the biggest concern from the Heat win?
Haberstroh: That Shane Battier logged 49 minutes, which is 21 more than James Jones. The 33-year-old is still recovering from his quad strain, but Spoelstra obviously thought it was safe to play him more than any other Heater on Friday (Mario Chalmers tied with 49 minutes). Other than that, it was pretty much a flawless effort.
Wallace: I was going to talk about how Bosh should have taken more advantage of the spotlight to go for a 35-point, 15-rebound breakout performance. But the overtime opportunities took care of that. So I'll go with the Heat's struggles to defend and rebound inside the paint late in games as a legitimate concern right now.
Windhorst: I'd say it would be a hangover Saturday in New Jersey. But it is New Jersey so the Heat might be able to win with the a hangover.
---
3. What is the biggest question going forward for the Heat?
Haberstroh: Do the Heat play LeBron and/or Wade in New Jersey? Something tells me they have already penciled in a loss so they might roll the dice again and try to win without their two best players again on Saturday. They can afford to do it against the lowly Nets.
Wallace: The obvious answer is the health of Wade and James. But resting them seemed to be a precautionary decision. Miami doesn't play again until Saturday in New Jersey, which seems like an eternity amid this insanely truncated schedule. With the way the Heat played Atlanta without them, it might be worthwhile in the long run to give Wade and LeBron another few days of much-needed rest.
Windhorst: Norris Cole had several very poor turnovers and Erik Spoelstra elected not to play him at all in the overtimes. Can Cole learn to manage his aggressiveness so he can be trusted to be on the floor in tight games?