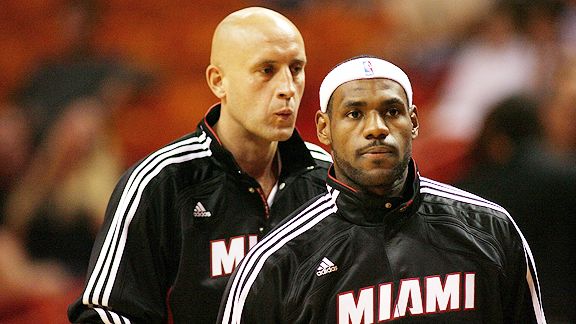 Marc Serota/Getty Images
Big Z and LeBron: "We've probably run the pick and roll two million times."
After his team lost two of its previous three games, Miami Heat head coach Erik Spoelstra finally made a change to his starting lineup for Saturday night's game against Toronto, inserting Zydrunas Ilgauskas into Joel Anthony's spot at center. While Spoelstra emphasized Anthony's energized play will continue having a place on the team, one thing is clear after the Heat's 109-100 victory over the Raptors Saturday night: Ilgauskas is here to stay.
Even though they share the same position, 7-foot-3 Ilgauskas and 6-foot-9 Anthony present a study in contrasts. Ilgauskas can shoot the ball from anywhere inside the arc while Anthony has trouble converting even the easiest of layups. Ilgauskas signed for the veteran minimum this summer while Anthony inked a 5-year deal that can keep him in a Heat uniform through 2015. Ilgauskas generally towers over his man while Anthony has to pogo-stick around the paint just to see his opponent eye-to-eye.
But most importantly, Z brings harmony to this team while Anthony hasn't quite fit into the offense.
Armed with a nearly automatic mid-range jumper, Ilgauskas has an offensive repertoire that draws his defender away from the basket, which frees up the lanes for Dwyane Wade and LeBron James to do their dirty work. Anthony, on the other hand, is so limited offensively -- he has only 9 field goal attempts in 161 minutes this season -- that he effectively transforms into a traffic cone in the paint.
"It does help from the standpoint you have to usually rotate to him," head coach Erik Spoelstra said of Ilgauskas. "It facilitates natural ball movement. And he's very unselfish. As an open shooter, he's one of the very best in this league. There already is a built-in connection with LeBron and Big Z. Dwyane is already starting to get that. So there's a little more fluidity to it."
LeBron has never shied away from praising Ilgauskas' contributions to the offense, but it was especially true after the Lithuanian's first start as a 35-year-old.
"[Ilgauskas] spreads the floor tremendously," James said. "He gives a lot of room to [Dwyane] Wade and myself because a lot of guys are afraid to leave him out on the perimeter, or put their bodies in front of us because of how well he can shoot the ball. You could see that tonight."
Forced to pick their poison, the Raptors left Ilgauskas open time and time again so they could attempt to contain LeBron or Wade in penetration. But the sweet-shooting center made them pay, nailing 6-of-7 shots from the floor on his way to a season-high 12 points. Amazingly, he didn't hit the rim until his seventh and final shot with 1:38 remaining in the fourth quarter.
Opposing defenses know that Ilgauskas can shoot the ball -- he's been doing it for over a decade -- but they continue to leave him open. Why? It's all about the pick-and-roll magic with LeBron and Wade. When Ilgauskas steps out to screen LeBron or Wade's defender, opposing teams have two difficult choices: 1) double up on the ball-handler and hope to prevent penetration, which frees up Ilgauskas or 2) let the ball-handler go into the paint and stay with Ilgauskas. It's a percentage play that can provoke sleepless nights for opposing coaching staffs.
"We kept their bigs in a bind," James said. "Either to put two on the ball when we were handling the ball. If they didn't, then [Dwayne] Wade turned the corner a few times. When they decided to put two on me, I was able to hit Z for a couple of jumpers. So he definitely does a great job of spreading the floor for us offensively."
Early on in the season, the Heat offense looked most comfortable when LeBron and Ilgauskas played tandem in the halfcourt. Pick-and-roll after pick-and-roll. Opponents knew what was coming but they still couldn't stop it consistently. If it seemed like the two players have been running the play for years, it's because they have.
"We always were good at [the pick-and-roll]," Ilgauskas said after Saturday night's game. "Man, between the two of us, we've probably run the pick and roll two million times including practice. I know when he has the ball on the floor, gives a look, and I know to come up. We work the angles, we see how the defense is playing us.
"It's the pick-and-roll. It's the hardest thing to guard in basketball. For anybody, for any team. I mean you look at Karl Malone and John Stockton. The pick-and-roll basically took them to the Hall of Fame."
Head coach Erik Spoelstra admitted that Iglauskas' 30 minutes, a season-high for the veteran center, probably won't happen again anytime soon. But given the veritable chemistry with Ilgauskas on the floor, he'll have to be ready for it.
"I want what's best for the team," Ilgauskas said. "I was feeling comfortable coming off the bench. But coach is in charge, whatever he want to do is fine with me. I'll still come out and play the same way."