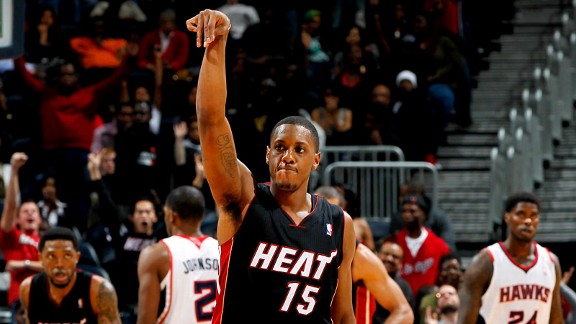 Kevin C. Cox/Getty Images
Mario Chalmers came up big in Thursday's grueling win, but he and the role players need to keep it up.
MIAMI -- Trust me, there will be more opportunities ahead to bash Mario Chalmers' occasional insistence on providing a boneheaded play, costly turnover or blown defensive assignment at key moments in games.
But today, let's agree to give it a rest.
And I'll flat-out admit I'm amused by the basketball man-crush some have on Shane Battier for all of the dirty work he does on the court. Fact is, I wonder just how much Battier has left and remain skeptical of the Heat's three-year commitment to a 33-year-old wing defender/shooter at a time when the team had far more pressing roster needs.
But for now, I'll step away from taking that charge.
And frankly, it blows my mind to see Chris Bosh, whose job title is "power forward," continuously orbit along the perimeter as if the 3-point line has some sort of gravitational force that's lacking in the low block and painted areas.
But give credit where credit is due. Dude definitely has a sweet stroke out there and he's largely been effective.
What I'm saying here is that the shorthanded Heat showed some things in Thursday's 116-109 triple-overtime road victory against the Atlanta Hawks that should at least start the process of making believers out of those who have some legitimate doubts. Specifically doubts about where this team stands beyond catalysts Dwyane Wade and LeBron James.
With Wade and James sitting out to nurse foot and ankle injuries, respectively, the Heat pulled off an improbable and stunning victory to avenge their lone loss of the season against the Hawks. These were the very same Hawks who beat the Heat with Wade and James on the court Monday.
After watching what played out in Atlanta on Thursday, I'm now convinced of two things about the Heat. One, coach Erik Spoelstra should again sit Wade and James for Saturday's game at New Jersey to buy another few days of recovery for their nagging injuries. And two, Thursday's supporting cast-led victory will hold up as the most shockingly impressive regular-season performance by the Heat this season.
Why? Because there's not much more Wade and James can do on the court from a positive production standpoint that should stun you, short of the NBA Finals. We know what they bring. But beyond them, the unknowns are plentiful. The only thing that can top what the Heat-lite did last night is if they go to Oklahoma City, Portland or Chicago and win with Wade, James and Bosh, too, on the bench in street clothes.
Keep this in regular-season perspective. And also know that these were the scratch-your-head-in-bewilderment Hawks. In other words, the beaten-down, uninspired Gerry Cooney Hawks. Not the stinging, stick-and-move Larry Holmes Hawks.
This was an inventory-taking performance that reveals the kind of long-range potential the Heat have in stock, on their first big road trip of this insanely truncated 66-game season. The only Heat fans rightfully upset about what took place in Atlanta are the ones who bought tickets -- some that even required multi-game plans -- just to see Wade and James in action. So Thursday had to feel like paying for the Jackson Family reunion tour back in the day only to discover that Michael and Janet would end up with DNP-Joe's Decision.
What the Heat showed us without Wade and James is that the backup pieces can be productive when given a chance to perform. Granted, it's a lot easier to find your game and flash potential when playing with freedom, plenty of shot attempts and extended minutes. The challenge is to maintain that aggressiveness in limited spurts instead of reverting to courtside spectators when Wade and James return.
What we also learned, for a at least a night, is that Spoelstra and team president Pat Riley were justified when they stepped out of their comfort zones and took some roster risks.
Giving Chalmers that new $4 million-a-year contract? It looked like a sound investment Friday night when he gave the Heat 29 points, eight assists, seven rebounds, three steals and big baskets in the final overtime period. Now, if Chalmers can give them fewer headaches and inconsistent stretches when Wade and James are healthy, Miami would have a trustworthy Chalmers-Norris Cole point guard tandem for the long term.
Know this: No one on the team travels from complete chaos to clutch as quickly as Chalmers.
That decision to bring in Battier in free agency despite the appearance of a logjam on the perimeter? It's at times like these when that move pays dividends. Not only are the Heat capable of becoming alarmingly thin on the wings with just one injury, they also have very few guys who can provide the type of one-possession, defensive lockdown Battier delivered Thursday to thwart a potential game-winning drive by Hawks perennial All-Star guard Joe Johnson.
Know this: If Battier can make three or four more of those types of game-saving plays in the postseason, he's worth the mini midlevel deal, and then some, that the Heat gave him.
That move to cut veteran sharpshooter Eddie House and eat the $1.4 million owed on his contract this season? Rookie guard Terrel Harris showed just why the call was a no-brainer. Harris' hot shooting streak in the preseason might have caught your attention, but Spoelstra repeatedly said the kid's defense and energy are what kept him on the roster. At 6-4, Harris matched Bosh with a team-high 14 rebounds in Atlanta.
Let's be clear: House wasn't giving you 14 rebounds. Or defense.
Udonis Haslem and James Jones have always been reliable, so it's safe to count on their hustle, rebounding and shooting as the season progresses, even though Haslem has yet to gain his rhythm offensively after recovering from foot surgery.
But more than anything, this display was mostly about Bosh. It's been well-documented that he committed to bulking up in the offseason. He hasn't shied away from bold statements about how the Heat should be favored to win it all, that he's going to be more aggressive in his approach, that he is an equal partner and productive member of the Big Three. Mainly, that he no longer thinks about, nor cares, what critics say about him.
Bosh was afforded the space and opportunity to prove he can carry the team if needed, and he did so with 33 points and 14 rebounds on 14-of-27 shooting. If James reached back to his Cleveland days to lead the way without Wade in a blowout of Indiana a night earlier, then Bosh ventured north of the border to regain his solo-star Toronto form Thursday against Atlanta.
Know this: The pieces are in place for the Heat to have a productive supporting cast.
What we don't yet know is whether the script will call for them to more confidently blend in when Wade and James return, or retreat to being a bit blinded by the spotlight on the two superstars.