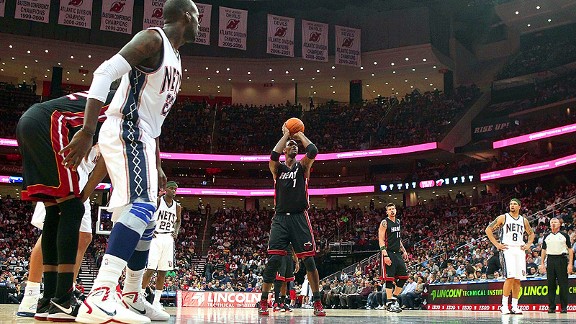 Jim McIsaac/Getty Images
Chris Bosh could stand alone again since Dwyane Wade and LeBron James are game-time decisions.
The Heat stole a win over the Hawks on Thursday with LeBron James and Dwyane Wade sidelined. Can Miami do the same Saturday in New Jersey?

LeBron (sprained ankle) and Wade (sore foot) likely will be game-time decisions against the Nets (2-6), who are without a star of their own, Brook Lopez. Should the Heat stars even think twice about playing? Is Brook Lopez ever going to play against the Heat in a Nets uniform again? Would Chris Bosh rather be the No. 1 option or part of the Big Three?
In another installment of Heat Index's 3-on-3 series, our writers give their takes on what's ahead for the Heat (7-1) in New Jersey.
1. Fact or Fiction: LeBron and D-Wade should sit this one out.
Tom Haberstroh: Fact. You couldn't pick a better opponent for a night off since the Nets without Brook Lopez and Kris Humphries are only a tad better than a D-League squad; MarShon Brooks and Deron Williams are banged up, too. Simply put, the benefits don't outweigh the risks.
Michael Wallace: Fact. After Thursday's improbable triple-overtime victory in Atlanta without James and Wade, the Heat are playing with house money tonight in Jersey. Why not give the two stars another game off to get even more healthy? Makes all the sense in the world to buy them a couple more days and have them return Tuesday for the Western swing of this five-game trip.
Brian Windhorst: Fact. Especially Wade. That foot injury seems to have him a bit concerned, and there are two more off days before the next game in Oakland. LeBron has a standard minor sprained ankle that he'd probably be able to play on if this were an important game. But it's not.
---
2. Fact or Fiction: On March 6, the Nets come to Miami with Dwight Howard.
Haberstroh: Fact. I think Nets owner Mikhail Prokhorov will make an offer that Orlando can't refuse.
Wallace: Fiction. For one, the Magic will have about another week or so from that date to make a deal before the deadline. Secondly, N.J. might not even be the preferred trade partner for Orlando. I can think of at least three other teams from which the Magic can get a better package in return.
Windhorst: Uh, um ... fiction. Tough call. Howard still wants out and the Magic are going to have to move him by the deadline. He's still interested in the Nets. But when it comes down to it, I just can't see the Magic liking what New Jersey has to offer without some help from a third team.
---
3. Fact or Fiction: In the regular season, Bosh prefers to be the Big One.
Haberstroh: Fiction, but I think he enjoys the challenge and the spotlight with LeBron and Wade cheerleading on the bench. He's caught a lot of heat for not being considered a worthy member of the Big Three, and this is an opportunity to prove the doubters wrong. In the end, I think winning is what matters most, hence my "fiction" pick.
Wallace: Fiction. For a night or three? Sure. But Bosh has been there, done that with the heavy lifting during his years in Toronto. That kind of full-time burden essentially gave him a hernia -- and plenty of headaches. Make him feel featured for a quarter or so in Miami, and he'll settle comfortably into his role alongside James and Wade.
Windhorst: Fiction. Bosh wants his touches, and he hasn't been shy about that at times, but he's been a team player. He has attempted to change his game since arriving in Miami. Not that he minds the chance to put up 20 shots now and then.