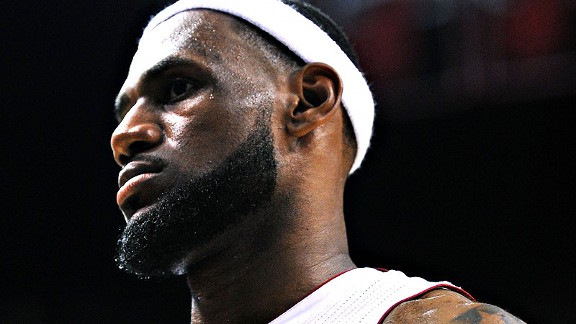 Steve Mitchell-US Presswire
LeBron James has always looked the part, but now he is playing like a big man. And like never before.
SAN FRANCISCO – The Miami Heat's first practice in weeks is over and players are into their standard post-workout maneuvers.
Some are icing while looking at their phones, some are running sprints under the watch of the conditioning coach, some are still on the court in a mixture of work and horseplay as equipment managers pack up.
For years this has been a time LeBron James has spent shooting 3-pointers. Sometimes it was for money, sometimes it was part of an elaborate shooting game, sometimes it was just emotionless repetition. Not anymore.
On this day James is wearing out assistant coach David Fizdale, grunting as he meticulously drills his footwork around the rim. Over and over, paying close attention to balance and technique. Fitzdale starts to sweat as James continues, spinning on him and pump faking him. He's a former collegiate point guard and clearly overmatched though that is not the point, the point is to act as the punching bag.
"Just getting some extra work in," James would say later, not in the mood on this day to be too revealing or insightful. "Just trying to get better."
Once James spins hard and explodes to the rim for a two handed dunk, shaking the basket standard. The move both startles and thrills a young boy standing a few feet away. He's not in school so he can get this special access that is becoming quite memorable. Wearing a James No. 6 T-shirt and holding a basketball he's sheepishly waiting to get autographed, the kid instinctively recoils but does so with a smile on his face.
James has been coming to this gym at the University of San Francisco since he was 15 years old. He's been back many times over the years on stops in the Bay Area. USF is a popular practice spot as NBA teams usually stay in the city and not across the bay in Oakland when they have stopovers to play the Warriors, as the Heat are Tuesday night. On one visit James spent this time tossing one-handed full court shots in front of the cameras with the impressive ease of a quarterback. The one he splashed was on all the local newscasts that night. But this is the first time James has ended a practice here like this.
A few minutes later, James is joined by teammates Chris Bosh, Mickell Gladness and Dexter Pittman. These are, essentially, the Heat's centers. At the other end of the floor the team's guards are shooting those 3-pointers. James is no longer a part of that group. Now he's stepping in and trying to show Pittman how to execute the drop steps and spin moves.
Pittman has been a center all his basketball life but it is James, the recently reformed 3-point shooter, is now trying to do some coaching on the matter. For this, Dwyane Wade joins in, feeding Pittman the ball and giving his own instructions. It is the only time all day Wade steps on the court, he's still out with a foot injury and came to the practice a half hour late because he was at the hotel getting treatment.
"I'm not about hiding my tricks in my own bag, you know?" James said, flicking his head toward Pittman, who the Heat are really hoping can become some sort of big man option. He's recently started playing, coach Erik Spoelstra giving him veteran Juwan Howard's minutes in hopes that he can work into a trustworthy option for a couple of minutes a night.
In addition to the young and green Pittman, Eddy Curry is the team's Hail Mary to play that role. He didn't come out to work with James and Fizdale, he was over in the bleachers with ice. But this is still progress. It was Curry's first practice in a month and the team still has no expectations of him. All of that is why James is doing this in the first place. The Heat continue to badly need him to be this serious, badly need that big man who can score in the trenches when playoff games are tight and long jumpers unreliable.
James is still trying to prove that he's seriously dedicated to playing like that big man and not just a guard in a big man's body, which has marked his career to the point. The referendum on it doesn't come now, which everyone knows. Just because James is off to a remarkable offensive start – his touches in the post doubling from last year and his field goal percentage and free-throw attempts leaping with his interest in playing closer to the basket – doesn't mean he's proven he'll do it when the Heat really need it. James simply doesn't have the luxury of enjoying regular season honors anymore.
On Monday, he won his second straight Player of the Week Award, something that hardly caused him to look up from breakfast when he found out about it. When asked about it for the cameras and microphones after the workout, he reaches for a bland response that credits his teammates for letting him shoot so much. Though, of course, he puts it differently.
Meanwhile, Spoelstra is growing a little fatigued of answering questions about James' post game. He knows quite well that James posted up on seven percent of his offensive plays last season and now it is more than 15 percent. He knows that James is shooting 65 percent on those post plays, the best in the NBA so far. He also knows has that James averages 1.219 points per play from the post, another in-depth stat that Spoelstra specializes in.
Those stats and the ones fans are much more familiar with – like James' 30.1 point scoring average and his 60 percent shooting percentage – say the obvious: keep doing it. They are a major reason the Heat are 8-1 and looking like a juggernaut offensive team.
Still the James in the post talk is what the coach calls "a storyline," an easy idea for the media to ask and write about. In a new city, the questions about it are coming and Spoelstra answers them without much feeling behind it.
"It's making us much more dynamic and efficient," Spoelstra said. "We're able to do it in different ways. Not just the post. People want to compartmentalize what we're doing. There's actually been a lot of tweaks."
As Spoelstra says it the biggest compartmentalized tweak of them all is still out on the floor receiving entry passes and working on hook shots.
Nary a 3-pointer to be seen.