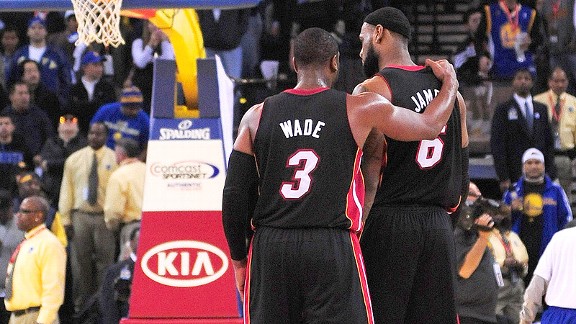 Kyle Terada-US PRESSWIRE
How do Dwyane Wade, LeBron James and the Heat look this season? League insiders give their take.
DENVER – The Miami Heat aren't just one of the most discussed and scrutinized teams by fans and media, the same goes for their own peers.
The Heat are closely watched throughout the league by rival executives, scouts and players. They all have their own responsibilities, of course, but there's always plenty of interest in what's happening with Miami. In addition to Kobe Bryant's amazing play through his wrist injury, seeing the new offensive habits of LeBron James and the Heat's faster-paced style is a popular topic right now.
So is Norris Cole, the Heat's rookie point guard who has caught the attention of many who work in the game.
What do these professionals think about what the Heat have shown in their first 11 games? As you would expect, opinions differ. But there is one consensus that seems to be quite strong: their growth won't be revealed until the playoffs.
"When you see them blow teams out with their transition game you really get impressed and you can get scared by how dominant they look," said an Eastern Conference scout. "But then you also see them get jammed up playing halfcourt offense and you say to yourself, 'This is exactly what they were last year.' They look so different at times that you wonder if they've just gotten bored."
Right now is an easy time to pile on the Heat after two disappointing losses this week in Golden State and to the Los Angeles Clippers. In both, their offense looked shaky and it ruined some exceptional defensive efforts that should've been enough to win. The wins and losses don't matter much to the Heat or those who are trained evaluators, regular season wins are probably not going to be much of an issue. How they handle pressure and work together is what their rivals are watching.
"There are times when you see James or Wade get down the floor and get an easy shot within five seconds even after a made basket, you will never see anything better than that," a Western Conference scout said.
"When they are facing a zone or playing in late-game halfcourt they do not impress you very much. As good as they look when they are on the run, they just don't have the same bite when they play slow. All the strategies and reports on them detail what they do when they have the ball, not when they're off the ball because they just don't do much when they don't have the ball. If I were Erik [Spoelstra] I want to play fast too because there's no way to stop it without fouling."
In Wednesday's loss to the Clippers there was a play in the fourth quarter when Wade set up on one side of the court with the ball and James came from the opposite side of the floor, got a screen and curled into the lane. Wade threw him a perfect pass and the Clippers were beaten and forced to foul. The reason this play stood out is because it was some of the best creativity the Heat have shown in late-game halfcourt situations. That was showing some growth.
Dating back to last season, even in games where the Heat were successful, James and Wade seemed to take turns making plays with Chris Bosh used as a screen setter and secondary option most of the time. When they didn't have the ball James or Wade regularly acted as decoys and not threats.
Tuesday when the Heat's offense collapsed in blowing a huge lead to the Warriors, Spoelstra went with isolation plays for Wade at the end of the game and in overtime while James was not involved in the play. James took some heat for not even taking a shot in the fourth quarter in that loss but Spoelstra wasn't always looking his direction, either.
"Wade is a great isolation player and so is LeBron, it's never a bad decision to give them the ball and let them try to make a play," said a league personnel director. "Ideally, you would like to make the defense defend both at the same time. You would think it would be easy but it isn't because neither of them have grown up in the game playing off the ball. That is something you learn to do over years and they haven't gotten there yet."
This is not to imply the Heat haven't impressed most of the league. By any measure from basic and advanced stats to the eye test, the Heat have gotten off to a strong start. All teams have cracks and anyone who is an expert and can find them and explain them rather quickly.
Sometimes the potential fixes are clear and sometimes they're not. The Heat, even with their star power and their excellent focus to enhance their offense this season, are in the latter category. James, Wade and Bosh generally are who they are. That was the challenge last year and that continues to be the challenge this season.
"You are probably going to see them back in the Conference Finals at the very least and then you're going to see whether they are truly better now than they were last year," said a league assistant coach. "If I were them, I would feel better if I knew whose team it was when you got to that point, to know who your go-to guy is and just live and die with him. They couldn't decide who that was last year ever and I don't seem them any closer to finding that out this year so far."