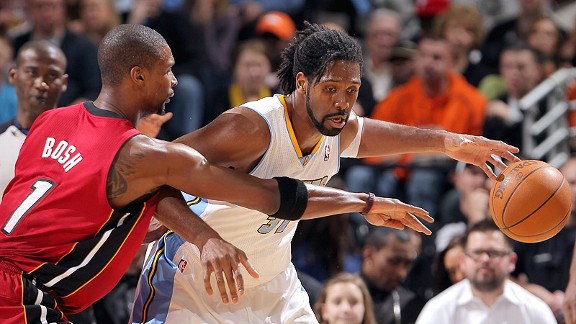 Doug Pensinger/Getty Images
The Heat needed Bosh to step up against Denver, but the 17 points wasn't enough. Time to worry?
The Heat couldn't close it out against the Los Angeles Clippers after eight missed free throws from LeBron James and some general sloppy play.

The Heat have dropped two straight games and the losing streak could extend to three games with their Friday tilt against the Denver Nuggets.
In another installment of Heat Index's 3-on-3 series, our writers give their takes on Miami's third loss of the season.
1. What is the biggest positive takeaway from the Heat's loss?
Tom Haberstroh: That they have three days off between their next game. In all honesty, there's not much the Heat can hang their hat on after the drubbing in Denver, but the schedule finally gives them a break -- a break that Wade will desperately need after another injury.
Michael Wallace: That it's over. The five-game trip, that is. That's the only positive to take out of Friday's game in Denver. Enough said.
Brian Windhorst: For all their gawdy numbers and impressive highlights, the Heat are two Wade baskets and a Chris Bosh 3-pointer from being 5-7. The Heat looked like they were going to be a freight train to open the season but their margin for error has closed very fast. Teams have figured out how to give them problems in the halfcourt and their defense has not been putting together complete efforts. Friday it was terrible.
---
2. What is the biggest concern from the Heat's loss?
Haberstroh: That the Heat's honeymoon with the run-and-gun could be over if they can't iron out their halfcourt offense. The defensive struggle isn't a huge concern considering they had impressive consecutive games heading into this one, but the offense might need some tinkering.
Wallace: The mental and physical condition of this team was really exposed on this trip. When it started, there was optimism about the Heat overall, and LeBron specifically, having their best ever starts. Now, the Heat stumble home battered by another injury to Wade, facing chemistry questions again and riding a three-game losing streak.
Windhorst: The Heat are a really good team and they're going to win a lot of games. But the last two nights have been playoff-type games. There were lots of weird things happening, odd calls, motivated opponents, pressure. And they didn't get it done either time. Those are the games that eventually determine the champions and the Heat aren't winning them right now.
---
3. What is the biggest question going forward for the Heat?
Haberstroh: Is there a wheelchair nearby? Wade probably won't be able to put weight on either foot tomorrow considering he received seven hours of treatment yesterday on his left foot. Now his right ankle could be wrecked. We'll await word after X-rays.
Wallace: How severe is Wade's ankle injury? Just when he was working his way back from a bruised left foot, he turned his right ankle in wicked fashion late against the Nuggets. Is this just an unlucky stretch for Wade? Or is he starting to break down after years of wear and tear a week shy of his 30th birthday?
Windhorst: Is this exactly what the Heat needed? Last year a couple of losing streaks kicked off some adversity and it brought the team together. One in December saw them go 22-1 and then one in March helped forge them to a Finals run. With eight of the next nine games at home there's ample chance to turn it around.