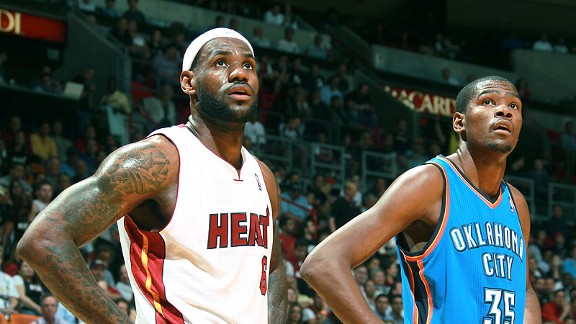 Victor Baldizon/Getty Images)
NBA GMs picked the Heat as the favorites, but tabbed Kevin Durant would be MVP over LeBron James.
MIAMI – Last month the Miami Heat were picked as the favorite to win the NBA title by the experts in Las Vegas. Now they've been picked by the experts in the front offices.
NBA.com released its annual general managers survey Tuesday and 74 percent of the respondents picked the Heat to win the title in June. The Oklahoma City Thunder received the second-most votes with just under 15 percent with the Los Angeles Lakers and Chicago Bulls each receiving votes.
The Heat were near unanimous picks to win the Southeast Division and the Eastern Conference. Miami was named as the most exciting team to watch as well.
In a surprise, it appears just one vote was given to the Bulls to win the East. Teams are not permitted to vote for themselves.
For the second consecutive year, Kevin Durant was picked to win the Most Valuable Player Award while LeBron James finished second. However, Durant and LeBron James split the vote on the player GMs would most like to start a franchise with, each receiving 37 percent of the tally.
James was also voted the best finisher, the most dangerous in the open floor, and the most athletic player.
Heat rookie Norris Cole was picked as the most likely rookie to be a "sleeper" success with 44 percent of the vote.