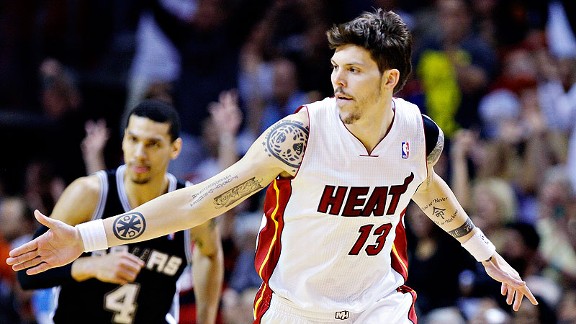 Mike Ehrmann/Getty Images
The 18 points from Mike Miller was a surprise, but a bigger one would be if he could stay healthy.
MIAMI - After putting the final touches on a career shooting night in his long-awaited season debut, Miami Heat swingman Mike Miller returned to the bench, took his seat late Tuesday night and was soon surrounded by a couple of giddy teammates.
LeBron James and Dwyane Wade stood around Miller during a timeout in the fourth quarter of Miami's 120-98 blowout of the San Antonio Spurs and frantically waved towels in a playful effort to cool off Miller.
Yes, Miller was that hot. He tied his career high by making all six of his 3-pointers, each coming in the second half as the Heat erased a 17-point deficit to end a three-game losing streak and open an extended homestand.
Now, the bigger challenge is for Miller, 31, to stay heated and healthy - two characteristics the 11-year veteran has yet to maintain in his two seasons with Miami.
"If there's any way you want to come back, you can't script that any better," James said of Miller. "None of those shots even touched the rim. We're going to need his outside touch. Great way to welcome him back."
Tuesday's return was a long time coming for Miller, who finally made his way back into the Heat's rotation after recovering from offseason hernia surgery. It was the latest setback for Miller in a Heat stint that has been marred by numerous injuries, surgeries, issues off the court and slumps on it.
But after scoring 18 points off the bench against the Spurs, both Miller and the Heat are hoping that Tuesday's performance was less of an aberration and more of an abstract of something plentiful to come.
"Every once in a while, you get going with your shooter - I just happened to do that," Miller said. "The first game back, it felt good."
Perhaps this time, that won't be a fleeting feeling for Miller or the Heat.
The timing of his return couldn't be better for the Heat (9-4) as Wade recovers from a series of lower-leg injuries that includes a sprained right ankle. Wade missed his fourth game of the season on Tuesday, and the team declined to place a definitive timetable on his potential return. That means Miami will need more contributions like Tuesday's from Miller, with a showdown looming Thursday against the Los Angeles Lakers followed by games against Philadelphia and Milwakuee.
Miami moved to 4-0 this season in games Wade missed due to injury. But there is a shortage of offensively versatile perimeter players on the roster capable of providing the combination of shooting, rebounding, ball-handling and playmaking that Miller was expected to routinely contribute from the moment he joined James, Wade and Chris Bosh during the Heat's 2010 free agency haul.
But neither Miller's body nor shooting stroke would consistently cooperate. He is finally emerging from a devastating 15-month stretch that has included four surgeries, treatment for concussion symptoms and his infant daughter's recovery from a life-threatening illness at birth last spring. Two broken thumbs, a shoulder injury and knee pain limited Miller to 41 games last season, and he limped through many of those just to say he finish the campaign on his feet.
Miller has emerged like this before, only to slip back into his struggles or stumble into an injury. It was almost exactly a year ago - under the similar circumstances with Wade out of the lineup - when Miller scored a season-high 32 points on 6-of-11 shooting from 3-point range in a Jan. 22 win against Toronto. But that breakthrough was followed by another set of breakdowns.
Miller went scoreless in his next game, and still has yet to reach double figures in consecutive games with the Heat. A few weeks later, he was inactive again and examined for concussion-related symptoms. Perhaps the year-old memories are what caused Miller to offer a sobering perspective despite the glow of Tuesday's spotlight from all the television cameras at his Heat locker.
"I'm worried more with my luck right now more than anything," Miller said. "I'm going to play hard - and just hope I stay healthy."
That would be progress. But there could be some concern moving forward. After Miller twisted his left ankle in the first half, he absorbed a blow to his midsection while defending a Spurs player in the fourth quarter and doubled over in pain. Again, Miller stayed in the game a few more minutes. Afterward, he said the blow was to the same area where he had the hernia operation in November.
Miller also said doctors told him there might be occasional tightness in his abdominal area, but that there was essentially no fear his abdominal muscle would tear again. For now, Miller claims he'll take a grin-and-bear-it approach to ultra physical play on the court.
"Like I told them, I'm not going to tell them about any more injuries," Miller joked, in part, about his communication with the Heat's training staff. "I'm not going to do another X-ray, because anything that comes out of a X-ray is bad news. They know my stance right now, and I'm going to continue to play."
Watching him play, at times, will continue to be a painful process to endure.
"At this point," Spoelstra said, "I can't cringe anymore than I already do. You can't tell him to play to a different personality than what he is. He played with reckless abandon, and that's why you love that guy, for the hustle, the effort plays, and he is relentless."
The Heat have had to rely on their faith in Miller, even in times when there was little evidence last season he would be the fit many expected. But there remains trust that at some point Miller will produce in the range of his career averages of 13 points, five rebounds and three assists, while knocking down about 40 percent of his 3-pointers.
That doesn't mean there weren't some uncertain moments for Miller and the Heat along the way. Team president Pat Riley made signing forward Shane Battier one of his top priorities in free agency after learning of Miller's hernia injury. The team also brought back Miami native James Jones as another perimeter shooter as roster insurance.
And even before the NBA lockout ended in November, there was speculation the Heat might use their one-time amnesty provision granted in the new collective bargaining agreement to release Miller, a move that would have reduce Miami's punitive luxury-tax burden at the end of the season.
Even Miller openly addressed the possibility he might be cut, and he also placed his $9 million Palm Beach County home for sale. But then there are moments like Tuesday, when confidence and hope are restored as Miller shows exactly why the Heat signed him to a five-year, $30 million contract in the first place to complement James, Wade and Bosh.
Amnesty? What amnesty?
"He was a big part of our plans moving forward and he is a big part of our plans moving forward right now," Spoelstra said of Miller. "When you go to a place and are expecting to be a contributor, and you can't because of physical accidents, you become frustrated. He has been so positive this year, and really diligent with his rehab ... keeping a great outlook and perspective that it is a long season and that he would come back with patience and a careful eye from our training staff."
Balancing patience and perspective hasn't been easy. Miller insisted he was healthy enough to return to the rotation two weeks ago. The team erred on the side of caution and waited an additional 10 days to ensure he was ready to graduate from a controlled practice session to live game action.
So much for Spoelstra's five-minute plan for Miller, who ended up playing 15. For a night, Miller showed flashes of what he brings. Now, it's about frequency. But Miller isn't yet in condition to get too far ahead of himself after just one perfectly promising performance.
"It's one game," Miller said as he shook his head. "I've played long enough to know that one game doesn't dictate your season."