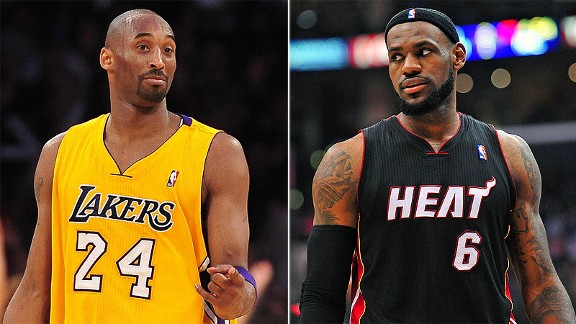 Gary A. Vasquez/US Presswire
Kobe Bryant and LeBron James have never treated this matchup as a rivalry and neither should you.
MIAMI -- Like a hostile witness, LeBron James answered the questions begrudgingly.
It was the day before the Miami Heat were scheduled to play the Los Angeles Lakers. That is circle-the-date television stuff for NBA fans and he knew he was supposed to help sell it even if his lack of fire about it was evident in his demeanor.
Yes, it sure is always a challenge to play those Lakers, James repeated.
Yes, Kobe Bryant is one of the best players in the league and (insert cliché here).
Yes, it will be fun for the fans and (insert another cliché here).
With that duty fulfilled, thankfully James must have thought, it was off to the locker room for a shower and a massage.
James didn't get away as easily as Bryant, who was able to avoid a similarly tedious session in Los Angeles because the Lakers took Wednesday off so they could fly to South Florida. But Bryant has said more than enough about the Heat this week by not saying anything about them. More on that in a moment.
Lakers-Heat Thursday night does indeed promise to be a high-quality game even with Dwyane Wade likely on the sideline nursing foot and ankle injuries. In fact, Wade's absence may spice things up because it might lead to more direct James-on-Bryant play, something that hasn't happened very often over the last few seasons.
For now, though, that is all it is, a hyped game in prime time that features plenty of star power. It would be so much more enjoyable if this were a legitimate rivalry but it isn't and the two teams and their front men know it. The Heat and Lakers surely want to beat each other but there's just more hype than history.
It comes down to Bryant and James, who have no relationship to speak of and just traces of genuine drama in their limited on-court meetings. If this is going to ever develop into the rivalry fans would love and marketers would relish, it's going to take a spark that hasn't been created yet.
Not that it hasn't been tried. The NBA made the James-Bryant matchup the centerpiece Christmas Day game two years in a row. When this season's unbalanced schedule was released it was hardly a stunner that somehow the chips had fallen to make sure the Lakers were one of the three Western Conference teams the Heat played twice.
But all this prodding hasn't led to much intensity. James, in fact, has won the last four games he's played against Bryant, but the best memory of those games didn't even involve an actual game. It was last season when Bryant, in some sort of mind game perhaps aimed more at his teammates than anyone else, came out to the court after losing to the Heat and shot for an hour in the empty area in front of astonished cleaners.
USA Basketball paraded James and Bryant around together during the 2008 Olympics, wanting them to be the faces of the Redeem Team. But their public relations interactions, like their time on the court together, often looked forced.
A few years ago Nike pitted them against each other in a season-long series of commercials. Only there was no way, apparently, they had the chemistry to pull it off on a set. So Nike made puppets and had them interact and create the trash talk artificially. Actors even played their voices. It seemed Bryant and James couldn't even engage each other in separate sound studios.
Magic Johnson and Larry Bird they are not. There aren't signs that will be changing, either.
After the Lakers played the Los Angeles Clippers on Saturday, Bryant paid a compliment to his competition.
"Chris Paul is really the only other guy in the league, other than Derrick Rose, with the same competitive edge as myself," Bryant said.
James and Wade did not make the short list and it certainly seemed like Bryant's way of dismissing the title favorite Heat altogether. It was an insult of omission, or at least that is the way some in the Heat's locker room saw it.
When it comes to competitive drive and talking Bryant and James, it has been hard to get past the interview James gave to ESPN the Magazine five years ago when he told Chris Broussard: "I don't think I have an instinct like Kobe, where I just want to kill everybody."
That was James' way of paying Bryant a compliment even if it didn't come off like it. No wonder he prefers bland answers on the topic these days.
There's been lots of water over the dam since then and holding anyone to such an old quote is a tad unfair. But in the meantime Bryant has won two more championships and a Google search for "LeBron" and "killer instinct" does not bring up a listing of flattery. And it doesn't sound like Bryant is in a hurry to change that perception.
There will be cursory respect Thursday night in the form of handshakes and game plans. The Heat are certainly aware that Bryant is healthier than he's been in years and on an offensive tear. The Lakers, and coach Mike Brown no doubt, are certainly aware the Heat have been one of the best offensive teams in the league this season with James playing some of the most focused and efficient basketball of his career.
Maybe it'll be a great game, maybe it won't. Maybe James and Bryant will stage the type on man-on-man battle that everyone has wanted for so long. But their history tells us not to expect it; that those types of moments come from fierce rivals.
It's a big game, but it's no rivalry.