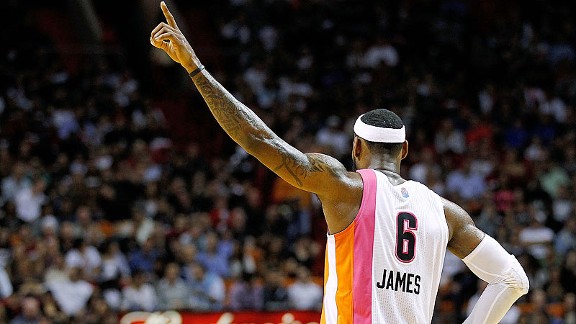 Mike Ehrmann/Getty Images
With Dwyane Wade sidelined, the Heat have changed up their look. And it's not just the jerseys.
MIAMI -- What we have here is a misunderstanding. It's not that the Miami Heat are "better" without Dwyane Wade, it's that the Heat are "good" without him.
The Heat are on an impressive winning streak during a long homestand when the weather in South Florida has been fantastic. There's only one thing you can do to sour their mood right now and that's mention their record without Wade.
It's 6-0, by the way, after they put together another strong effort in beating the Philadelphia 76ers 113-92 Saturday night. That's victories over the San Antonio Spurs, Los Angeles Lakers and Sixers this week. All quality wins, all with Wade nursing an ankle injury.
It's just that the Heat have developed a sensitivity to even the whiff of controversy within their high-profile team. Any mention of a crack or potential crack in the LeBron James-Chris Bosh-Wade triumvirate and it's to the bunker. After plenty of drama over the past 18 months, that's quite understandable.
That is why Wade, frustrated at some pundits for questioning what the mixed results with him and the flawless record without him mean, took to his Twitter account to thinly veil his displeasure in some jokes on the topic. It's also why coach Erik Spoelstra cut off a discussion about it earlier Saturday by calling it the "theater of the absurd."
It may indeed be absurd to suggest a team could improve by removing a future Hall of Famer. But it is not absurd to look at just why the Heat have played so well when Wade is not available.
The biggest difference is the style of lineups that the Heat use with Wade in a suit and the impact this has on James and Bosh. Instead of having two slashers who like to create their own shot but aren't great shooters, the Heat now generally have multiple shooting specialists on the court next to James and Bosh.
It is never easy to defend James or Wade when they are on the attack, but it is challenging to have them attack at the same time. But shooters have to be guarded or you'll often pay the price.
That is what has happened this week, as three strong opponents haven't been able to deal with the combination of James and Bosh's two-man game and the Heat's terrific outside shooting.
"They are a different team without Dwyane," Sixers coach Doug Collins said. "They space the floor a little bit more and they use the 3-ball a little bit more."
Wade's latest injury has coincided with the return of Mike Miller from his own injury, which has allowed Spoelstra to play Miller, Shane Battier and James Jones all at once. With Wade, it is unlikely Spoelstra would be able to play at least two of them together nearly as much. Maybe not at all. Add in Mario Chalmers, who is having the best 3-point shooting season of his career, and the Heat's shooters have become weapons.
Over the past three games, the Heat have nailed 32 3-pointers on 60 attempts, making 7 of 16 on the Sixers. That's a hot streak and a pace that can't last. But it is also the result of playing with so much shooting on the court with players who require attention like James and Bosh.
"When our shooters are spacing the floor, it opens up the driving lanes for LeBron ... and our pick-and-roll game opens up," Spoelstra said. "We are still able to get to the rim and get some free throws and that helps our game when we stretch the floor."
The Heat have limited their pick-and-rolls with James, Bosh and Wade playing together because it makes it too easy to double-team one of them. Or, as Bosh says, it "brings a lot of attention to the ball." With just James and Bosh, the pick-and-rolls have become harder to defend because the extra defender often is leaving a strong shooter.
"Of course when you have guys knocking down shots like Mike is knocking them down now, Rio as well and Shane ... you do have a little bit of an advantage," said Bosh after his second consecutive 30-point game. "I think that's the gift that keeps on giving."
Over the past three games, James and Bosh have combined to shoot 58 percent and average 55 points a game. Again, it could just be a hot streak. But it was against three of the better defensive teams in the league who had plenty of trouble handling the lineups on the floor and the plays the Heat were running.
"It's always good to have an opportunity to go one-on-one in the low post because you have those shooters out there," said James, who had 28 points Saturday. "I'm happy we have them and stretch the defense and use my strength."
The Heat were the league's best offensive team before Wade went out with his latest injury and he was a big part of it. He was a part of their focus on playing up-tempo offense and was committed to taking higher-percentage shots. Wade was also the team's best player in last season's NBA Finals, where the Heat were two wins shy of winning a title.
What has happened while Wade has been dealing with an array of injuries is not a referendum. No one with any influence or perspective believes that. But it doesn't mean these victories, the last three being rather important, can't teach the team some lessons about itself.
That's not controversy, that's responsibility.