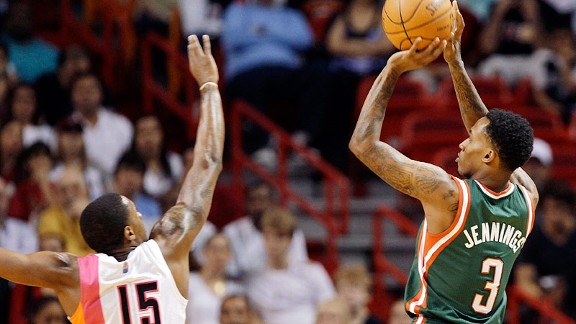 Mike Ehrmann/Getty Images
The Heat fell to Brandon Jennings and the Milwaukee Bucks after a sluggish performance.
MIAMI – LeBron James learned a new word on Sunday: clunker.
It actually has a lot of uses if you consult the Urban Dictionary but in this case it applied to the dreck the Miami Heat and Milwaukee Bucks displayed in a low-execution and generally unattractive game. Though the Bucks are more used to playing these sorts of games, especially offensively, it ended up playing into their favor in a 91-82 upset road victory.
Shane Battier, a Duke graduate, was very much a part of the Heat's overall clunkiness, and he properly called the game a clunker for the Heat, who had won three straight home games against strong opposition. In this usage, it should be assumed, Battier was comparing the game to a battered and broken down old car.
"I don't even know what that means," James said when asked to affirm Battier's diagnosis. "Shane has words I've never heard, maybe it's a college word."
Well, add it to the vocab list because that's what it was for the Heat. So far they had been immune to several lockout-related ills that had infected much of the league. The majority of their team arrived to training camp in good condition and didn't have to play their way into shape. They haven't had to play a back-to-back-to-back set yet. And, until Sunday, they hadn't had to endure a spell of dead-legged play that seems to have plagued numerous games over the first month of play. This game was a non-sequitur compared to the other 15 games in the Heat's season.
James was the only Miami player who gave a standard performance, scoring 28 points with 13 rebounds and five assists. The five assists part was especially interesting since the rest of his team had only four against 22 turnovers. Just that number should explain how the game played out.
Chris Bosh had a career-high eight turnovers, two costly ones in the fourth quarter, and Mario Chalmers had six. Though Chalmers' worst play of the day was in the final minute when he was hit for a flagrant foul for a cheap shot on Brandon Jennings when the game was already decided.
The Heat shot a season-worst 37 percent but that was better than the Bucks, who shot 35 percent, which for them is just barely below average. The 82 points were also the lowest for Miami this season.
"My whole career anytime you played Milwaukee on a back-to-back you know it is going to be tough," James said. "We had no energy."
Milwaukee, which hadn't won a road game (0-8) until Friday in New York and now suddenly is on a rush, was plenty happy to play a grinding physical game in the fourth quarter as the teams traded bricks.
Jennings was a miserable 5-of-20 shooting and 1-of-10 on 3-pointers, part of the Bucks' eye-popping 5-of-30 effort from beyond the arc. But Jennings personified the Bucks' attitude on this day, undeterred by air balls to keep right on going. Eventually, he made it to the line 13 times and finished with 23 points.
Milwaukee ended up getting 39 points off its bench, 13 from Ersan Ilyasova and 10 from Stephen Jackson off his one-game suspension from oversleeping Friday in New York. The Bucks also did a decent job defending James in the second half, holding him to eight points and holding him to two free throws after he got 10 in the second quarter alone.
"We had a great difficulty making shots," Milwaukee coach Scott Skiles said. "But we made up for it with tremendous effort."
The same could not be said for the Heat, who clearly looked like they were feeling playing their fourth game in six days. After having plenty of team success playing without the injured Dwyane Wade, who missed his fourth straight game with a sprained ankle, this was a game where the Heat clearly could have used his individual talents.
Their record without Wade has its first blemish -- it's now 6-1 -- but he inched closer to a return on Tuesday against the Cleveland Cavs.