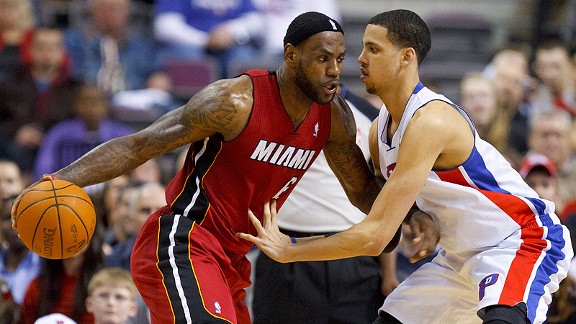 Rick Osentoski/US Presswire
LeBron James and the Heat travel to Detroit to begin yet another back-to-back.
It wasn't pretty, but the Heat squeaked out a win against the Cleveland Cavaliers on Tuesday. Immediately after the victory, they hopped on a plane for a 1,300 mile trip to Detroit.

Should Heat fans get excited that Dwyane Wade is making the trip? Is Greg Monroe a top-three center in the East? Should the Heat rest LeBron James and Chris Bosh soon?
In another installment of Heat Index's 3-on-3 series, our writers give their takes on what's ahead for the Heat (10-4) against the 76ers.
1. Fact or Fiction: Fans should be heartened that D-Wade is in Detroit.
Tom Haberstroh: Fiction, only because I don't think they should get their hopes up. I don't think it makes much sense to try to return after the altitude-induced swelling and I'm guessing Wade's just coming along for the ride. It's a step in the right direction at least. A wobbly step.
Michael Wallace: Fact. You'd think if there's absolutely no way Wade plays, why bother making the trip to Detroit and putting that ankle through two flights and potential swelling? So there is always hope. But it could also be a case of Wade simply wanting to maintain a treatment regimen with the training staff to be ready for Friday's game against New York. Yes, it's all speculation and conjecture. But the Heat aren't giving folks much else to go on right now.
Brian Windhorst: Fact. It seems doubtful that Wade will play against the Pistons but it does appear he's on the verge of returning. Perhaps the most important game of the season thus far is Sunday against the Bulls, a team you need as much offense as you can muster against. Signs point to Wade being ready for that one and perhaps sooner.
---
2. Fact or Fiction: G. Monroe is a top-3 center in East (D12, T. Chandler).
Haberstroh: Fiction. But did you know that, statistically, he's the third-most productive center in the East behind D12? According to the handy player efficiency rating, he is. Gimme Al Horford going forward but the fact that Monroe's in the conversation speaks volumes about how quickly he's risen.
Wallace: Ficton. Perhaps I can introduce you to Al Horford in Atlanta? Have you met Andrew Bogut in Milwaukee? Then there's Roy Hibbert over there in Indiana, Joakim Noah in Chicago, Brook Lopez in New Jersey and Javale McGee in Washington. I like Greg Monroe and can see the obvious development in his game. But I just named, what, six other centers in the East that I'd probably pick ahead of him right now. Well, perhaps McGee only on his non-knuckleheaded days.
Windhorst: Fiction. Monroe is having what you'd call a breakout season so far. It's hard to find big men like him and it appears the Pistons may have scored one in the draft. But I don't think he's better than Brook Lopez or Al Horford, if you classify him as a center. Also Andrew Bogut and Roy Hibbert are probably more proven. But if you're buying stock in young big men, Monroe is one to watch.
---
3. Fact or Fiction: LeBron and Bosh should get rest once Wade returns.
Haberstroh: Fact. LeBron and Bosh deserve some a lockout layoff. Their minutes per game rates are down but the schedule crunch offsets the decrease. They can afford to rest one of them next week when the schedule lightens up and they should.
Wallace: Fiction. Taking the occasional game or two off is fine. But this Heat team still has some offensive kinks to iron out with everyone relatively healthy and available. As much as we'd like to simply fast-forward to the playoffs, it would be foolish to believe this team isn't still a work in progress. The Heat need to establish a rotation and some kind of consistent rhythm. Besides, once Wade returns, it'll mean less of a burden on Bosh and James anyway.
Windhorst: Fiction. They should but won't. Not a privilege the Heat are probably going to have. Most everyone in the league is puffing at this schedule right now, it's the same for everyone.