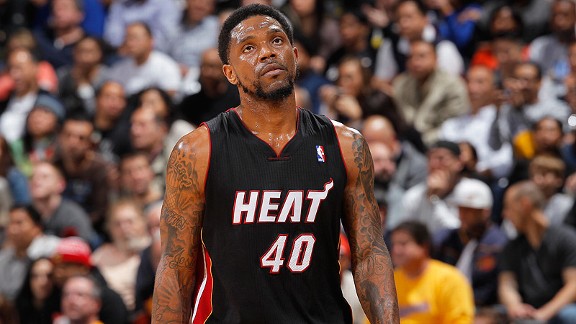 Rocky Widner/Getty Images
When it comes to Udonis Haslem's jumper, there's not a lot to smile about.
Udonis Haslem is a warrior. That's how Heat coach Erik Spoelstra regularly refers to his power forward and it's plain to see why. As a generously-listed 6-foot-8, 235 pounder who routinely matches up against centers, he's often dwarfed by his opponent. Despite his stature, he ranks as one of the league's top rebounders, fighting and clawing to every potential board.
But he's also responsible for creating a lot of those potential rebounds. Haslem has supplied rebound opportunities by the bunches this season as he's been struggling mightily with his shot. He is shooting 40.4 percent from the field, which is easily the worst conversion rate of his career -- his next lowest percentage is 45.9 percent, during his rookie season eight years ago.
Thanks to Hoopdata.com, we can get a closer look at where his misfires are coming from. No, it's not pretty. Layups and dunks are classified as "at rim" shots and Haslem has actually been fine on these shots -- 61.4 percent which is right at league average. That's not the problem. The inaccuracy comes from shots outside the basket area.
Here are the gory details: Udonis Haslem is shooting 27.4 percent on shots away from the basket. If you look at just his shots taken from 3-to-15 feet from the basket, he's 3-for-19 (15.8 percent). That's about as bad as it gets. Overall, the 27.4 percent ranks as the eighth worst conversion rate among regulars with 50 shots inside the arc not at the rim.
Worst shooting percentage with at least 50 attempts (3 ft-23 ft)
Source: Hoopdata.com
It's still early, but the results are hard to ignore. You never want to rank 135th among 143 players in any statistic, much less one that is typically your strength. In Haslem's case, the jumper is one of his offensive gifts. He has been a headache for defenses over his entire career because he creeps into that pocket on the baseline and routinely drills a 15-footer. Here are his shooting percentages over the past six seasons from 3-to-23 feet: 41.9 percent, 41.0 percent, 43.5 percent, 43.8 percent, 48.5 percent and this season's 27.4 percent.
Entering the season, Haslem would probably say he could nail that shot in his sleep, but that's not the case this time around. Haslem has never had a silky shot and Erik Spoelstra would be the first to admit that it's an unorthodox delivery. He seems to hold onto the ball just a moment too long, almost to the point that he releases the ball on his descent to the floor. But it's always worked. Until now, that is.
What's the issue? Our own coach and scout David Thorpe might know.
Thorpe has actually worked with Haslem on his shot before. Thorpe runs the Pro Training Center in nearby Clearwater where NBA players come and go for training in the summer months, but Thorpe hasn't had any workouts with Haslem in recent years because the Heat forward has been nursing offseason injuries.
After watching some tape on Haslem, something caught Thorpe's eye right away: there's no follow-through on his shot anymore.
"Holding his follow-through and shooting with great balance are the two biggest keys we worked on when he first came to me years ago," Thorpe said. "But his follow-through is non-existent now. His balance is just OK, not great on every shot."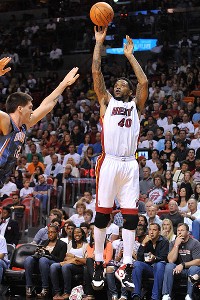 Steve Mitchell-US PRESSWIRE
Udonis Haslem's follow-through seems to have vanished this season.
This glitch might be a product of two things: an offseason spent recovering from multiple foot ailments and a shortened season due to the lockout. Haslem wasn't allowed to work with the coaching staff until training camp opened due to the lockout restrictions and by then, it appears the damage was done. Back in early December, we shot video of Haslem taking jumpers at the Heat's practice facility before coaches were allowed to supervise workouts and you can see why Thorpe made his diagnosis: the follow-through is not crisp.
But the truth is that before the season started, Haslem didn't pick up a basketball for 11 of the previous 12 months due to injuries. For a 31-year-old, each day away from the court might feel like two. The Heat desperately needed him to play in the playoffs, but Spoelstra knows that the month on the court probably set him back from a habit standpoint and a physical one, too. He wore a boot for much of the offseason after he required another surgery on his foot and was reduced to a coaching role in the South Florida All-Star Classic pick-up game in early October as the Heat's Big Three were running around putting on a show for fans.
Knowing all this, it's expected that Haslem might experience some rust to begin the season, but it's more than rust at this point. Another concern is his shots blocked rate. Haslem took three shots in Wednesday's game and all three were blocked by Detroit defenders, including a jumper from the baseline. According to Hoopdata, Haslem is getting blocked almost four times as often as he did last season (12.8 percent of his shots vs. 3.5 percent) and more than twice his rate in previous seasons. Spoelstra is aware of these numbers and suspects that his timing, more than anything, is off after the extended time away from the court.
There's no question that Haslem is undersized, but it didn't seem to matter in previous seasons. He's known as a warrior on the court and no one doubts that he'll battle back from his early-season struggles. But we're already approaching "mid-season form" time and it will be difficult for him to recover. Considering his foot issues and the fact that practice time has been essentially eliminated this season, the cards are stacked against him. Haslem might be a rebounding machine this season, but if he can't find his knock-down jumper, then much of his value is lost.