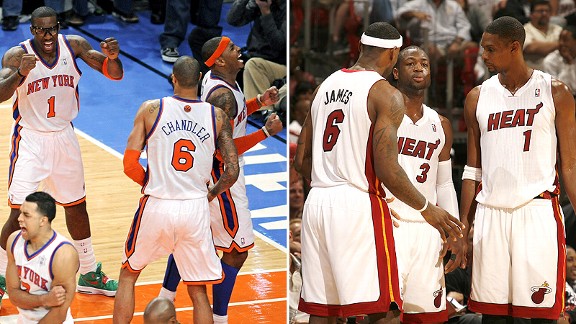 Getty Images
The struggles of the Heat last season simply don't compare to the Knicks' struggles this season.
MIAMI -- Frankly, I don't fault Erik Spoelstra for essentially wanting little part in the discussion.
"I have enough on my plate," Spoelstra dismissively shot back at reporters in Detroit the other night as he looked ahead to Friday's matchup with the New York Knicks. "Thankfully, I don't have to wonder about what other teams go through. But there's no question about it, and nobody wants to hear this in this league, but it takes time."
Yes, time.
When it comes to comparing the frustrating false starts Spoelstra's Miami Heat team got off to last year with the one the Knicks are enduring this season, time is about the only legitimate commodity the two teams have in common.
Time to fix the mess. But even that can be deceiving for the Knicks, who stumble into Miami with their own Big Three project having sputtered to seven losses in the past eight games. When considering how relentless and oppressive this lockout-induced, truncated 66-game schedule is capable of being on teams, the Knicks enter AmericanAirlines Arena standing somewhere between rock bottom and the height of their hysteria.
In either case, it doesn't come close to comparing to what the Heat endured last season. Make no mistake: This Knicks situation is much worse. You could throw Michael Jordan and Reggie Miller on the same team, move the calendar to May, travel back two decades and still not see the Knicks get hit with as many shots as the self-inflicted wounds they've absorbed through the first month of this season.
New York is 7-11 through 18 games as Carmelo Anthony, Amare Stoudemire and Tyson Chandler sort through the damage in their first season together under embattled coach Mike D'Antoni.
Through 17 games last season, LeBron James, Dwyane Wade and Chris Bosh were 9-8 as they toiled through those early growing pains while Spoelstra strained to hold things together. Who doesn't think the Knicks would trade places right now and take the Heat's heartache of nine and eight?
For comparison's sake, that Heat team was going through what was probably a well-deserved humbling; these Knicks are going through hell. By this point in the Heat's schedule last season, Spoelstra had already survived his star players' leaks to the media about their discomfort with the offense and a Nov. 27 "Bumpgate" episode in Dallas, where a demoralizing loss was followed by a players-only meeting that proved to be a turning point.
Even amid the chaos and media frenzy in Miami at that time, it was obvious that the lines of communication between Wade, James and Bosh were open and it would only be a matter of time before they would figure it out. And the Heat moved from early-season friction to the NBA Finals.
There have been times already in New York when it appeared Stoudemire and Anthony weren't just on different pages, but working in different boroughs. I credit Anthony for trying to be a bit more of a playmaker, and he's averaging a career-high 4.3 assists this season. But you have to question why he's shooting a career-low 39.4 percent from the field. A Hummer can be parallel parked more efficiently in midtown Manhattan than Anthony has shown he can operate in D'Antoni's uptempo run-and-shoot offense.
And Stoudemire, who anchored the Knicks' modest revival when he arrived in 2010 free agency, has seen his impact and opportunities diminish as New York added what were supposed to be complementary pieces, first Anthony at the trade deadline last season and Chandler as the major addition after the lockout.
Those upgrades have Stoudemire on course to average the lowest numbers he's had over a full season in points, field goal percentage and blocks. Only in New York does it sort of make sense that the one guy putting up banner numbers -- Chandler is shooting a career-high 69.5 percent on 4.5 attempts per game -- gets the fewest touches among the key rotation players.
This time a year ago in Miami, the pressing question was, 'When will the Heat figure this out?'" Meanwhile, the significant chatter in New York is focused on determining whether the Knicks should bail on this project and break it up.
In these kinds of pressure cookers, amid this level of big-market media scrutiny, perspective is about as common as an oasis. Under the current circumstances, Miami these days seem about as tame as Cleveland when gauging the temperature in New York.
"It's never going to work just right overnight," a sympathetic James told reporters after Miami's victory Wednesday at Detroit. "We were the prime example of that. It took us time. We were 9-8 at one point. But it took us even more, long after that, to become a good team, to know each other, to learn each other, to learn what works for each other, what doesn't work."
You get that luxury of ample development time when you sign up in relatively anonymous Atlanta, mundane Milwaukee or perfunctory-yet-passionate Portland. But when the players' salaries are set to pile well into luxury-tax territory and patience runs razor-thin like in New York or Miami, it's basically a win-now or it-won't-work situation.
"People want results now," said James, who believes the Heat are operating in a championship-or-bust mode themselves this season. "Eventually, it just clicks, and you know what's best for the team and how we're going to work together to be successful. We were like, 'OK, let's just play our game and see what happens,' and we took off from there."
The Knicks could easily be at a crossroads coming into Friday's game against the Heat -- much like they were when they arrived in Miami last spring soon after they acquired Anthony and Chauncey Billups from Denver. Those Knicks were in an adjustment process following that Feb. 22 trade. They came to Miami a week later on the heels of a stunning loss to the rebuilding Cavaliers, beat the Heat and went 5-2 over a seven-game stretch.
Where do the Knicks come in from after their latest stinging loss? You guessed it: Cleveland. You can't make this stuff up. But you can't overlook the fact that New York lacks the direction it had during that rough patch last season. And I'm not even referring to the obvious issues with D'Antoni and the philosophical clashes between his preferred style and his isolationist roster.
The Knicks don't have guards or ball-handlers capable of steering this team out of being in its own way. Yes, Billups made that much of a difference in this equation. And they paid him to go away. The Heat had willing passers and facilitators in Wade and James. Miami's problem last season was that it was too unselfish at times. That's at least one diagnosis the Knicks haven't had to treat, ranking 24th in the league in assists and 27th in field goal shooting percentage. In other words, taking shots certainly isn't medicating the problem.
Even in many of their losses, the Heat were competitive. Five of the first eight setbacks were on the road, and four of them were by five or fewer points. But six of New York's 11 losses have been by double figures, and the Knicks have dropped six of nine at home.
The Heat, with all their early problems out of the gate, were still a team you clamored to see. If you've watched the Knicks play recently, there have been occasions when you've fought the urge to cover your eyes.
You can call the Knicks a lot of things right now. Delusional isn't one of them. They know they're a work in progress -- just like the Heat were last season. I guess that's another thing they have in common.
"Once we figure [it] out, we'll become a great team," Stoudemire told reporters in Cleveland on Wednesday. "Until then, we are who we are."
What Stoudemire's Knicks turn out to be remains to be seen.
But there's no doubt about where they are now. And that's is in a much deeper hole than the Heat ever were at this point in the season a year ago.