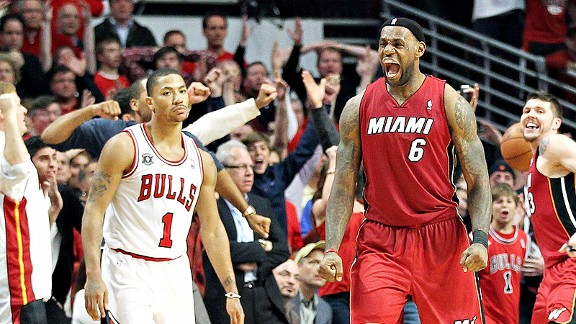 Mike Ehrmann/Getty Images
Derrick Rose heard LeBron James loud and clear in the East finals. Is this the year he beats the Heat?
The Chicago Bulls are off to their best start since the Jordan days, and on Sunday, they'll be looking for revenge. It's the first matchup between these two teams since the Heat ended the Bulls' breakout season in the Eastern Conference finals in five games.

Does Rose have a leg up on LeBron for MVP this season? Is Rose a better big-game player than LeBron or D-Wade? Was Rip Hamilton a bigger signing than Shane Battier? Will the Bulls repeat as East regular-season champs? Will the Bulls reach the Finals?
In another edition of the Heat Index's 5-on-5 series, our stable of writers and voices play some "Fact or Fiction" with the storylines surrounding Sunday's Bulls-Heat matchup.
1. Fact or Fiction: Rose has a better shot at MVP in 2011-12 than LeBron.
Jon Greenberg, ESPNChicago.com: Fiction. LeBron James' biggest detriment is himself, and aside from an early hiccup, his game is blossoming again. I don't know whether Rose can do anything new to impress the voters. Plus, if Hamilton is healthy, Rose's scoring will go down.
Tom Haberstroh, Heat Index: Fiction. Unless the Bulls challenge their own regular-season win record, I can't see Rose repeating. To win in consecutive seasons, statistical dominance is a requirement. LeBron, however, is in the midst of one of the most productive and efficient seasons of all time. That kind of performance is what it takes to make a more compelling story than Rose's campaign.
Beckley Mason, TrueHoop Network: Fiction. Derrick Rose was brilliant last season, but he also benefited from a compelling narrative of improvement. I actually prefer how Rose is playing this season, but his numbers are down a bit, and he'll likely miss a few games to rest his foot. James appears to be indestructible, and this season he's the one turning heads with his improved post game and absurd efficiency.
Michael Wallace, Heat Index: Fiction. LeBron already has the momentum he needs, considering his remarkable play over the nine total games Dwyane Wade has missed. Rose was a very nice and deserving winner for how he led the Bulls last season. But that element of surprise is no longer there. This defaults to LeBron.
Brian Windhorst, Heat Index: Fact. The sense is that after what happened in the Finals last season, LeBron is going to be hard-pressed to win another MVP before he wins a title. Unless he and the Heat vastly separate from the rest of the league, which isn't happening, there's probably too much lingering doubt. Of course the MVP is a regular-season award, and it's for this regular season, not last year's playoffs. But the voters might be hesitant to give James a third trophy with the playoff reputation -- two poor Finals and a meltdown in the 2010 second round -- he's carrying.
---
2. Fact or Fiction: Needing to win one game, you pick Rose over Wade or LBJ.
Greenberg: Fact. I was tempted to say Wade for obvious reasons, but I'll take Rose because of his athleticism and ability to finish and draw fouls. I'm very curious to watch him going against LeBron again late in the game to see what the young MVP has learned.
Haberstroh: Fiction. Although Dwyane Wade might be the better bet in the last few minutes, I prefer to have LeBron for the full 48. His defensive versatility makes up for his passivity concerns down the stretch. Most games (playoffs or not) don't come down to a final possession anyway.
Mason: Fiction, and a trick question to boot! It depends on their opponent and teammates, but I prefer someone who can dominate the game at the defensive end as well. Both LeBron and Wade can completely neutralize a talented wing scorer and defend the rim, so I'd lean toward one of them.
Wallace: Fiction. I'd take LeBron or Wade based on their larger bodies of work. Of the three, my first option would be the only one among them who has the ring to prove he's survived these moments on the ultimate stage before: Wade.
Windhorst: Fiction. I'd rather have Dwyane Wade. He's a champion. He's a vocal and emotional leader. He's fearless. He's experienced. He's impossible to guard when he's on. These things can't be said about Rose or LeBron.
---
3. Fact or Fiction: R. Hamilton means more to CHI than S. Battier to MIA.
Greenberg: Fact. When Rip is healthy, that is. Hamilton has been a game-time decision for half his Bulls career, but when he plays, the Bulls are a fast-breaking, ball-moving thing of beauty. I know you can't judge Battier by the numbers, but a healthy Hamilton is better by any metric.
Haberstroh: Fact. If the Heat didn't have Mike Miller and James Jones, I might give the edge to Battier. But even though Hamilton is a shell of his former self, he can give the Bulls exactly what they need: a pressure reliever for Rose and a nuisance for Wade.
Mason: Fact. Battier isn't exactly redundant, but he's far from crucial. Hamilton provides an offensive focal point when Rose sits, and his passing really loosens up the Bulls' offense.
Wallace: Fact. If all works out according to plan, Hamilton will not only be a regular starter, he'll also be a nightly finisher for the Bulls and a key sidekick for Rose. Battier will be a solid bench rotation player and defensive specialist, but Rip will potentially have a bigger impact role.
Windhorst: Fact. Hamilton not only gives the Bulls an upgrade at the wing and scoring they potentially need badly, he's also loaded with playoff experience with a reputation of getting it done in the clutch. Also his offensive style is an asset to have against a team like the Heat, where he can truly challenge a player like Wade by making him move all over the court on defense. Battier has already made an impact with the Heat by taking some defensive pressure off Wade and James, but it would seem that his role would be more limited than Hamilton when he's healthy.
---
4. Fact or Fiction: The Bulls will be the top seed in the East.
Greenberg: Fact. The Bulls are rolling despite a number of injuries, and that depth will push them to the top seed. The big "if" is Luol Deng's wrist. If he's out, it'll be very tough. They lost one home game, and instead of giving the patented athlete excuses, Rose talked about how mad he was to hear the Pacers celebrating.
Haberstroh: Fact. The Heat couldn't care less about winning the regular season and might need to rest Chris Bosh, LeBron or Wade for long stretches. Look for the Bulls to own the regular season once again.
Mason: Fact, but just barely. The Bulls seem to have fewer curious letdowns than the Heat, although they don't have the luxury of a second all-world player should Rose's injury issues worsen. This is really a toss-up for me, but the Bulls never look bored, even for stretches, and that should keep them ahead of the Heat.
Wallace: Fact. The Heat simply don't view getting the No. 1 seed in the East as an absolute necessity. They would prefer to rest Wade, LeBron or Chris Bosh rather than chase the best record. Miami could simply repeat what it did last season and win a road game in the playoffs to steal home-court advantage if necessary.
Windhorst: Fact. Their depth and their demeanor seem to indicate that is where they are headed. Their defense is so strong that it is going to carry them almost every night, especially on the road. That is the formula for high-win teams.
---
5. Fact or Fiction: The Bulls will be the Eastern Conference champs.
Greenberg: Fiction. I picked the Bulls to win it all in the TrueHoop survey, but it's still unclear whether Rose can take LeBron again, because you know that will be the late matchup again: Bulls versus Heat and Derrick versus LeBron in the fourth. If Rose can find a way to win his battle, the Bulls will win their battle. It's what it all comes down to, and they both know it.
Haberstroh: Fiction. Until the Bulls get a legit No. 2 option at shooting guard, expect the Heat to represent the East in the Finals for the foreseeable future. That is, if the Bulls can't sell Dwight Howard on Chicago.
Mason: Fiction. I like what Hamilton brings to the Bulls, but Ronnie Brewer is perhaps the best player in the league at defending Dwyane Wade. The Bulls don't really play those two at the same time, so I'd expect Hamilton's offensive value to be mitigated by Wade's increased comfort at the other end. In short: Nothing has significantly changed since the Heat spanked the Bulls in the ECF last season.
Wallace: Fiction. No matter where the series is played, the Bulls know the road to the NBA Finals runs through Jamestown in Wade County. The Heat are the team to beat in the East and, barring a major injury, will return to the Finals after dispatching the Bulls. It'll certainly take more than five games this time, though.
Windhorst: Fiction. We'll have to see where everyone's health is if/when they meet in the playoffs. The Bulls have the ability to really slow down the game and rattle the Heat at the offensive end at times. But this team couldn't consistently slow LeBron in either of the past two postseasons. Rose still must prove that he can handle James guarding him as he did so effectively at times in the conference finals last season.