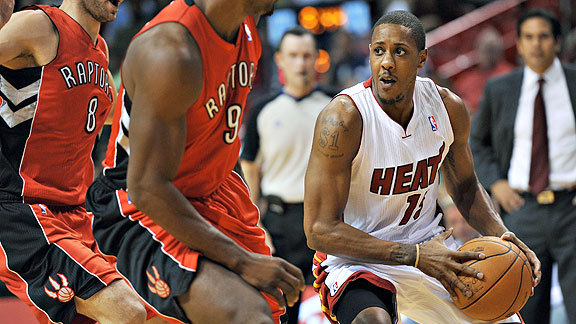 NBA Photos
Can Mario Chalmers shoot his way into the Heat's regular rotation?
Long after Monday's practice ended, long after the Big 3 finished speaking to the media, long after all his teammates left the gym, Heat point guard Mario Chalmers was still out on the floor launching threes. One after another, spotting up from the five spots from behind the arc.
The drill? Hit three shots in a row from each of the five launch points. And then do it again. All under four minutes. At one point, somewhere in the midst of the hundred shots he put up, he joked, "Man, I'm seeing two rims right now."
With starting point guard Carlos Arroyo only shooting six threes on the season, the Heat could use a three-point point guard to flank Dwyane Wade and LeBron James in the halfcourt. And Chalmers, who has started every game of his rookie season in 2008-09, could be that guy.
The third year guard out of Kansas took a step back as a shooter last season, shooting just a tad over 30 percent on threes. But he did nail 36.7 percent of his 311 attempts from beyond the arc in his rookie campaign.
He has proven he can shoot before but Chalmers admitted that his health dampened that conversion rate "a little bit" last season.
"But I also stopped working on [3-point shooting] last year," Chamers said afterward. "I got kind of lackadaisical with three-point shooting. So this year I'm trying to pick it back up."
But in the shooting drill, you couldn't help but notice that Chalmers was visibly grounded by his ankle. No, he doesn't normally levitate a foot off the ground quite the way Ray Allen does, but he barely got an inch or two of lift above the hardwood. Chalmers maintains the ankle doesn't hurt anymore but it's the ankle's strength that's limiting his game.
"Coach is trusting my ankle, I'm starting to trust my ankle," Chalmers said. "That's just the main thing right now. I don't have my full flexibility yet. I just got to get my full range of motion. It's turning, jumping off of it. It's getting better but it's still not where I want it to be."
Once it gets there, the third-year point guard has his eyes set on an expanded role at point guard. But watching the game from the bench, after starting his first 104 games in the NBA, has not been easy for the 24-year-old.
"It's been a little frustrating knowing I want to be out there. I see things that I can do to help my teammates. But at the same time, I know the coaches know that my ankle is not there yet. Even if I see stuff I can do out there, physically I can't really do it yet because of the ankle."