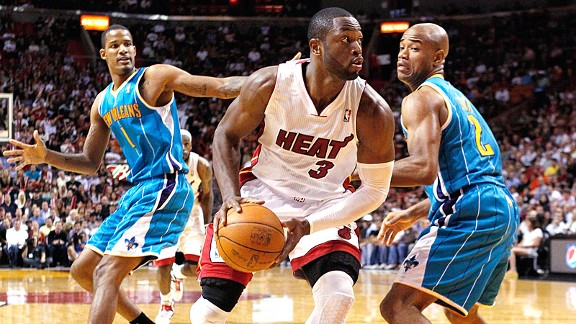 Robert Mayer/US Presswire
Dwyane Wade went on the offensive after deciding playing zone defense wasn't a good idea.
MIAMI – On the surface the Miami Heat's 109-95 victory over the New Orleans Hornets was just a benign Monday night result, one of the league's best teams pounding one of the league's worst teams.
Buried in the clutter, however, was one of the most interesting moments of the Heat's early season. It was certainly the game's defining moment, for what it's worth. But it left head coach Erik Spoelstra uplifted, even if it was the result of mild insubordination.
Midway through the second quarter the Heat found themselves down 12 points and the Hornets found themselves shooting nearly 70 percent. Signs pointed to the Heat experiencing an energy crash after Sunday's emotional victory over the Chicago Bulls and they were simply going to be in for a battle against a team they were heavily favored against.
Frustrated, Spoelstra stuck two fingers in the air to signal that he wanted to switch to a zone defense. He doesn't like playing zone, but he was searching for anything to slow down the Hornets' hot shooting. It is a move in the middle of the NBA coaches' handbook.
Dwyane Wade saw Spoelstra's call but rejected it flatly.
"Going to zone kind of shows that we're not ready for this team, we don't respect this team and they're just eating us alive," Wade said later. "As a captain, at that time, I just kind of vetoed it. That isn't going to happen much but I felt we needed to be more aggressive and a zone would've made us a little lackadaisical. I felt we needed to turn it up a little bit."
Star players break offensive calls from the bench all the time. In fact, Wade and LeBron James have one of the highest rates of doing so if you talk to the league's advance scouts. But defensive calls -- such as pick-and-roll scheme, or the basic zone or man-to-man choice -- are generally much more inflexible.
But this defiance did not upset Spoelstra. In fact, it encouraged him. It was a sign, the coach felt, that his team wasn't willing to try a Band-Aid solution. It was easier to feel that way after Wade backed up his on-court decision by tapping into an energy stream that helped change the course of the game.
The Heat, indeed, stayed in man-to-man and became more aggressive at challenging the Hornets' shots. The visitors started to miss their shots and Wade started to make his. After starting 1-of-5 shooting, Wade made five consecutive shots and ended up racking up 15 of his 22 points in that second quarter.
By the end of the half, the Hornets' once-surprising lead was history. And Spoelstra was pleased that Wade had taken a leadership stand and then backed it up.
"Our captain waved me off. He said, 'No, we have to get back in this with our type of game,'" Spoelstra said. "I was very encouraged by that. Our energy level spiked from there."
By the middle of the third quarter the game had turned into a rout. James kicked in, scoring 14 of his 22 points as the Heat ended up pushing the lead to as many as 27 points.
There were several factors in that 39-point swing. One was the undermanned Hornets losing their early-game focus and they started to resemble the 4-17 team they are. The Heat also got some production from their bench. When it was over, six Miami players were in double figures.
But the lasting impression, at least for Spoelstra, was Wade's override.
"I just tried to bring some leadership," Wade said. "I had a little more energy because I've been out [with injury] so I decided to use it at that time."