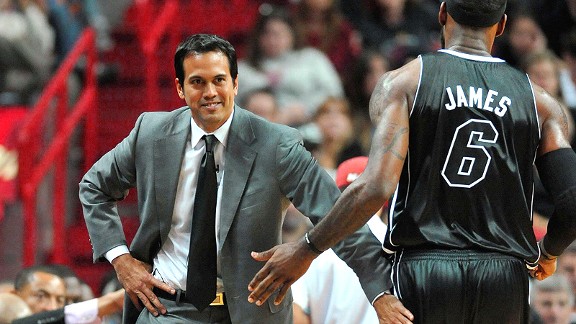 Steve Mitchell-US PRESSWIRE
After 22 games, we check in on Erik Spoelstra and the Heat's evolution during the shortened season.
It might be hard to believe, but we're already a third of the way through the regular season. The Heat have won 16 of their 22 games so far, getting off to a much smoother start than last season's rocky debut with LeBron James, Dwyane Wade and Chris Bosh.
Leading the way is Heat coach Erik Spoelstra, who recently signed a contract extension in the offseason and overhauled the team's offensive playbook during the lockout. How has Year Two with the Big Three gone so far? Heading into a marquee matchup against the 16-6 Philadelphia 76ers on Friday, Spoelstra reflected on LeBron's evolution, Wade's absence and the adjustments the Heat have made in a lockout-shortened season.
---
Tom Haberstroh: After losing in the Finals and experiencing your first season coaching LeBron James, how painful was it to sit through the lockout and not be able to work with LeBron during the offseason?
Spoelstra: It was tough. There were so many things that, as we started to change our offensive thought process, you naturally wanted to talk to the players that were heavily involved in it. That was frustrating not being able to do it. The only thing we could do is try to get into their minds of what they would be seeing and how we felt they would react in certain situations. I watched a lot of film and we'd go upstairs and simulate a lot of the actions.
Haberstroh: When did you decide to change your offensive thought process? When the Heat drafted Norris Cole, did you already know that he was going to be a part of a more speedy offense?
Spoelstra: It all fit together. We were all on the same page after last season. But regardless, with the guys we were going to bring back – LeBron, Dwyane, Chris, Chalmers, U.D., Mike – we wanted to take advantage of their skill sets in a more efficient way. One of the conclusions was to try to create more possessions.
Haberstroh: So, how's the "pace and space" offense so far? Are you still preaching that every day?
Spoelstra: Absolutely. They're both critical components to our attack. When you say "pace" though, it's not typically vertical. It's also horizontal. So that can be our pace of how we execute in the halfcourt, everything with a high motor, a high speed, a high athleticism, moving side to side at a high pace. There's a little bit of a misconception about the pace only being 94 feet.
Haberstroh: Interesting. I hadn't thought about it in those terms. Is that something that developed during the season or was that stressed from the get-go?
Spoelstra: That was even one of the key strengths to us last year as the season went on. Then in the offseason that was something that we wanted to continue to highlight. When we're moving quickly, making hard actions and cuts, we're at our best.
Haberstroh: When you and Pat Riley decided to go younger and faster, many interpreted that as an admission that surrounding the Big Three with older veterans (Zydrunas Ilgauskas, Carlos Arroyo, Mike Bibby, etc) was a mistake. Did you wish you had a "do-over" with the personnel last season?
Spoelstra: No, not at all. I think they made a big impact on our success last season and we needed that stability, absolutely. We brought in nine new players to learn each other and learn the system. To come together under that type of circumstances, I think it was critical to have the veteran stability to level everything out under times of perceived chaos.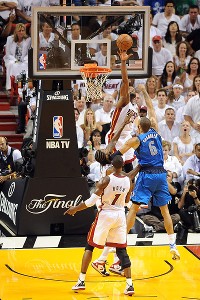 Noah Graham/Getty
Erik Spoelstra missed Dwyane Wade's presence defensively.
Haberstroh: One of the hot topics so far this season has been the Heat's performance without Dwyane Wade when he was sidelined for nine games. What did you learn while Wade was out?
Spoelstra: How much we missed him defensively. He really makes our defense that much more dynamic -- to be able to have him frontline the defense, impact the ball, create some havoc on the perimeter, but also on the backline of the defense, protecting everything like a free safety. He's essential to what we're trying to do.
Haberstroh: Speaking of which, you have one of the top offenses so far, but the defense has fallen in the ranks since last season thanks to some lights-out shooting from your opponents. Knowing that your defense stresses air-tight rotations and basket protection, are you concerned by the perimeter defense so far?
Spoelstra: To play for a title, you have to play both defense and offense. You really do. Last year, we were roughly top five in both. You can't be dominant in one and lacking in the other to play at the highest level. I think we're extending ourselves a little bit more trying to be more active and play to our athleticism more. That's forcing us to cover a little bit more ground and that 3-point shot tends to be the one that ends up being more often.
Haberstroh: You've described this season as "insane." What's one thing that you've had to sacrifice this season because of the time constraints, besides sleep?
Spoelstra: My workouts (laughs). I don't think I've had five of my own workouts since training camp started. I'm trying to work it into my routine. But with the team, we've really lost out on our practice time. They're so few and far between. You really have to make your shootarounds like practices and we're doing a lot more film than we have before. Not exclusively team film sessions, but a lot more individual sessions with the assistant coaches.
Haberstroh: How would you gauge Norris Cole's progress this season? Considering he got thrown straight into the fire, going from the Horizon League to nationally-televised interviews with Craig Sager, it seems like he's taking it pretty well.
Spoelstra: Yeah, he has. We have perspective on where he is in his career. I want to keep it simple for him. I want him to be aggressive. I want him to be a bulldog defensively. I want him to change the tempo when he comes in there. He's learning our stuff defensively on the fly. He's a mature kid. He'll get better as the year goes on, but it's never going to be a straight incline of improvement. It never is with young players. Sometimes he'll look like a veteran player and sometimes he'll look like a rookie. We feel very secure about our point guard position for the future, with both him and Mario being under 25.
Haberstroh: Something I've always wondered: How do you sell a perimeter-oriented superstar like LeBron to play the 4?
Spoelstra: He's a high IQ player so he understands a lot of different aspects of the game and that playing the 4 allows us to play some of our better players. At the same time, it's just as important that he gives us a new dynamic look to force teams to adjust to us. It took a little bit of an adjustment period last year, trying to get used to it. There's no doubt about that. But by the time spring came around, I think he really embraced it when he had to when Chris [Bosh] went down with the ankle sprain last February.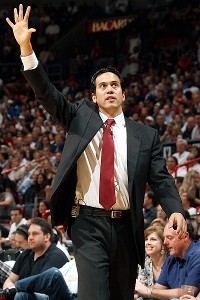 Issac Baldizon/Getty Images
Erik Spoelstra has enjoyed filling out the five-man lineup card.
Haberstroh: You have Cole playing the 2, LeBron playing the 4, and Haslem playing the 5, so I have to ask: Is this the most fun you've ever had playing with lineups?
Spoelstra: (Laughs). Yeah, I don't know if I'd use that word 'fun' but I'm actually very fortunate to have an opportunity to coach a team this versatile. I think any coach would love to that opportunity at some point in their career and it's not just the versatility they bring offensively, but defensively too. But that's the way Pat wanted to put this team together, to highlight our best players and to have a team that was versatile that would make other teams have to make decisions against us.
Haberstroh: You've said that Shane Battier has been like another assistant coach for your staff. He's mentioned that in free agency, one of the first questions he had for you (and his potential suitors) was whether you could supply daily analytics for him. That's got to be a first for you, right?
Spoelstra: It's the first time anybody's ever asked that. Not only did he ask for it, he explained what he received in the past and it was the equivalent of what our coaching staff receives. We had to retool our game plan package that goes to all the players and then another special packet that goes to Shane every game, which is probably five times the amount of information. It's staggering the amount of information that he wants to consume and what he's able to apply during the game.
Haberstroh: So do you discount the value of statistics in this funky, condensed season or do you emphasize it even more because it's a quick way to get your bearings?
Spoelstra: We use it to analyze our own trends and other teams that we're preparing for. Sometimes we use it for motivation -- for example, I'll show them where we rank defensively in some of the top categories compared to some of the best championship teams of all-time. It's not something that we use in a separate box, but we use it as a tool in varying ways depending on the day, the opponent and the temperature of the team.
Haberstroh: You've been able to keep LeBron, Wade and Bosh's minutes down this season. How have the players dealt with the shortened season? Have they done better than you expected?
Spoelstra: Knock on wood, but so far so good. I think the players wouldn't admit it, but they probably enjoy this season better. There are more games and less practices. They enjoy all of the action, night after night. They would love to play all games and have no practices (laughs).
Haberstroh: You received a two-year contract extension from the Heat in the offseason. Has that security affected the way you've coached this season?
Spoelstra: I really don't think about that stuff. I really don't. And I'm not trying to be politically correct about it either. I just don't think about that stuff. My singular focus has been to find a way to put this team in position to win it all.