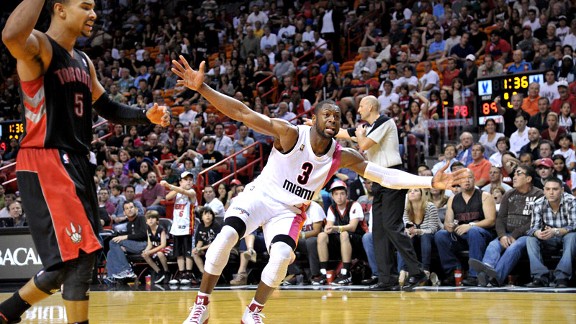 Steve Mitchell-US PRESSWIRE
D-Wade wasn't all smiles on Sunday, but the Heat will be happy to escape a trap game with a win.
MIAMI – Super Bowl Sunday brings plenty of people together, but it also means so many different things to them. Perhaps that made Sunday's Miami Heat's game with the Toronto Raptors ironic, because it has the same sort of vibe.
The Heat won, as they should've, 95-89. Playing at home with rest against a Raptors team missing their best player in Andrea Bargnani, that was expected. But as the game played out there were plenty of differing agendas and viewpoints out there.
LeBron James, for example, pretty much won the game for the Heat with two small bursts of energy. But they were well-timed. One was at the very start when the Heat were on the edge of a trap, playing a Sunday afternoon game against a no-profile opponent.
This season in the league, even more than usual actually, this has been the recipe for bad losses for teams. It's one of the reasons there's a lot of parity in the standings. But James hit the floor dancing to '70s music (it was the day's theme) and generally bouncing around. He skipped up and down the sideline like a kid who'd just been let out for recess.
"You have to create energy for yourself, especially in these early games," James said after scoring 30 points with nine rebounds. "I was just trying to create energy for myself and my teammates."
James followed through by making his first four shots as the Heat piled up 31 points in the first quarter. Basically they established the tone of the game there, they never trailed and slowly built the lead up to 16 points.
Then in the fourth quarter, when the Raptors made a dutiful run to make it a three-point game, James did it again. This time it was from adrenaline after a hard foul Raptors' forward James Johnson committed on him, one James thought should've been flagrant.
James was wrong, it was just a hard foul, but it fired him and his teammates up. After James made the two pressure free throws – which hasn't been a certainly this season – he leapt into the passing lane and picked off a steal. He raced to the other end and dunked it, effectively ending the game.
For James, who was hosting the team's Super Bowl party, those two little bursts earned him a relaxing night.
That wouldn't be the case of everyone, though. While James was doing what it took to win a routine February game, there was stress elsewhere.
It was seen on Heat coach Erik Spoelstra's face for much of the game. He certainly didn't look like a coach who never trailed. He called several angry timeouts and repeatedly vented frustration on the sideline.
Perhaps it was because his team, after vowing to play with more focus and intensity no matter the opponent in what he hoped would be a season-defining player meeting last week, had fallen back into many of the traps.
There was also the Raptors' zone defense, which coach Dwane Casey played roughly two thirds of the game against the Heat, continuing to give Miami issues. The Heat ended up doing enough to get by but even as Spoelstra deployed a variety of lineups, the Raptors continued to pick at one of the Heat's Achilles' heels. It's been an on-and-off issue for six weeks now.
After the first quarter, when the Raptors played mostly man-to-man defense, the Heat shot just 37 percent. There were a few flourishes. Dwyane Wade, who had 25 points on an efficient 8-of-14 shooting, and James were good enough. They are most night. But Spoelstra was hardly overjoyed, especially after watching a 15-point lead vanish in the fourth quarter.
"We knew it would be a work game," Spoelstra said. "It is good for us to have to be able to execute against that zone pressure…We will take this win and move on."
Down the Heat's bench, there were other guys stressing out.
Shane Battier was one. He is having the worst shooting season of his career and it has gotten past the slump stage. Sunday he was 0-of-4, dropping him to 31 percent for the season on a day when the Heat really could've him.
Spoelstra has slowly been giving some of Battier's minutes to Mike Miller and Battier, the team's main offseason pickup, has been growing more frustrated. He took it out Sunday by going into the workout room after the game and spending 20 extra minutes on the treadmill. As he teammates were rushing out to Super Bowl parties, Battier
was dripping with sweat and uncertainty.
"I'm struggling with the age-old question of when to pass and when to shoot," Battier said. "The great Hubie Brown said "know when to pass, know when to shoot," and I'm finding a way to mess even that up."
Then there were Mickell Gladness and Terrell Harris, who Heat rookies who are on nonguaranteed contracts. With the guarantee day this week, Thursday to be exact, and the Heat leaving on a six-game trip on Tuesday night, they can't help but be nervous.
Down the hall in the Raptors' locker room, there were even more perspectives unfolding. They had lost the game, yet couldn't hide their pride that they'd come so close under the circumstances.
"We were really close," said Jose Calderon.
"It just shows we can play with anybody," said DeMar DeRozan after scoring 25 points.
"They have three great players, we just got to do the best we can," said Jerryd Bayless.
Something for everyone. All to be followed by a night of wing-eating, football watching, second-guessing, worrying, stressing out. A super Sunday indeed.