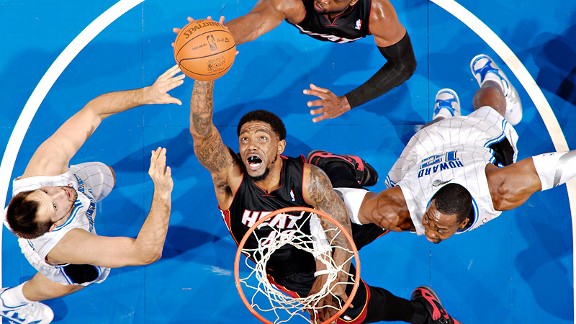 Fernando Medina/NBAE via Getty Images
Is this the last time the Heat play Dwight Howard in Orlando? We debate.
After running away with a win against the Cleveland Cavaliers, the Heat have a meeting with Dwight Howard and the up-and-down Orlando Magic to begin a grueling road trip.

Is this the final time we get to see Dwight Howard take on the Heat's Big Three in Orlando? Does the All-Star game venue play a role in Dwight Howard's status with the Magic? Will we see extended time for Eddy Curry on Wednesday against Dwight Howard?
In another installment of Heat Index's 3-on-3 series, our writers give their takes on the story lines before the Heat (19-6) take on the (15-10) Magic.
1. Fact or Fiction: This is the last time Orlando will see D12 vs. Big 3.
Tom Haberstroh: Fiction. GM Otis Smith will wait until the 11th hour to find the best deal for Dwight Howard. Or at least I think he should. The Magic host the Heat on Mar. 13 just ahead of the Mar. 15 deadline so I expect Howard to suit up just once more against the Magic's in-state rival before he is sent to play for the Los Angeles Lakers. I guess I just made my prediction on where he ends up, didn't I?
Michael Wallace: Fact. And that's unfortunate. The Magic will certainly have to move Howard before they face the Heat again. Of course, it doesn't have to end this way. This team is only three years removed from the NBA Finals. It's a fact that Howard's supporting cast has only deteriorated since then, and you can't totally blame him for not trusting the direction of the franchise. Still, at the end of the day, it's more about Howard's desire to be in a larger market than it is about winning a title.
Brian Windhorst: Fiction. As of now, I still get the impression that the Magic want to put all the pressure on Howard. Would he really be willing to leave tens of millions of the table to straight up sign elsewhere? Emotional and indecisive, is he really prepared to bolt town? In this case, these aren't clear answers. The Magic seem determined to play it out.
---
2. Fact or Fiction: D12 is still a Magic only because All-Star is in Orlando.
Haberstroh: Fiction. Although I think it's a big part of the puzzle. There's no good escape route out of this mess, but the organization will probably do everything they can (or make it seem that way) to keep Howard in Orlando blue right up until the deadline. It's a PR nightmare either way, but I don't think the Magic or David Stern wants the All-Star game to drown in boos from the home crowd. That's not a good look.
Wallace: Fiction. The All-Star game could have been in Timbuktu, yet Otis Smith and the Magic's front office would still try to do everything in their power to stall the inevitable and convince Howard to stay. As they should. The NBA doesn't need Howard to sell the All-Star game. It's largely a corporate event that sells itself. In fact, if Howard is still in Orlando by then, a case could be made that it's doing the people of Orlando a disservice to focus on how much he doesn't want to be there.
Windhorst: Fiction. I think this is an overblown concept. That weekend would be most uncomfortable for Howard, not the Magic, if he'd been traded. Why would they protect him if they had decided they were going to trade him? If it was truly over, doing it before the break and having Howard get booed all weekend would be the move.
---
3. Fact or Fiction: E. Curry will see a season-high in minutes vs. Orlando.
Haberstroh: Fact, what do the Heat have to lose? The Heat threw Curry in the fire already by pitting him against Andrew Bynum and Pau Gasol, so why not send him in against the best center in the universe? In a long road trip, I could see Erik Spoelstra giving some extra rest for Udonis Haslem and Chris Bosh in the second game of a back-to-back.
Wallace: Fact. Only because I need Curry to make one more appearance to clinch that Heat Index Live debate with Windhorst and Haberstroh, who both vowed that Eddy wouldn't last long enough to play more than five games with Miami. Remember that, fellas? So if Eddy doesn't contribute anything to the box score tonight other than a handful of fouls and a 'I-told-you-so' for the doubters, he's money in my book. If Erik Spoelstra doesn't use him against Howard, why keep him at all?
Windhorst: Fiction. Curry's played just six minutes in the last two weeks. He's a short-term counter measure and there's a good chance he'll play. The Heat prefer to play without a true center, even against Orlando. He may get a couple short shifts.