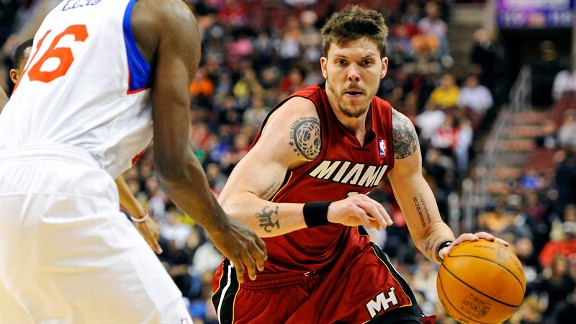 Howard Smith/US Presswire
It hasn't always been easy for Mike Miller in Miami, but he's making the best of his opportunities.
MIAMI - First off, full disclosure: There's a reluctance to write this column because I frankly don't want to flat-out jinx the guy.
Considering the injuries, ailments and adjustments Mike Miller has been through during his two seasons with the Miami Heat, the last thing he needs is to catch another bad break and deal with anything resembling a setback.
Miller has been so fragile since he joined the Heat, you'd probably believe me if I told you he somehow sprained his wrist while brushing his teeth this morning and would be on the inactive list tonight.
But all is quiet around Miller these days.
He's living a relatively painless and productive existence in his role off the bench. So the urge was to leave well enough alone, especially with a guy who prefers to step away from any spotlight and go about his business quietly. But Heat coach Erik Spoelstra mentioned something the other day about Miller's plight this season that resonates.
"His minutes have been different than what he's been used to in his career," Spoelstra said of Miller, who is playing a career-low 19.1 minutes this season and has taken half as many shots per game with Miami than he's averaged over his 11 NBA seasons. "He's normally a 30-minute (per game) guy. That takes an adjustment period. There's no way around that."
And this season, especially, there's no getting around the fact that Miller sacrificed much more than money in free agency two summers ago in an effort to make this work with LeBron James, Dwyane Wade and Chris Bosh. Miller returned to the last place where he was a "30-minute guy" when the Heat continued their longest road trip of the season with Friday's stop to face the Washington Wizards.
The change in Miller's role from his stint in Washington to his time in Miami can be as drastic at times as the difference in the conference standings between the second-place Heat (19-7) and next-to-dead-last Wizards (5-21).
During his 2009-10 season in Washington, Miller averaged 33.4 minutes as a regular starter when healthy, shot 50 percent and scored 11 points a game. It was the sixth consecutive season he played more than 30 minutes a game - a stretch when he also hoisted double-figure shot attempts per night, counting his time in Memphis and Minnesota.
Even amid the marked team success in Miami compared to his previous stops, it's been a bit of a struggle for Miller to find a rhythm and a consistent role. A combination of thumb, shoulder and ankle injuries were to blame last season when Miller missed half of it and spent the other half limping through limited minutes during Miami's run to the Finals that ended in a six-game series loss to Dallas.
But this season, his health has been fine. Well, relatively fine. Yet there have been a few headaches adjusting to a role that, some nights, is further reduced by the offseason addition of former Memphis teammate Shane Battier. Spoelstra considers it a luxury to have two similar supporting cast players under multi-year contracts essentially asked to do the same thing - stretch the floor as shooters, defend, provide energy off the bench.
However, it hasn't been easy for either Miller or Battier to get going this season. While Miller's minutes have been sporadic, Battier's shot has been betraying him.
"It's an adjustment," Miller said. "Obviously, I'm accustomed to more minutes, accustomed to having the ball in my hands a little more. But on this team, that's not the case. You just have to find your spots."
Since missing the first 12 games of the season to recover from November hernia surgery, Miller has been gradually trying to piece together what might seem like a puzzling season from his standpoint.
He's survived the potential threat of being placed on the amnesty waiver, a new league rule that would have allowed the Heat to cut Miller and have the remaining four years and $24 million removed from their salary cap. But Miller also has been on and off the trading block, with the Mar. 15 deadline a little more than a month away. Miller is seen by many across the league - aside from Wade, Bosh and James - as Miami's most likely trade asset should the team pursue a legitimate upgrade at center.
Still, both Spoelstra and team president Pat Riley have maintained that Miller is a critical part of this team moving forward. Recently, that confidence in Miller has resulted in his re-emergence as part of the Heat's closing unit alongside Wade, James, Bosh and forward Udonis Haslem.
There is evidence that Miller is making the most of his minutes. Some nights his shooting has been superb, such as when he knocked down nine of his first 12 attempts from 3-point range over his first three games back from the hernia surgery. He's also added some versatility to his scoring by making more plays off the dribble. Miller has scored in double figures four times in 14 games this year. He did it only eight times in 42 games last season. And in the Heat's most recent win, Miller grabbed nine rebounds off the bench, including several key boards and tip-outs in the fourth quarter to help secure a win against Cleveland.
"When you come off the bench, you can see the flow of the game, see how things are going," Miller said of managing his minutes more efficiently. "If it looks like we're low on energy, that's what I try to bring. We talk about that on the bench. When we come in, we have to bring that energy."
Spoelstra said Miller has been bringing more than that recently. As a result, the Heat have been running the same plays for Miller that they do for James.
"He's more than a spot-up shooter, so when we do have actions in our system, not only for him, it just looks different for him than when you run the same actions for LeBron," Spoelstra said. "That can open up a driving opportunity for LeBron (or) it can open up a catch-and-shoot opportunity for Mike. We want all of our players live and we want them involved, engaged, where everybody is a threat. That's part of tweaking our system a little."
Miller might never be a "30-minute guy" again as long as he's in Miami. But that doesn't mean he can't have a major impact as a 20-minute man. Spoelstra acknowledged that time is a vital factor with Miller. But not time as in playing time. He's referring to opportunity and perspective.
"The most important thing is that he's had time," Spoelstra said. "He would have been in a much better flow last year if he hadn't missed the first third of the season, and then came back and got hurt again. When he came back, it was the most pressure-packed moments of the playoffs, yet he was still able to have an impact for us at 60-, 70-percent (healthy)."
For Miller, the struggles he endured last season pale in comparison to any dilemma he's had to cope with regarding his role this season.
"It's difficult," Miller said. "But I would say the injuries have been more difficult. With that, it makes it even harder to get into the flow. This year, I'm getting more shots on the move, which is more accustomed to what I'm used to in the past. You just have to find your spots and impact the game. It's going to be different every night. There are going to be some nights when you get eight, nine, 10 shots and nights you get one or two."
So how does Miller handle that inconsistency?
"Just do your job," he said, "no matter what."
With Miami in the midst of a grueling schedule, Miller is likely to see more action as Spoelstra tries to avoid overextending his starters. After losing Wednesday in Orlando, the Heat are now in a stretch of five games in eight days. That includes their lone back-to-back-to-back set to face Atlanta, Milwaukee and Indiana on Sunday, Monday and Tuesday.
"Our bench is going to have to be a big part of this trip," Miller said. "We'll know a lot more about ourselves, a lot about our bodies, when we get into those games. It's going to be a grind, no question. But I think we've got a team built for that. So we'll see how we do."
Some might see three road games in as many nights as a daunting challenge.
From Miller's view, it's a landscape of unlimited opportunities.