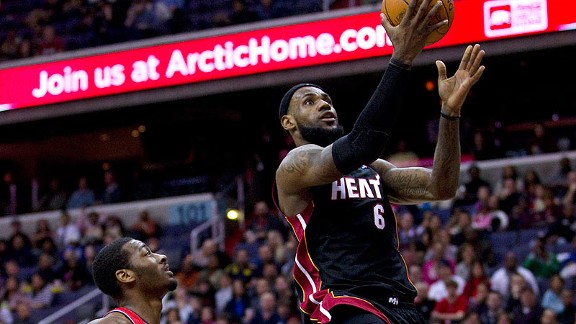 Doug Pensinger/Getty Images
LeBron James didn't have his best game, but he didn't need to with the way Chris Bosh played.
Led by Chris Bosh's 24 points and 11 rebounds, the Heat move to 20-7, their best start in franchise history after 27 games.

The Heat put on quite a performance for the Washington crowd, thanks to some fireworks from the Big Three and some bench support from Shane Battier and Udonis Haslem.
What went well for the Heat? What didn't go well? What do we still have to learn?
In another installment of Heat Index's 3-on-3 series, our writers give their takes on Miami's 20th win of the season.
1. What is the biggest positive takeaway from the Heat's win?
Tom Haberstroh: That Chris Bosh found himself again. The Heat really missed that guy recently. When Bosh has it going, it alleviates so much pressure from Dwyane Wade and LeBron James. The rare 20-and-10 should count even though it was against the Wizards. He looked that out of order recently.
Michael Wallace: The Heat will need to rely on their bench for a significant boost during this six-game trip, and that's exactly what they got to put away the Wizards. Udonis Haslem, Shane Battier and Mike Miller filled in the gaps perfectly to help Miami avoid a major letdown against a struggling team. Also credit Chris Bosh for getting sort of beastly down low.
Brian Windhorst: This was the gimme win on the trip and the Heat took it. The next three games promise to be very challenging again teams with rest advantage. Also, it was a second straight good shooting game for Shane Battier. He was probably the happiest guy in the locker room.
---
2. What is the biggest concern from the Heat's win?
Haberstroh: Keeping Mike Miller vertical. Seriously, they need to find a way to keep him on his feet without taking away his energy and aggressiveness. That fall in the second half was scary and I'm surprised the twisty-ties that hold his limbs together didn't come undone.
Wallace: That's back-to-back relatively subpar games from LeBron James, who still had 18 points and nine assists. But he seems to have hit a bit of a lull in recent days. But the fact that Miami is now 4-1 this season when LeBron finishes with less than 20 points says a lot about the Heat's depth. LeBron will be fine, but get the man some much-needed rest when possible.
Windhorst: Something must've happened with Eddy Curry. Erik Spoelstra continues to play Dexter Pittman ahead of him for no reason that is apparent. Pittman certainly isn't earning the minutes with his production. Curry's limitations on defense must be a reason.
---
3. What is the biggest question going forward for the Heat?
Haberstroh: Can they get some rest for the Big Three in this upcoming back-to-back-to-back? No team is better equipped to survive long stretches with a star on the bench, so expect Spoelstra to find some rest anywhere he can find it.
Wallace: Can the Heat survive the upcoming back-to-back-to-back relatively unscathed? With three physical teams on deck in as many nights (Atlanta, Milwaukee and Indiana) starting Sunday, Miami's depth and conditioning will truly be tested. Simply surviving that gauntlet without a major injury would be considered a huge success considering what's gone on in the league this season with the slate of injuries.
Windhorst: What does it mean that the Heat are 4-1 when LeBron scores less than 20 points? Probably a lot of different things. One is that the Heat can be pretty good when they spread the touches out.