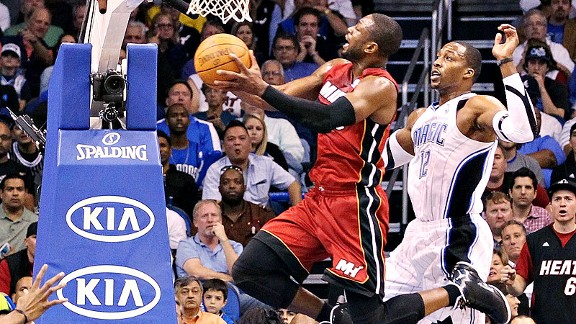 Sam Greenwood/Getty Images
Can Dwyane Wade and the Heat stay in flight against Dwight Howard and the Magic?
It seems like years ago that the Heat got blasted by the Magic in Orlando, but it actually happened within the past two weeks. And the Heat, who have won by an average of 18.8 points over their last five games, remember it well.

Should the Heat care where Dwight Howard eventually takes his talents this season? Was the Feb. 8 loss a much-needed wake-up call for the Heat? Is it a surprise to see LeBron James and Dwyane Wade's league-leading productivity?
In another installment of Heat Index's 3-on-3 series, our writers give their takes on the story lines before the Heat (24-7) take on the (20-11) Magic.
---
1. Fact or Fiction: Heat would rather see Dwight stay in Orlando?
Tom Haberstroh: Fact. The Magic haven't paired Howard with another star in years and the Heat should enjoy it while it lasts. It might come to an end at the trade deadline. Dealing with Howard is bad enough, but then worrying about Kobe, Deron, Derrick or Dirk, too? That's not an exciting scenario for Miami, even though they have three stars of their own.
Michael Wallace: Fiction. The farther west he goes, the better for the Heat. Still, it's not like Miami fears Dwight. The Heat have had a relatively good handle on Dwight for the most part. It's Orlando's shooters playing off of Howard who have given the Heat absolute fits.
Brian Windhorst: Fact. Howard is a monster to deal with and the Heat have problems at center. But they probably like their chances against the Magic in a seven-game series. If Howard goes to another contender, be it the Lakers, Mavericks or even Bulls they may not feel the same way.
---
2. Fact or Fiction: The Orlando loss was a blessing in disguise.
Haberstroh: Fact. They might look back on that 13-point Feb. 8 loss in the same way they did the "Bumpgate" Mavericks loss in the last regular season. Sure, it could be just a random placemarker in the season, but it seems the Heat made real strides defensively after the downtown downpour in Orlando.
Wallace: Fiction. There are no moral victories or blessing-in-disguise losses for the Heat. Orlando was simply the best team the Heat played on the trip. A loss there isn't anything to be ashamed of. That said, best believe the Heat want to avenge last week's loss.
Windhorst: Fact. The Heat apparently had gotten a little out of focus after some home victories. Starting out on a long road trip, they didn't play that game with much intensity. Then they plowed through the next five opponents.
---
Haberstroh: Fact. It seems like yesterday that the 30-year-old was a lock for a down season with nagging injuries, but it's time I learned not to doubt the ageless D-Wade. His minutes have been down due to a combination of blowouts and caution, but Wade is averaging a league-high 37.8 points per 48 minutes this month. And what a surprise, LeBron is second with 34.8 points. Stunning numbers.
Wallace: Fiction. They are two of the top five players in the league. They also traditionally are two high turnover guys. But what that 1-2 ranking in efficiency says to me is that Wade and LeBron are simply making the game that much easier for one another. They impact every possession when they're on the court together.
Windhorst: LeBron at been in the top three in PER for years but Wade is playing some fantastic basketball. It's remarkable how well they're shooting. The Heat have obviously had trouble getting these two to fit together. They've never been better together than last 3 weeks.