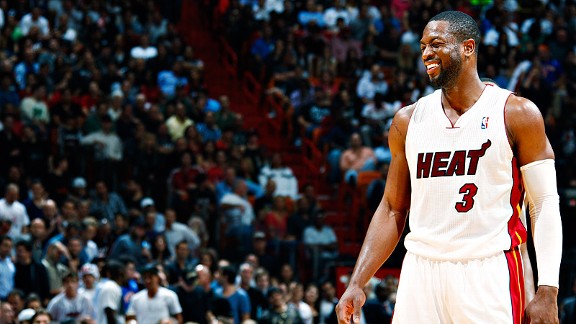 Mike Ehrmann/Getty Images
It might seem funny at first, but wait until you see Wade's stunning numbers in the first half.
Have you noticed it, too?
Dwyane Wade has been on an absolute tear recently. After an injury-riddled start to the season, Wade is now ranked as the second-most productive player by PER in the NBA behind -- you guessed it -- LeBron James.
But if you've been playing close attention to the Heat lately, you might have noticed that the Heat games are blowouts by halftime. Or at least the games are just about out of reach for the opponents. Since the Orlando loss on Feb. 8 here are the halftime leads for the Heat: +10, +22, +5, +29, +25, +12.
Leading this first-half dominance is Wade, the man who has been labeled as the team's so-called closer. Recently, a halftime ritual has developed for fans and sportswriters alike: laughing in amazement at Wade's stat-line. During the Heat's six-game win streak, Wade has averaged 18 points on a blistering 67 percent shooting in the first half alone.
Speaking after Sunday's drubbing of the Orlando Magic, Erik Spoelstra gave his evaluation on Wade's performances fresh out of the gate.
"We are not going to in trying to premeditate opportunities or attacks, just Dwyane [Wade] happened to be very aggressive early on in games," Spoelstra said. "There is a correlation; there is no secret."
Nope, no secret. If you plan on stopping Wade this season, you might have to wait until after halftime. Because after running the numbers, you'll see that Wade is an absolute monster out of the gate. And it's putting teams away early.
To illustrate his sheer dominance, I've called upon the handy PER (player efficiency rating) metric which is an all-in-one rating that measures a player's efficiency in the box score on a per-minute basis. The average NBA player, as a benchmark, will have a PER of 15. Wade has a PER of 27.4 on the season, good for second in the NBA. But look what happens when we split it up into first half and second half.
Wade's 1st-half PER: 36.3
Wade's 2nd-half PER:16.5
This is an astounding split. To put this in perspective, the difference between his first-half PER and second-half PER is minus-19.8. No one has come close to posting a difference of that magnitude this season. Only two players in the NBA (Luis Scola and Brendan Haywood) have posted a difference above minus-9 ... and Wade's at minus-19.8. He's in a world of his own.
If you're curious about his basic numbers on a per-game basis:
Wade's 1st-half line: 14.3 pts, 3.1 ast, 2.5 rebs, 16.7 mins on 56 percent shooting.
Wade's 2nd-half line: 7.7 pts, 1.5 ast, 1.8 rebs, 15.0 mins on 42 percent shooting.
Fans normally imagine Wade as a dominant force in crunchtime, but this season, it's been quite the opposite. If anything, he has been a something of a first-half closer, as if he's delivering a knockout punch in the early rounds of a boxing ring.
Some might look at the massive split and emphasize the drop-off part of the equation, which is fair and understandable. For the Heat, it is slightly unnerving to know that Wade has been just a tick above an average player after halftime. But in the first half? No one has been better. For reference, what are LeBron James' splits in the first and second half? 32.8 and 33.2. Like a metronome.
So how do we explain Wade's split? Recently, it might be a case of warming up and finding rhythm. If you've been following closely, you've noticed that Wade just hasn't even played much in the second half. In fact, Sunday night was only the second time in the last five games that Wade has played more than 10 of the 24 second-half minutes.
But this is something that's been going on all season for Wade. True, he's only played 23 games so the sample is on the small side. But this is a trend to keep an eye on. If you've noticed Wade's first-half dominance that leads to early blowouts, you are not the only one.