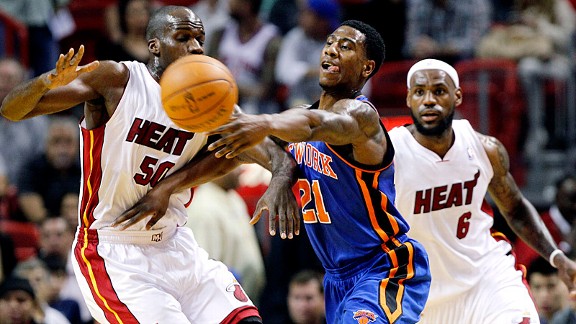 AP Photo/Lynne Sladky
Replace Iman Shumpert with Jeremy Lin in the above photo for a sneak peek into Thursday's game.
MIAMI -- It's not exactly a secret weapon, but Heat coach Erik Spoelstra still didn't want to talk about it.
As the coach was peppered with questions at Wednesday's practice about how the Heat were game-planning for Jeremy Lin, the line of inquiries focused on the two most likely candidates to guard the sensation: Mario Chalmers and LeBron James.
But if there is going to be a Lin stopper on Thursday night, it's likely to be someone other than the usual suspects. Not Chalmers. Not James. Not even Dwyane Wade.
No, the Heat player who's assigned to "Stop Lin" duty is none other than the soft-spoken, hard-nosed Heat center Joel Anthony.
Confused? It makes more sense when you consider that Anthony is the Heat's designated pick-and-roll buster. With a spider-like body extension, Anthony possesses the rare ability to bottle up point guards trying to turn the corner after a ball screen. And the pick-and-roll happens to be Lin and Knicks coach Mike D'Antoni's specialty.
It won't show up in the box score, but the Heat privately track the number of times that their players "contain" or corral opposing penetrators away from the painted area. Empirically, Anthony has done this one task better than anybody they've ever had in a Heat uniform.
So when Spoelstra fielded questions for about 10 minutes about prepping for Lin, he deliberately left Anthony's name out of the discussion. But the coach wouldn't get off so easy. When Anthony's name was brought up as a potential Lin-stopper when the media session winded down, Spoelstra smiled and declared that the questioning was over. He quickly scampered away from the horde of reporters, before finally turning around and offering his response.
"You're getting in too deep now," Spoelstra said to the reporters with a grin. "I'm not going to talk about that, but I will say that you're onto something."
Say no more.
The Knicks deploy the pick-and-roll more aggressively than most and coincidentally, the Heat defend the pick-and-roll more aggressively than most. For close observers of the Heat's defensive system, it's no surprise that the Heat plan on using Anthony to swarm Lin out on the perimeter. With Anthony, who covers more ground than a Boeing 747, the Heat have a lengthy center who can disrupt Lin beyond the three-point arc in a pick-and-roll and then retreat quickly to the paint.
During Wednesday's game against the Atlanta Hawks, almost all of Lin's screens were set by Knicks center Tyson Chandler, who will be guarded by Anthony. This plays right into the "something" that Spoelstra wouldn't elaborate in detail in that moment. But earlier in the conversation, Spoelstra spoke about the Heat's general game plan.
"We're going to try to bring our game to them, not necessarily to react and adapt to their pick-and-roll game," Spoelstra said. "We'll continue to play to our identity and to our style, which is to be disruptive."
To disrupt is Anthony's main objective. We often think of basketball games as a collection of one-on-one boxing matches, but as the Heat players emphasize over and over, they plan on using a team attack to stop Lin -- one that depends on the screener's defender as much as Lin's defender. More often than not, that will fall on Anthony's shoulders, who welcomes the challenge. Anthony has successfully distracted many of the Heat's opposing point guards, most memorably Derrick Rose and Rajon Rondo in last season's playoffs.
Of course, Anthony shouldn't be considered a Lin stopper just yet, but that will be his assignment in the pick-and-roll on Thursday. The Knicks could easily counter by ditching their Chandler-heavy attack against the Hawks and rely on Amare Stoudemire and Carmelo Anthony for ball-screens. But Chandler is most effective offensively when he's rolling to the basket and drawing rotating defenders away from the perimeter. Whoever wins the pick-and-roll battle will likely win Thursday's war between the Heat and Knicks.
If the Heat end up victorious on Thursday night, Joel Anthony probably won't get the headlines. But if all goes according to Miami's plan, Spoelstra might not be so reluctant to talk about Anthony anymore.