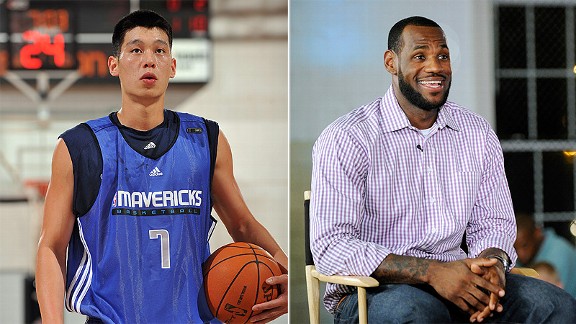 Getty Images, AP Photo
Shortly after declaring where he'd take his talents, LeBron James watched a kid named Jeremy Lin.
MIAMI – Five days after his "decision" in the summer of 2010, LeBron James was either spending his time:
A. Hiding in a bunker
B. Shopping for houses in South Florida
C. Watching Jeremy Lin play summer league games on NBA TV.
Actually, it was all of the above.
James often says he watches all levels of basketball and does so year-round. He's proved it over the years, occasionally making references to obscure moments that he's caught in NBA games. Of course James has been watching Lin regularly as he's starred for the New York Knicks, who his Miami Heat host tonight, but his database on him goes back further.
James said he remembers first hearing about Lin on SportsCenter after a game against UConn when Lin was at Harvard. Bu the first time he saw him play was in the 2010 Vegas Summer League. James had tuned in to watch No. 1 overall pick John Wall play, but Lin, who was playing for the Mavericks' summer league outfit against Wall at the time, got James' attention.
"Yeah, I watch summer league games," James said. "It was his first big game. It was a good game. I was like, he's a good player, no one predicted what he'd do now."
That game sort of put Lin on the NBA map as he had a huge fourth quarter with several impressive defensive plays and a series of aggressive drives to the basket that are now part of his trademark. His team lost but he won personally.
Now there is a much deeper catalog for James to study. He is expecting to be assigned to guard Lin for at least a few minutes. James has routinely defended top point guards from Rajon Rondo to Derrick Rose to even Chris Paul at times. Though it will probably be a countermeasure Heat coach Erik Spoelstra goes to only if other schemes are not working.
James said he'll be doing film work before tip-off to prepare for it.
"I know I'm probably going to end up on Lin at some point, I may end up on Amare and I'll probably start off on Carmelo," James said. "When we go small, I'll have to cover a big guy. If we go small, I'll probably have to cover the point guard."
The Heat, like many other teams in the league, have had a touch on Lin fever. He's been a regular topic in the locker room. When Lin made his 3-pointer to beat Toronto last week, several players rushed into a room with a television in the visitor's locker room in Indiana to see a replay.
With this game's buildup, though, there is a sense James and his teammates are looking forward to playing against the new star and the new-look Knicks, a potential playoff opponent, instead of just talking about it.
"I'm not tired of him but I've answered these questions more than once," James said. "He's a good player and he does good things for their team. They needed a point guard and they found one."